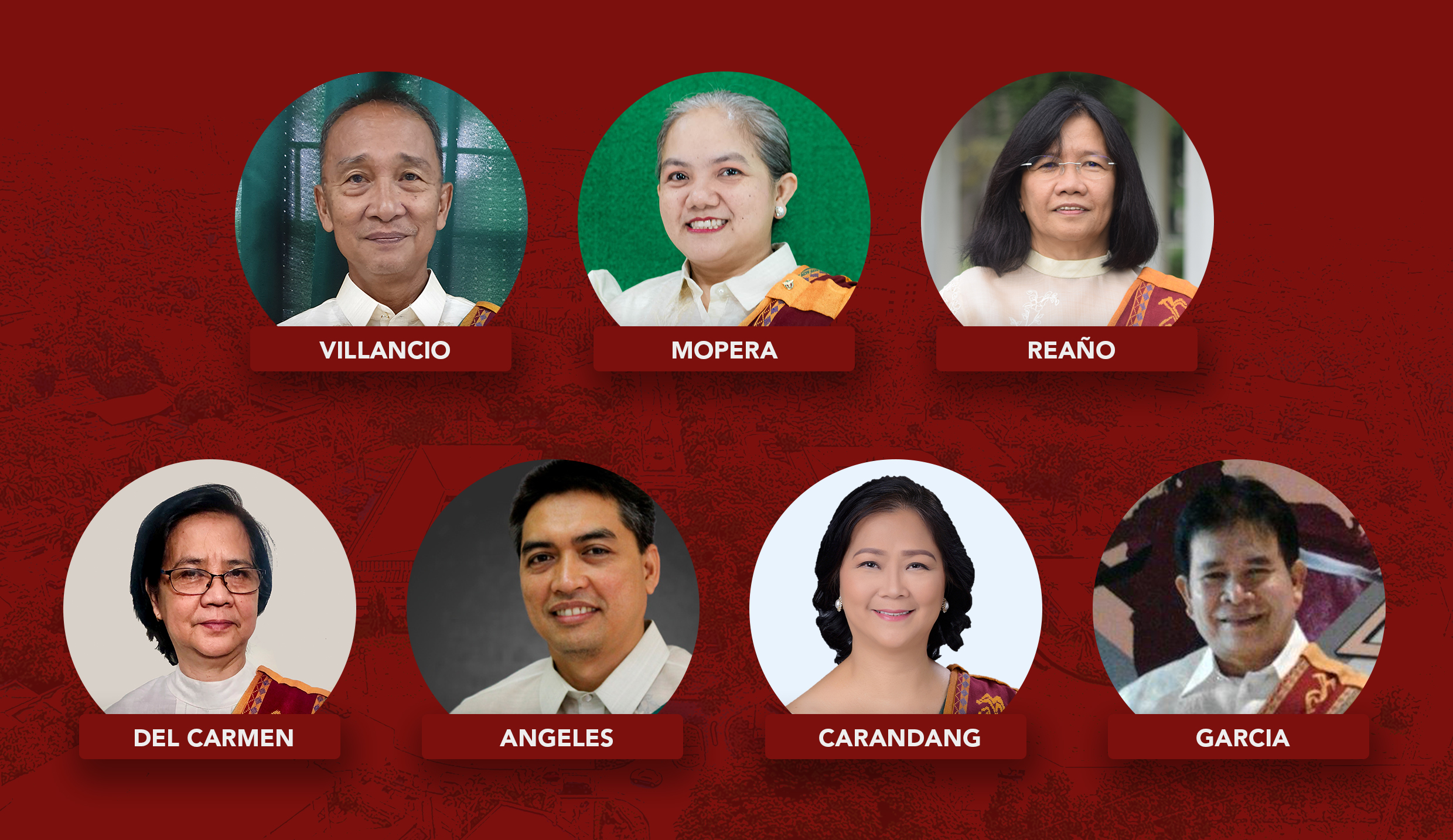 CAFS, CFNR have new, reappointed directors
New and reappointed directors are now leading seven academic units at the College of Agriculture and Food Science (CAFS) and the College of Forestry and Natural Resources (CFNR), with each serving a three-year term.
Dr. Virgilio T. Villancio of the Agricultural Systems Institute (ASI), CAFS. Dr. Villancio was the deputy director of ASI prior to his appointment as its director effective Sept. 1, 2020. Since 2016, he has also been the manager of the Land Grant Management Office, a position he first held in 2000-2005. He was the director of the Institute of Agroforestry, CFNR in 2001-2004.
He has been connected with ASI and its forerunner, the Farming Systems and Soil Resources Institute, since 1983, rising through the ranks to become University Researcher IV and head of one of its divisions. In 2018, he became a full-time faculty member. He finished Ph.D. Community Development in UPLB and MS Agricultural Economics in Universiti Pertanian Malaysia.
Dr. Consorcia E. Reaño of the Institute of Crop Science (ICropS), CAFS. Dr. Reaño was a full-time faculty member at the Institute of Statistics (INSTAT)-College of Arts and Sciences for 15 years, where she also served as director from 2012-2018. In 2019, she returned to CAFS, where she was originally a researcher from 1979 to 2003, while still remaining as an affiliate faculty member at INSTAT.
Dr. Reaño, who took the helm of ICropS effective Aug. 1, 2020, is an expert in both agriculture and statistics, having finished BS Agriculture and MS Agronomy from UPLB and PhD Statistics from UPLB and Iowa State University. She teaches agronomy, plant breeding, and plant genetic resources.
Dr. Lotis E. Mopera of the Institute of Food Science and Technology (IFST), CAFS. Dr. Mopera is the last director of the Food Science Cluster (2015-2016) and the first director of IFST (2017-present) after the reorganization and restructuring of CAFS. Her second term at IFST is effective Aug. 1, 2020.
She finished her PhD Applied Bioscience in Hokkaido University, Japan, and BS Biology and MS Microbiology in UPLB. She is an expert in food safety management systems, quality systems and quality assurance, food microbiology, food analysis, and food biotechnology.
Dr. Amado A. Angeles of the Dairy Training and Research Institute (DTRI), CAFS. This is Dr. Angeles' second term as director of DTRI, a position which he began holding in 2017 after the reorganization and restructuring of CAFS. He is an associate professor and UP Scientist I at the Institute of Animal Science, where he was once the deputy director (2014-2016).
Dr. Angeles teaches dairy production, animal nutrition, and animal biotechnology. He finished BS Agriculture, and MS and PhD Biochemistry in UPLB, and undertook a Post-Doctoral Training at the University of Illinois in Chicago, USA. He worked in the industry for 12 years before joining academe in 2010.
Dr. Dormita R. Del Carmen of the Postharvest Horticulture Training and Research Center (PHTRC), CAFS. She is a university researcher who has served PHTRC for 35 years now. She was the center's assistant director/research and training coordinator before becoming its director on Aug. 1, 2020.
Dr. Del Carmen earned all her degrees in UPLB – BS Agriculture; Master in Professional Studies; and PhD Community Development. She currently leads two projects: first is a national training program on horticultural chain management funded by the Food and Agriculture Organization; second is on postharvest systems improvement, with funding support from the Bureau of Agricultural Research.
Dr. Jose Nestor M. Garcia of the Institute of Agroforestry (IAF), CFNR. He has been a full-time faculty member since 2016, teaching landscape agroforestry, agricultural systems, agricultural extension, and soil science at the CAFS-ASI, where he first served as a researcher for more than 30 years.
Dr. Garcia is the head of the Agricultural Systems Studies Division and program leader of the Agricultural Systems Adaptation to Climate Change at ASI. In 2013-2015, he was the manager of the Central Experiment Station, CAFS. He earned his PhD Environmental Science in UPLB and MS Agricultural Systems at the Asian Institute of Technology, Thailand.
Dr. Vida Q. Carandang of the Institute of Renewable Natural Resources (IRNR), CFNR. Dr. Carandang is an expert in environmental forestry and forest influences and has served as a silviculturist and coordinator to a number of researches in forestry and natural resources. One of her recent projects is the Formulation of Climate-responsive Integrated Management and Development Master Plan for Eight Clustered River Basins.
Dr. Carandang previously headed IRNR's Environmental Forestry Division, where she is a full-time faculty member since 2008. She finished all her degrees in forestry at UPLB. Her term as IRNR director is effective June 16, 2020. (Juan Paolo A. Aquino and Mark Jayson E. Gloria)