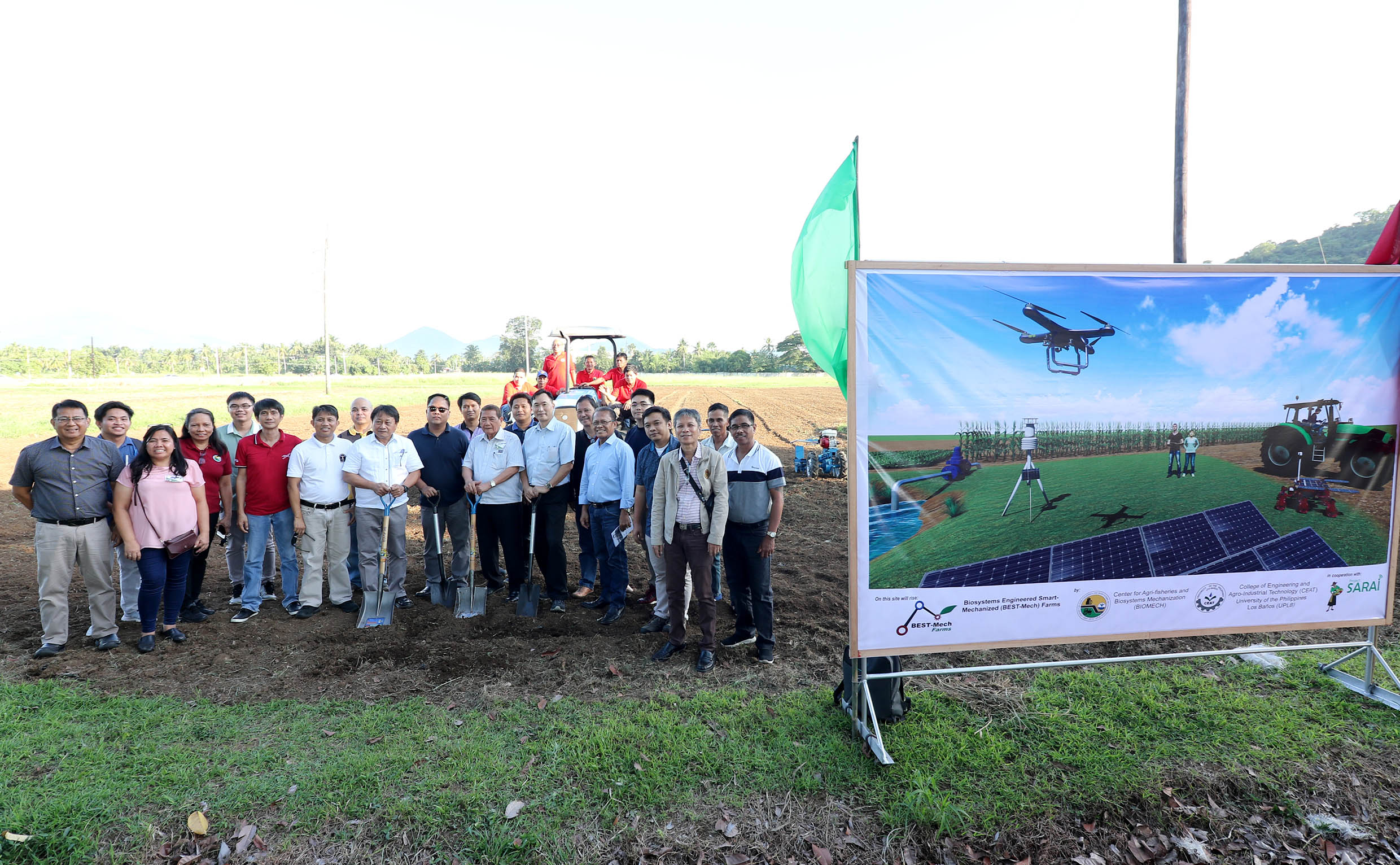 CEAT-BIOMECH aims for a smart farming facility
A smart farm mechanization facility will soon rise along Pili Drive and ramp up UPLB's role in applying the fourth industrial revolution in agriculture.
The Biosystems Engineered Smart-Mechanized Farms (BEST-Mech Farms), which shall use sensors, automation, and computer simulation and software, was launched and had its groundbreaking on Oct. 23 during the 40th anniversary of UPLB's Center for Agri-Fisheries and Biosystems Mechanization (BIOMECH).
BEST-Mech Farms will feature smart mechanized irrigation, farm engineering mechanization, and climate-smart mechanization, and shall tap unmanned aerial vehicles, satellite data, and automated controlled environment facility, to bring UPLB's quest for smart agriculture to the next level, which is in mechanization.
This is according to Moises Dorado, chair of BEST-Mech Farms Program and a faculty member at the College of Engineering and Agro-industrial Technology (CEAT).
BEST-Mech Farms, he said, will be working closely with Project SARAI, UPLB's banner smart agriculture program. "We want to make use of technologies developed by SARAI and incorporate mechanization."
Project SARAI, or Smarter Approaches to Reinvigorate Agriculture as an Industry in the Philippines, is funded by the Department of Science and Technology-Philippine Council for Agriculture, Aquatic and Natural Resources Research and Development.
During the program to celebrate BIOMECH's anniversary, Dr. Decibel Eslava, dean of the School of Environmental Science and Management, UPLB, and Dr. Nen-Fu Huang, dean of the College of Electrical Engineering and Computer Science of the National Tsing Hua University, talked about smart agriculture research and practices in the Philippines and Taiwan, respectively.
Dr. Eslava, also a project leader at SARAI, talked about how SARAI has been incorporating agricultural knowledge and information technology to develop crop technologies and protocols, crop monitoring and forecasting system, and crop advisory tools.
Dr. Huang, for his part, presented the Smart Precise Agriculture Architecture in his country and showed some of their technologies, such as the Artificial Intelligence (AI)-based Precise Irrigation System and the Large-scale Farm Management Technology.
"AI is very easy to use. Traditional agriculture needs information and communication technologies," Dr. Huang said.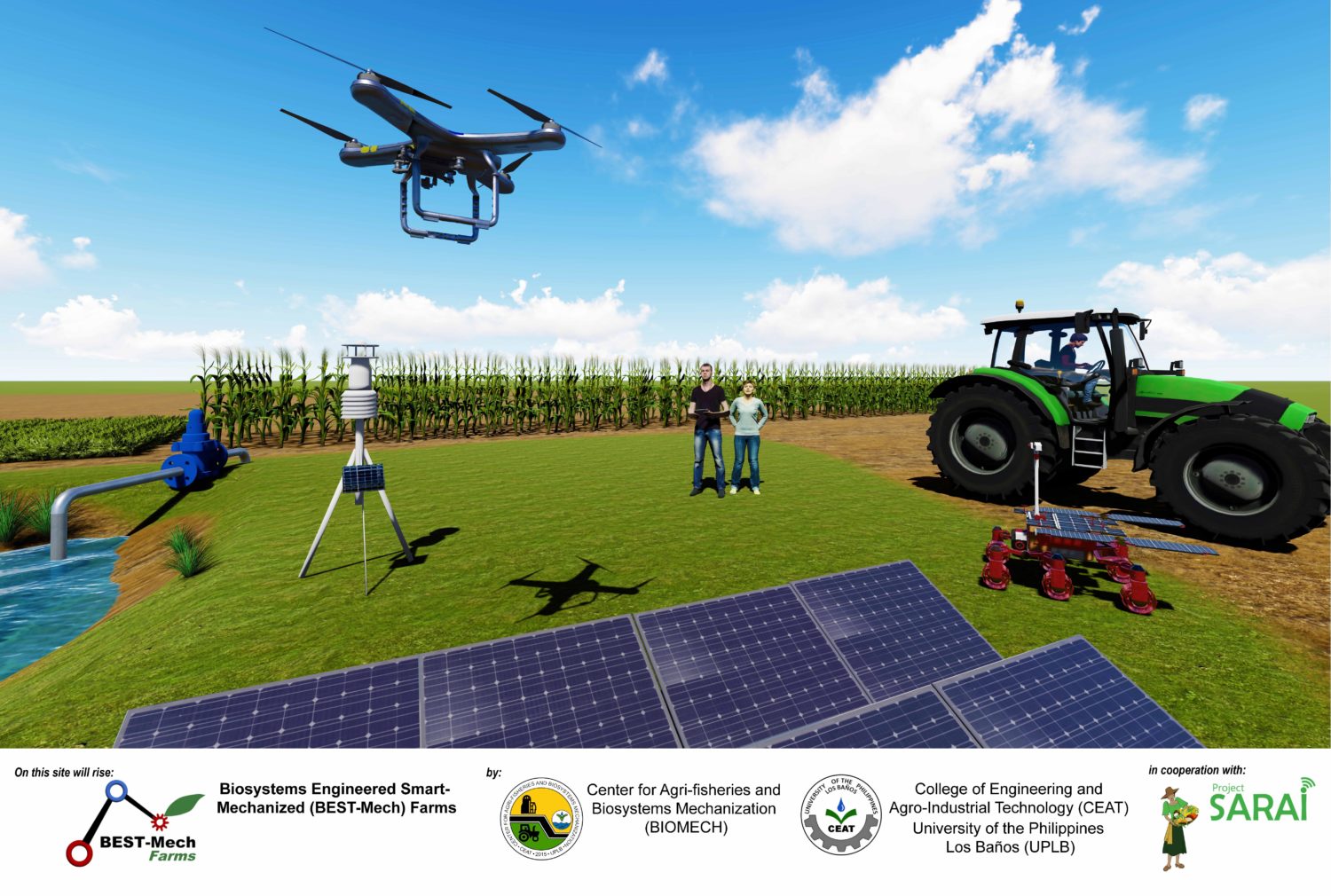 While BIOMECH is at the lead of the upcoming BEST-Mech Farms, all the units of its mother college, CEAT, will be involved in the said program.
"We are very excited with this program because we actually integrated [all our] engineering groups," said Dr. Arnold Elepaño, dean of CEAT. "We plan to expand this with other colleges."
According to Dr. Victor Rodulfo, director of BIOMECH, the seed funding for BEST-MECH Farms will be coming from the center. Dorado added that there are available technologies from SARAI and CEAT that the team could already tap to start the program.
The two said that the BEST-Mech Farms team are preparing to submit proposals to prospective funding agencies that will support the smart farming facility.
The BEST-Mech Farms launch was one of the highlights of the two-day anniversary program of BIOMECH that was established in 1979 as the Agricultural Mechanization Development Program (AMDP).
In 2015, the UP Board of Regents elevated AMDP to what is now BIOMECH after the Republic Act 10601, or the Agricultural and Fisheries Mechanization Law, mandated AMDP to lead and coordinate the agricultural and fishery mechanization research, development and extension program of all academic institutions in the Philippines.
Gracing the opening ceremonies of BIOMECH anniversary were Dr. Rex Demafelis, vice chancellor for research and extension; Marilou Toledo, regional director of the Department of Trade and Industry (DTI)-CALABARZON; and Susan Palo, provincial director of DTI Laguna.
Also present were Department of Agriculture's Engr. Ariodear Rico, acting chair of the Agricultural and Fisheries Committee, Philippine Council for Agriculture and Fisheries; and Digna Sandoval, assistant director of the Bureau of Agricultural Research. (Mark Jayson E. Gloria)