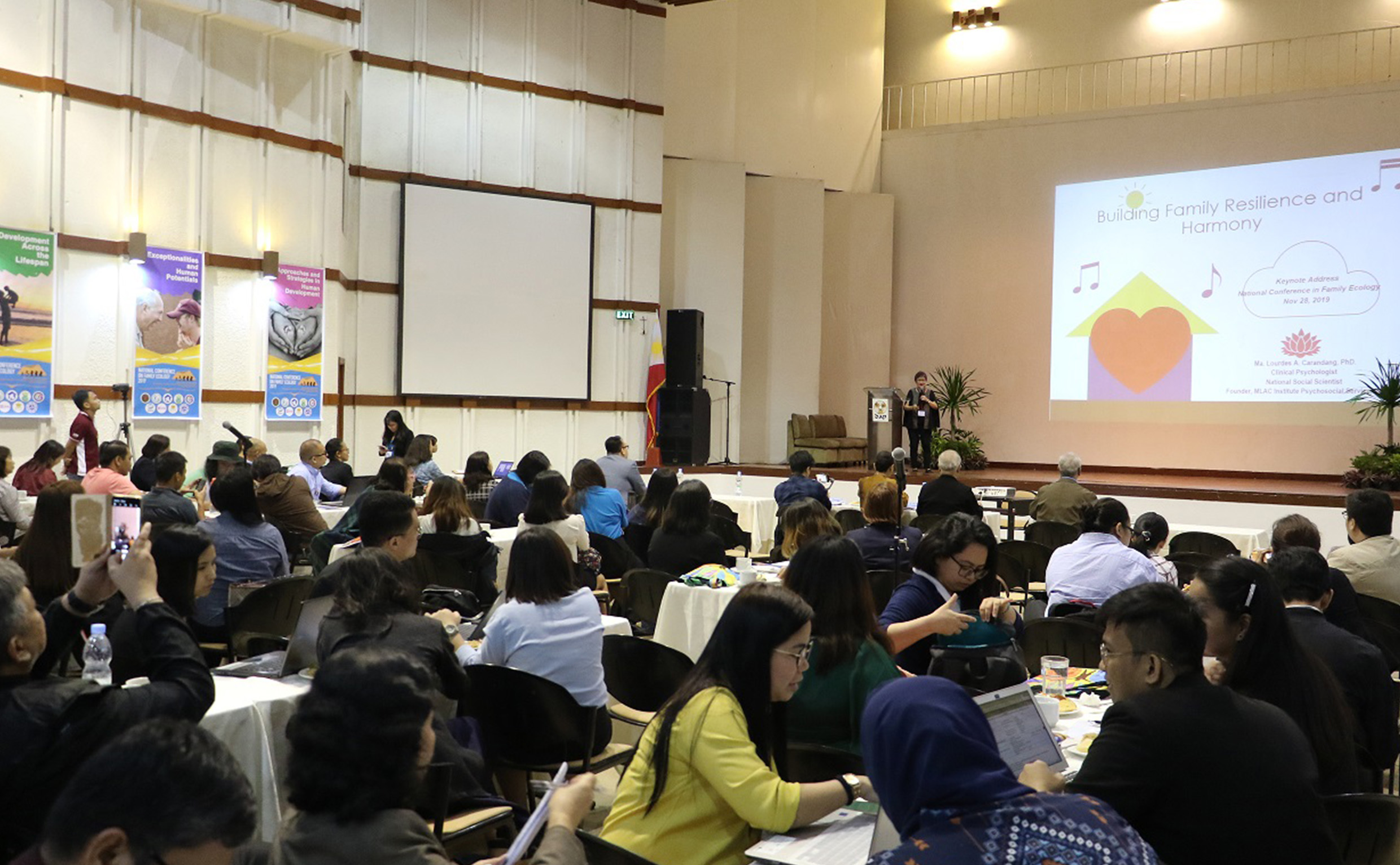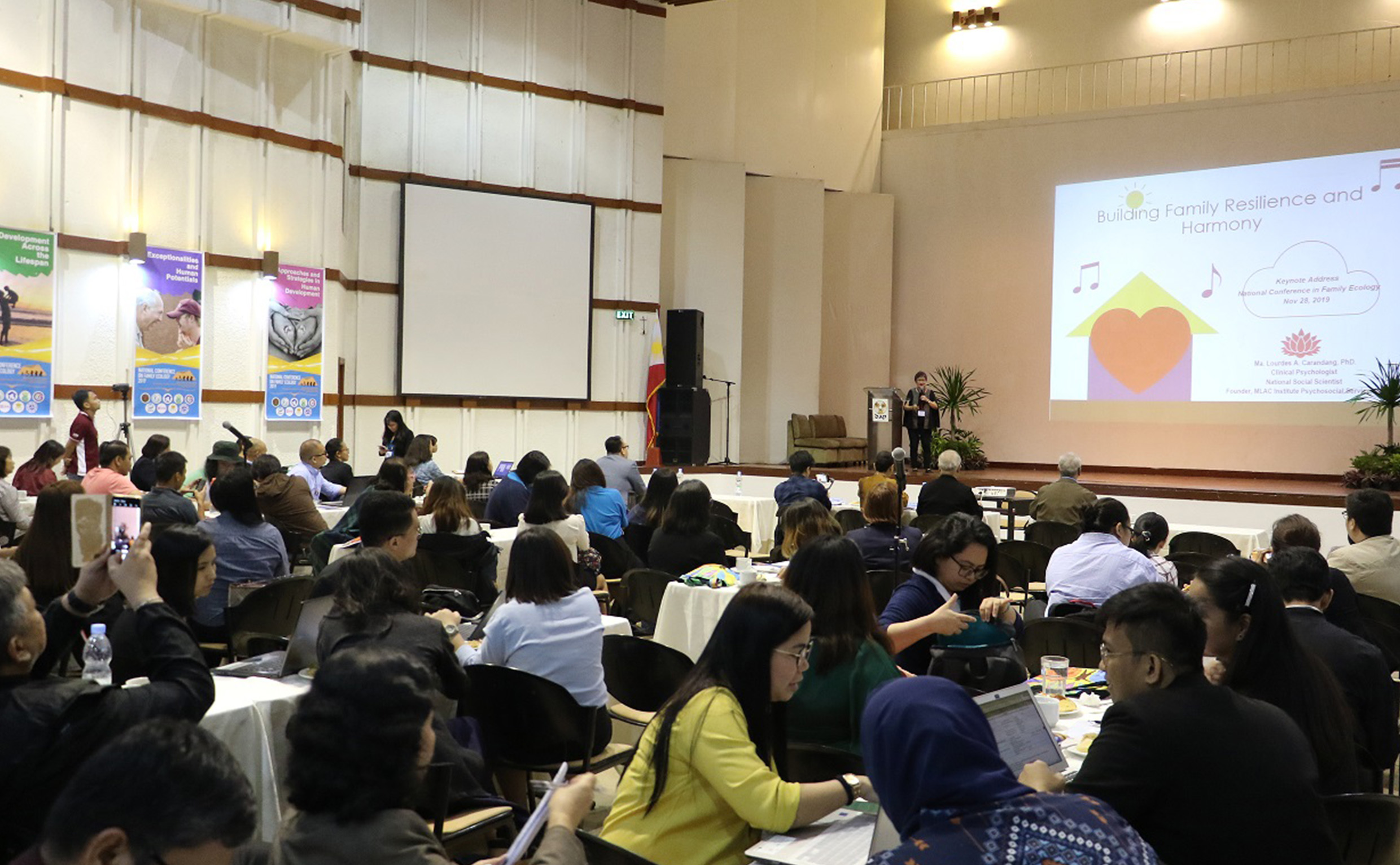 CHE's family conference centers on resilience, psychosocial needs
"Social environments, like natural environments, are in need of protection."
This was how Rufo Gil Z. Albor, chair of the Department of Human and Family Development Studies at the College of Human Ecology (DHFDS-CHE), presented the rationale of the National Conference on Family Ecology 2019 (NCFE 2019).
NCFE 2019 was held on Nov. 27-29 at the Development Academy of the Philippines in Tagaytay City and had the theme "Transcending Diversity: creating inclusive environments for human(e) and family development" in support of the Family Code of the Philippines.
According to Ricardo Sandalo, president of the Human Ecology Institute of the Philippines, Inc. (HUMEIN-Phils) and a faculty member at CHE, this year's conference, like the others before it, aims to collectively identify human ecology-related problems, the possible solutions to them, and work out the next course of action.
Such problems and solutions were featured in the two-day plenary and parallel sessions that explored various aspects of human development.
Keynote speaker, Dr. Ma. Lourdes Carandang, clinical psychologist and National Social Scientist, emphasized the importance of having resilience among families to enable them to "bounce back" from different experiences, including failures and traumas.
She also discussed the five pillars of resilience, which are self-awareness, mindfulness, self-care, positive relationships, and spirituality.
Plenary speaker, Nephtaly Joel Botor, a faculty member at DHFDS, shared to the audience stories they gathered from the field while working with families in difficult circumstances and the programs that they have implemented to address the community's psychosocial needs.
Fellow plenary speaker, Efren Lubuguin, Philippine representative of BRAC International, talked about how their organization helped bring education to children living in discontinuous communities in what was then the Autonomous Region in Muslim Mindanao.
For the second day, Dr. Alexis Socorro Reyes, faculty member at the UP College of Medicine, led a plenary discussion regarding the challenges that families face when caring for children living with developmental disabilities.
The conference ended with four parallel workshops on fostering resilience through family psychoeducation; creative and art-based approaches to family education; Pintigan, a lecture-performance with native Filipino musical instruments; and Filipino sign language.
Gracing the conference were Dr. Serlie Barroga-Jamias, vice chancellor for community affairs, and Dr. Raden Piadozo, dean of CHE.
In a message that she delivered on behalf of Chancellor Fernando C. Sanchez, Jr., Dr. Jamias emphasized the importance of understanding current family interactions with the interventions of new policies, technologies, and lifestyles, which have also resulted in new challenges.
"There is a need to strengthen the family, our great bastion against the great predicaments of our time," she said.
Joining them were representatives from government agencies, state universities and colleges, private institutions, and UPLB units.
The conference also served as a venue to relaunch the book "Gender and Society: A Human Ecological Approach," which was co-authored by three faculty members of DHFDS: Botor, Atty. Eric Paul D. Peralta, and Dr. Teri Marie P. Laude.
NCFE 2019 was co-organized by DHFDS-CHE and HUMEIN-Phils. (Jessa Jael S. Arana)