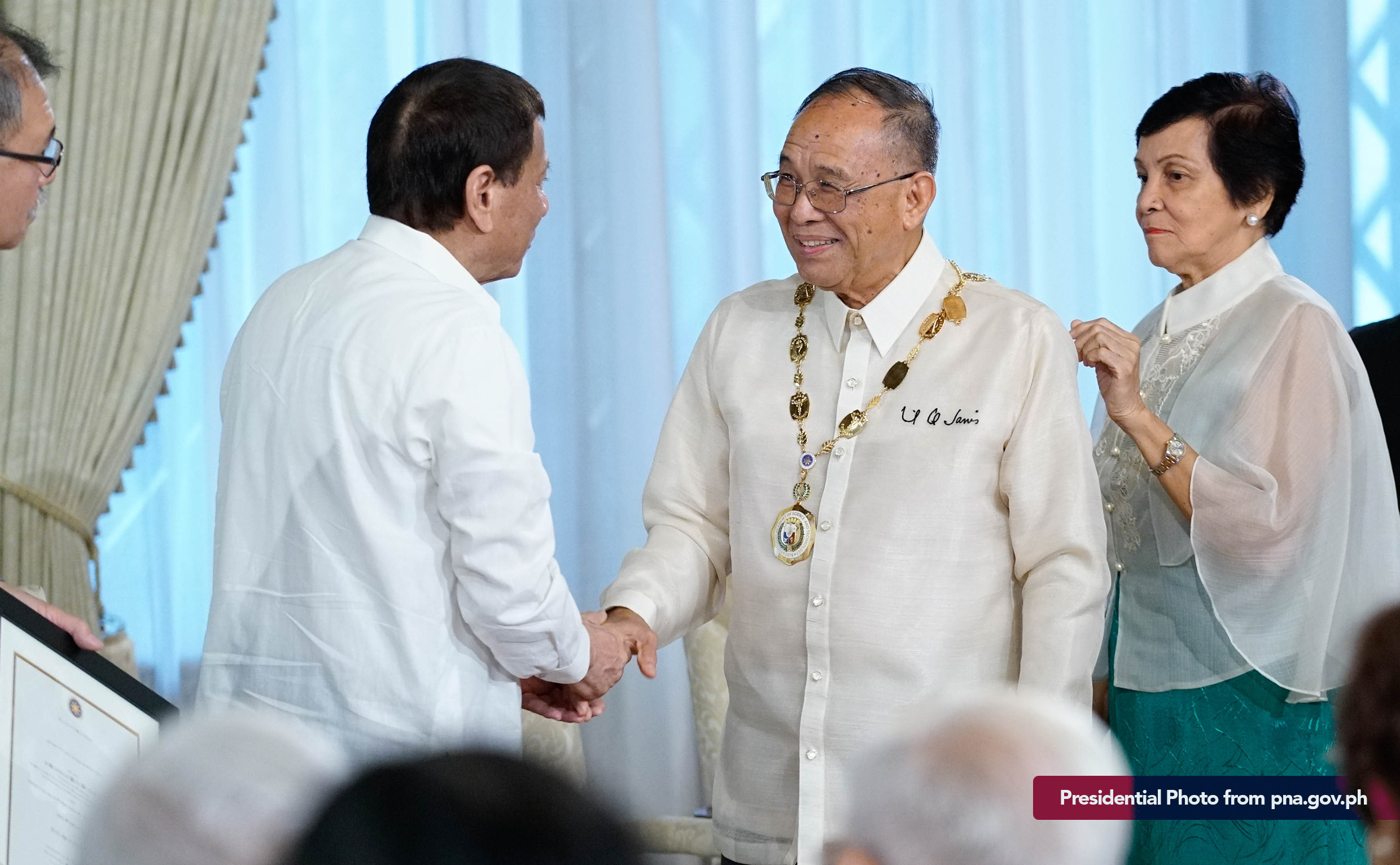 Dr. Emil Javier receives Nat'l Scientist title in Malacañan
President Rodrigo R. Duterte conferred the title of National Scientist on Dr. Emil Q. Javier in ceremonies on Jan. 7 at the Malacañan Palace.
National Scientist Javier is a former president of UP (1993-1999), a former chancellor of UPLB (1979-1985), and UPLB's 17th National Scientist.
President Duterte had signed Proclamation No. 781 on Aug. 2, 2019 bestowing to National Scientist Javier the highest honor for men and women of science in the country.
In the news release of the Presidential Communications Operations Office (PCOO), President Duterte commended National Scientist Javier's leadership and contribution to agricultural research and crop production.
"The whole nation owes its deepest gratitude to Dr. Javier for his promising contributions to the scientific community," President Duterte said.
"Your leadership at the Institute of Plant Breeding (IPB) advanced the production of high-yielding crops and disease-resistant varieties in the Philippines and in Asia, paving the way to better nourishment and an improved quality of life for our people," the country's chief executive added.
Prior to holding the highest positions at UP and UPLB, National Scientist Javier first served as the founding director of IPB (1975-1979) and associate dean of the College of Agriculture and Food Science or the then College of Agriculture (1974).
As UPLB chancellor, he also became the founding director of the UPLB National Institute of Molecular Biology and Biotechnology. He served as the country's Minister of Science (1981-1986), equivalent to what is now the Secretary of the Department of Science and Technology. In his retirement, he became the president of the National Academy of Science and Technology (2005-2012).
In his message of response, National Scientist Javier expressed joy for the said honor, but also lamented about the "painful reality" of food insecurity and the poverty of farmers and fisherfolk in the country.
"Clearly, collectively, including myself, we have not done enough. For far too long, we have not invested enough and allowed agriculture to stagnate. There is no virtue in pointing fingers now because there is so much blame to spread around," National Scientist Javier said.
"And yet, Mr. President, we have the technology and expertise to move agriculture forward. We can do much better if only we can put our act together," he suggested.
National Scientist Javier then proceeded to express hope that "there is light at the end of the tunnel for the rural sector" after enumerating some of the encouraging and tough political decisions that President Duterte made such as the "appointment of a new, very knowledgeable Secretary of Agriculture" and the "decisive support for the rice tarrification law."
At present, National Scientist Javier chairs the board of the Coalition for Agriculture Modernization in the Philippines, Inc. (CAMP), a Los Baños-based non-stock, non-profit, and non-government organization that advocates for agriculture modernization in the country.
National Scientist Javier's family, including his wife Alma, joined him at the conferment ceremony. (Text by UPLB Office of Public Relations, with information from pcoo.gov.ph; Presidential Photo from pna.gov.ph)