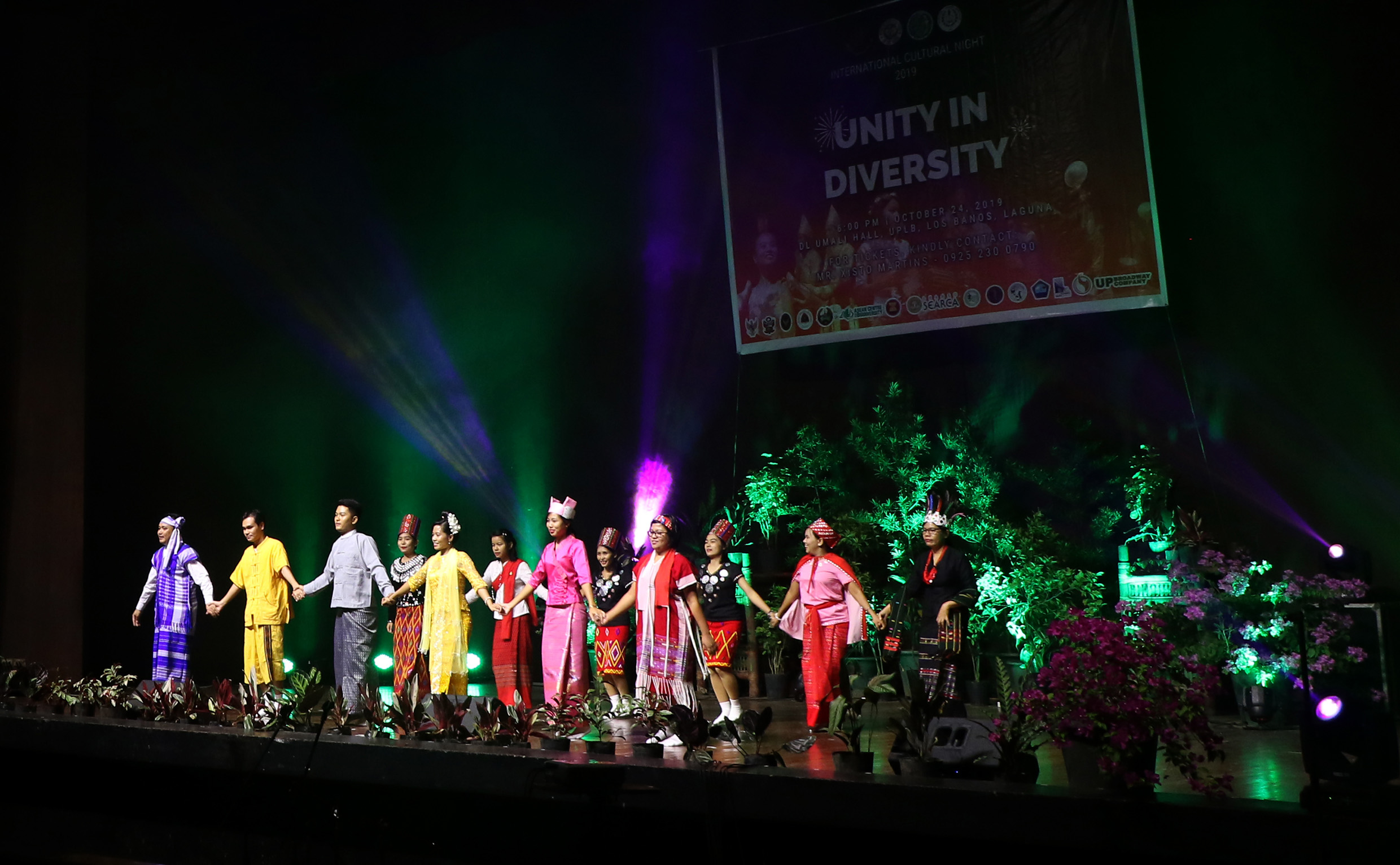 Int'l students stage cultural night
---
Cultural diversity took center stage as the International Students Association (ISA) of UPLB celebrated its annual Cultural Night on Oct. 24 at the DL Umali Hall.
Students from the Philippines, Malaysia, Indonesia, Timor Leste, Thailand, Vietnam, Cambodia, Myanmar, Lao PDR, Japan, India, Sri Lanka, Ghana, Nigeria, Liberia, and Peru opened the program with a vibrant display of their countries' traditional garb.
The program featured the traditional folk and iconic cultural dances from selected student-performers from Asia and Africa.
Filipino cultural heritage also took the spotlight as the UPLB Filipiniana Dance Troupe, UPLB Sandayaw Cultural Group, and Harmonya: The String Ensemble of UPLB performed before the international audience.
Aside from the students, representatives from the embassies of Indonesia, Timor Leste, Thailand, Vietnam, Cambodia, Myanmar, Lao PDR, Sri Lanka, and Peru, witnessed the cultural night.
The Southeast Asian Regional Center for Graduate Study and Research in Agriculture (SEARCA) and the ASEAN Centre for Biodiversity also sent their representatives to grace the program.
Gracing the occasion were UPLB officials, namely: Atty. Eleno Peralta, director of the Office of Student Affairs; Dr. Aimee Lynn Barrion-Dupo, college secretary of the Graduate School; and Dr. Serlie Barroga-Jamias, vice chancellor for community affairs.
Their messages impressed the importance of viewing diversity and cultural differences as a strength that should be matched with cooperation and cultural understanding.
"Unity requires understanding, and understanding comes from building connections of friendship, trust, and cultural awareness," said Dr. Jamias, in the welcome remarks that she delivered on behalf of Chancellor Fernando C. Sanchez, Jr.
The program closed with a multicultural dance from the ISA-UPLB Executive Committee. ISA is led by its president Xisto Martins of Timor Leste and vice president Adelia Ghafira Putri of Indonesia. (AGBPeralta)