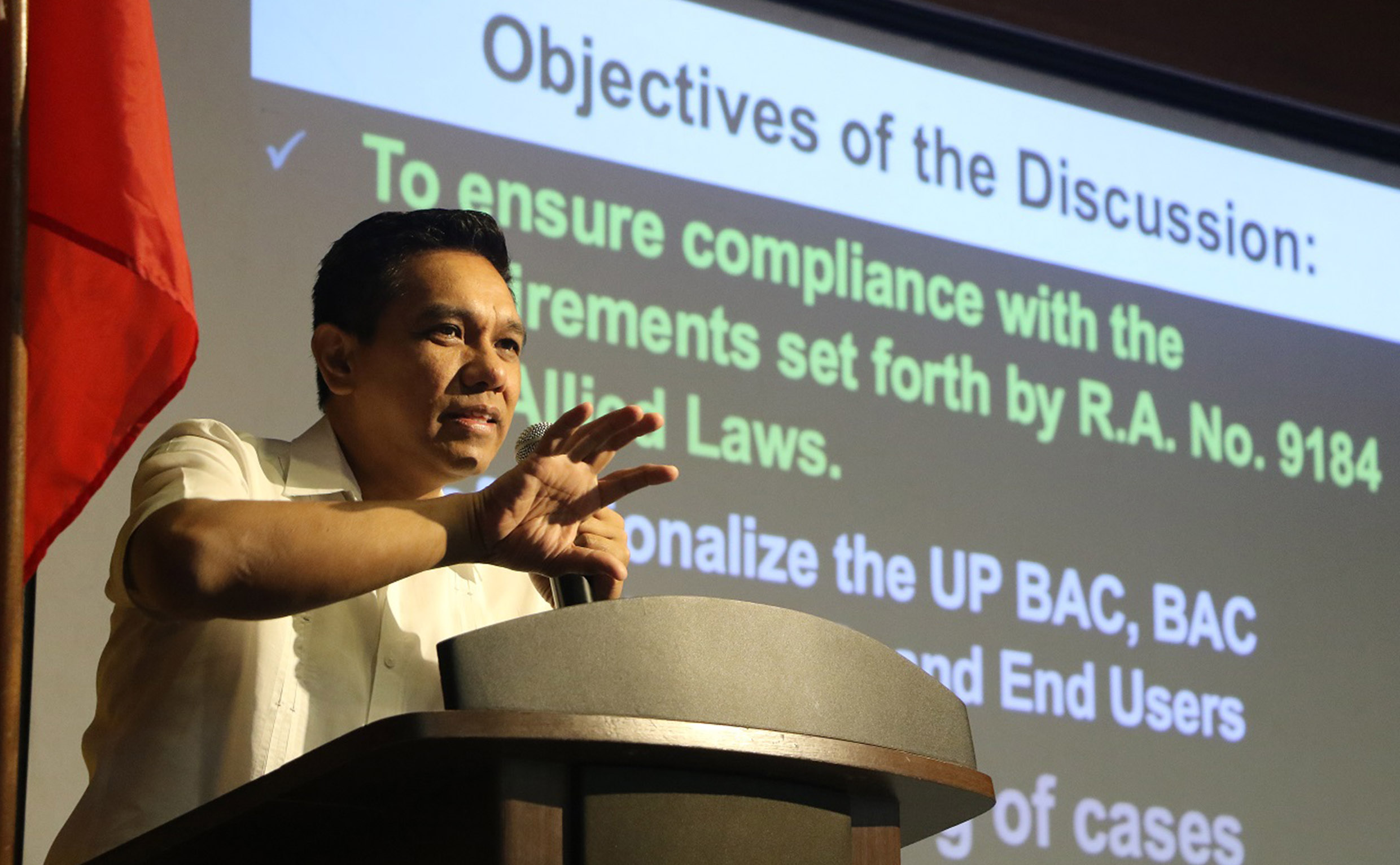 UPLB steps up training in procurement for BAC, TWG
UPLB continues to promote procurement education among its personnel who are involved in the said government procedure.
The on-going seminar entitled "Procurement 202: Doing procurement right; doing right procurement" on Nov. 7-8 is the third of such learning event that the university has initiated in the past six months.
First was the Procurement 101 for University Executives on June 4; second is the continuing Procurement Officers Training Series that began on Nov. 4.
In Procurement 202 that is taking place at the Training Center for Tropical Resources and Ecosystems Sustainability, more than 60 members of the Bids and Awards Committee (BAC), BAC Secretariat, and BAC Technical Working Groups are learning more about their respective roles, responsibilities, and accountabilities.
The first day lectures from Atty. Lawrence Villanueva, a procurement administrative consultant, focused on topics that will help the participants faithfully comply with Republic Act 9184 (Government Procurement Reform Act), professionalize in performing their procurement-related tasks, prevent cases and complaints filed against them, and ensure success in procurement.
He also explained the three-fold accountability – administrative, criminal, and civil – of public officers involved in procurement.
"Know your duty," Atty. Villanueva reminded. "Ang objective ninyo: procurement on time, in full, and without error."
Present during the event were Liza Custodio, chair of BAC Secretariat, the seminar's organizing unit; Ethel Cabral, chief of the Budget Management Office; and Dr. Crisanto Dorado, vice chancellor for administration.
"As government employees, it is our duty to conscientiously execute relevant procurement processes. Each one of us is responsible for the smooth implementation of procurement process in our university," said Dr. Dorado, as he read the message of Chancellor Fernando C. Sanchez, Jr.
The seminar's second day will feature resource person Aida Carpentero, an accredited procurement trainor of the Government Procurement Policy Board, who will discuss public bidding and alternative modes of procurement. (Mark Jayson E. Gloria)