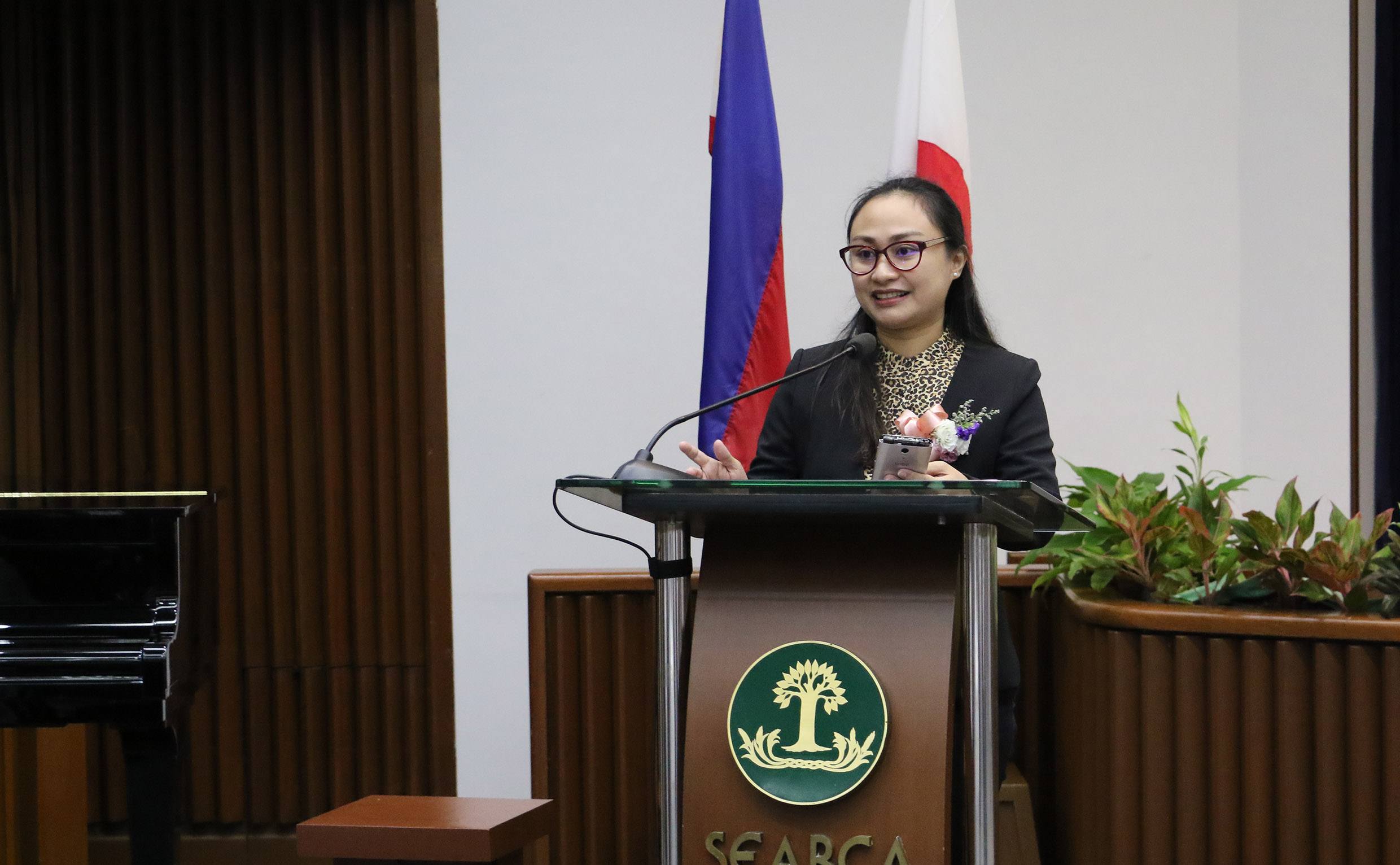 UPLB's iDetect inventor begins PhD studies at Nagoya U ASC
Earning a doctorate from a foreign university does not have to come at the steep price of leaving one's family and workplace.
Take it from the students of the Transnational Doctoral Program for Leading Professionals in Asian Countries of the Nagoya University Asian-Satellite Campus (NUASC)-Philippines based in UPLB.
Its latest batch of scholars that were welcomed in an entrance ceremony on Oct. 22 at the SEARCA Umali Auditorium has added to the program's growing student population, one of them being Joy M. Banayo, a university researcher at the Institute of Animal Science of the College of Agriculture and Food Science (IAS-CAFS).
Banayo specializes in Philippine native animal research and is the developer of the meat detection technology iDetect.
A mother of three, she expressed her gratitude in a short speech for being accepted into the program to pursue her degree without needing to suspend her career or leaving her children.
"This is truly women empowerment. My family and I thank you," she said.
Banayo is also the recipient of the NU-UP Joint PhD Research Scholarship for Faculty and REPS and will be studying under the NU's Graduate School of Bioagricultural Sciences (GSBS) for her PhD in Agricultural Science.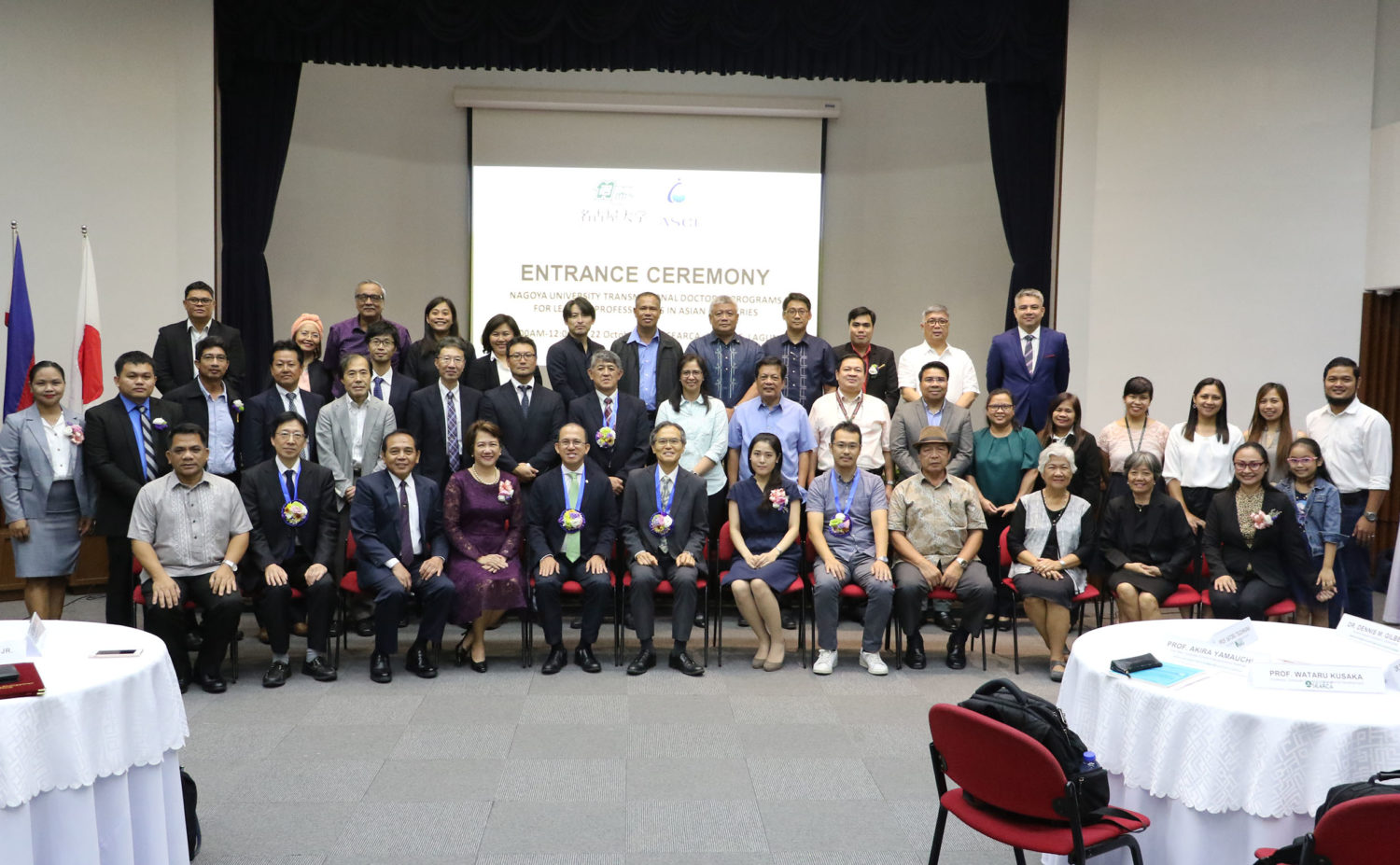 Joining her in the said program are fellow new students Anniver Ryan P. Lapuz of the Forest Products Research and Development Institute and Ma. Christina F. Campita of the Department of Agriculture-Region V.
Nelson G. Cainghog, director of the Office of Planning, Research and Knowledge at the Commission on Higher Education and an associate professor of political science at UP Diliman, also joins them as a student at the Graduate School of International Development (GSID).
To prepare them for their academic journey, NUASC-Philippines alumni gave their testimonies and encouragement to the new students.
Dr. Ronilo O. De Castro, the first graduate of the transnational PhD program, encouraged them to work hard and look for new opportunities when situations happen contrary to their plans.
Dr. Dennis G. Gilberto, for his part, told them of the hardships that come with pursuing a doctorate and emphasized the values of perseverance, persistence, patience and prayer.
Dr. Cynthia Saloma, president of the NU Alumni-Philippine branch and executive director of the Philippine Genome Center, also shared her experience as a previous student of NU. "Aside from being smart, you have to be emotionally prepared and very determined," she said.
Officials and faculty members from NU, UPLB, and SEARCA graced the opening ceremony.
Dr. Kazuhito Kawakita, vice president of NU, welcomed the new students and recognized the role of UPLB in the NUASAC to help government officials, university faculty, and researcher pursue their doctoral degrees.
Chancellor Fernando C. Sanchez, Jr. expressed gratitude to NU and SEARCA for their continuous partnership in the program.
"Thank you for the numerous opportunities that you continue to provide to UPLB students and staff, as well as to our fellow Filipinos, who wish to pursue further graduate studies and serve our country with their expertise," Chancellor Sanchez said.
Joining the occasion were Dr. Glenn B. Gregorio, director of SEARCA; and NU's Dr. Satoru Tsuchikawa and Dr. Akira Yamauchi, dean and vice-dean of GSBS, respectively.
Natsumi Yoshida, media advisor at the Japan Information and Culture Center at the Japanese Embassy in Manila, and Dr. Rex B. Demafelis, UPLB vice chancellor for research and extension, also took part in the event.
UPLB deans were also present, namely: Dr. Jose V. Camacho, Jr. (Graduate School); Dr. Elpidio M. Agbisit, Jr. (agriculture and food science); Dr. Willie P. Abasolo, (forestry and natural resources; Dr. Agham C. Cuevas (economics and management); and Rolando T. Bello (public affairs and development). (Jessa Jael S. Arana)