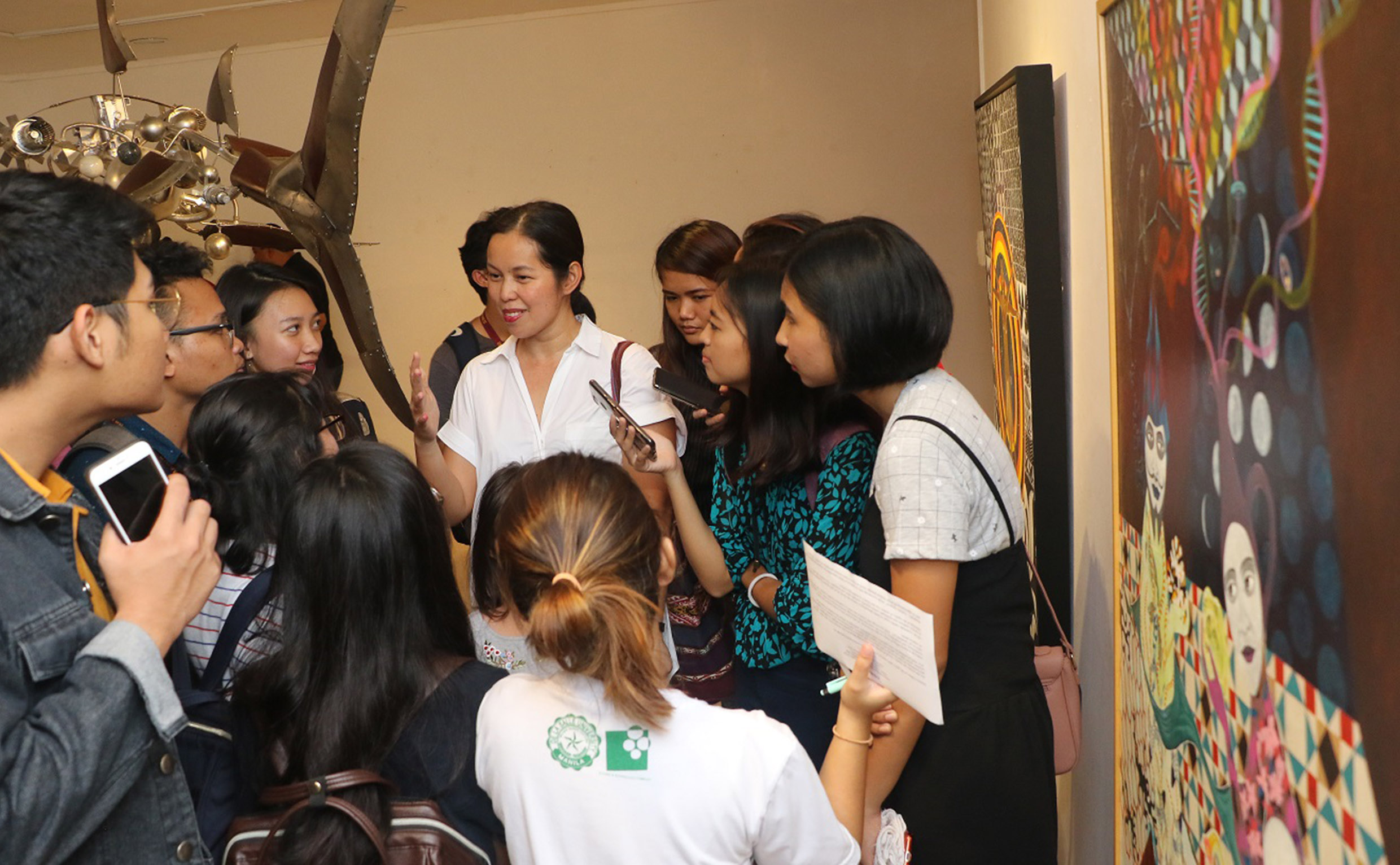 UPLB's yearender exhibit showcases art-science fusion
The formal opening of "Artfully Science," the exhibit that brings to a close the university's all-year-round visual arts display, kicked off the week-long Loyalty Day festivities in the campus.
"Artfully Science" showcases seven sculptural pieces and six paintings featuring 16 artists' imagination of the merging of art and science. It opened on Oct. 7 at the DL Umali Hall.
The art works, using various mediums such as brass, wood, acrylic, marble, crayons, steel, gem stones, brass wire, and oil pastel, are expressions of supposedly disparate concepts through the artistry of Arnel Borja, Jay-Rness Ceria, Ivan Co, Cris Eguaras, Mara Fabella, Dennis Jimenez, Elena Malgapo-Domingo, Antonio Jesus Quilloy, Karla Sajona-Sta.Cruz, Roger "Rishab" Tibon, Jualim Vela and the group of Ivan Cuento, Jeremiah Francisco, Carmela Masakayan, Anna Nabutel and Andre Sy.
The Office for Initiatives in Culture and the Arts (OICA), led by Director Jerry Yapo, organized the art exhibit.
In a previous article, Yapo said that "Artfully Science" hopes to make its audience better understand science while appreciating art as the medium.
Joining Yapo during the exhibit's opening were Dr. Serlie Barroga-Jamias, vice chancellor for community affairs; Dr. Alexander D. Madrigal, regional director of the Department of Science and Technology-Calabarzon; Celestino M. Palma II, executive director of Phil-Asia Heritage and Art Management, Inc., and Jeremy dela Cruz, a faculty member at the Department of Humanities.
Dr. Jamias, who read the message of UP Executive Vice President and medical doctor Teodoro J. Herbosa, said that art plays an important role in the health sector. Dr. Jamias cited as an example the artfully crafted educational materials that help create awareness on social health issues among the public.
For his part, Dr. Madrigal expressed that the event inspired him to pursue the Community Science and Art Collaboration Hub, one that the Los Baños Science Community Foundation Incorporated, the Department of Education, private schools, and the Philippine High School for the Arts may collectively undertake in the future to develop skills and capabilities of the youth in the digital and creative arts.
For his part, Palma talked about his advocacy of preserving the Filipino art heritage. He encouraged the young artists to be committed in the conservation of their art works, saying that the modern painting of today will be the art heritage of tomorrow.
After the program, the attending students and guests spent time to appreciate the paintings and sculpture and to interact with the featured artists.
"Artfully Science" is open to the public from 8 AM to 6 PM until Dec. 18, 2019. (KEAraguas with information from OICA)