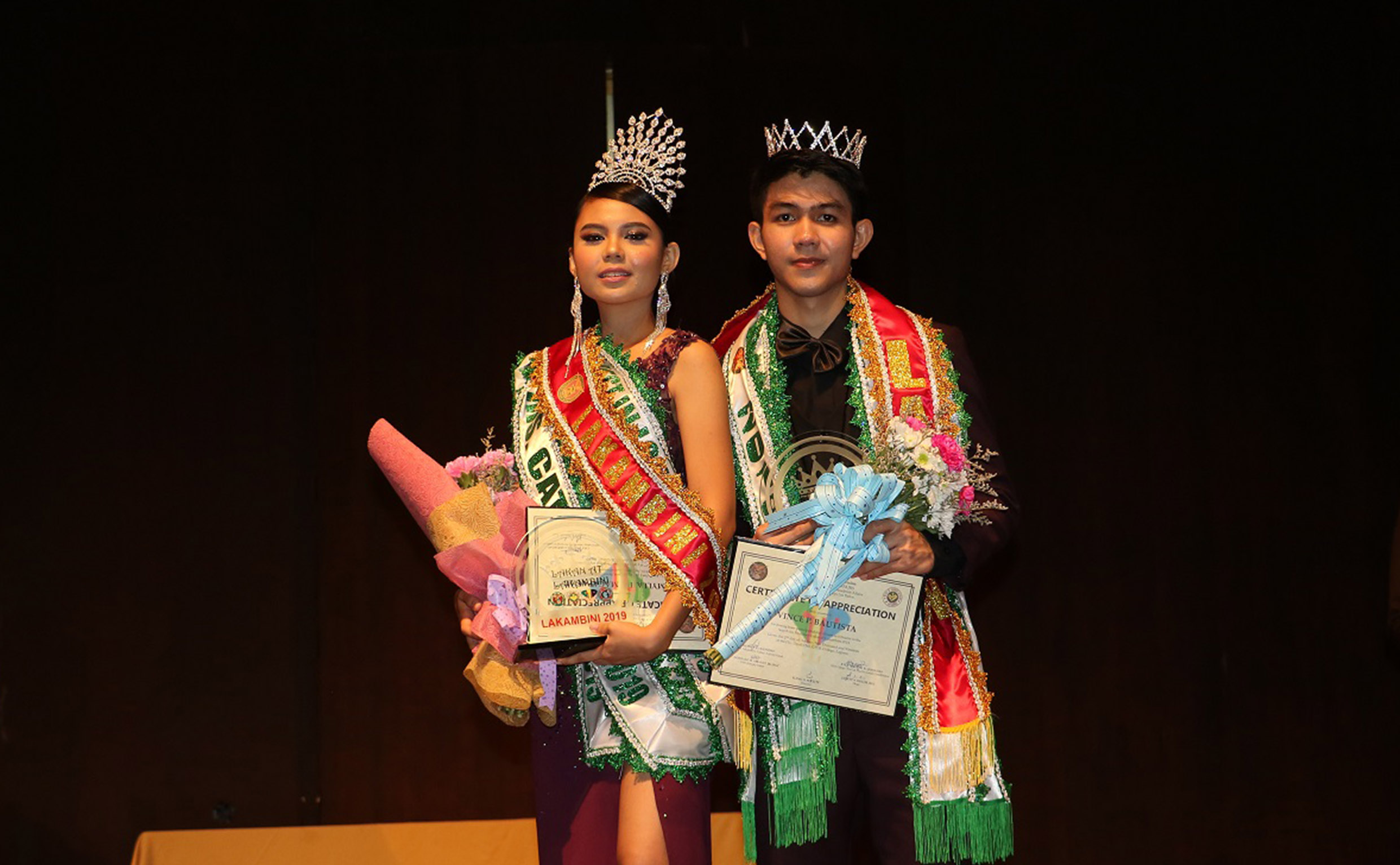 Vet, Com Arts freshies crowned Lakan, Lakambini 2019
Vince Bautista is the new Lakan, while Kamyllah Macapagal, the new Lakambini of UPLB.
Bautista, Doctor of Veterinary Medicine (Bloc AB1) student, and Macapagal, who takes up BA Communication Arts (Bloc X3), aced the campus pageant for new freshmen on Oct. 21 at the DL Umali Hall.
The coronation day highlighted the culmination of the 2019 Freshmen Psychosocial Events of the Office of Students Affairs (OSA), a set of activities that showcased the talents and skills of new freshmen.
Aside from bringing home the crown, Bautista, who bested six other contestants, and Macapagal, who beat nine others, also bagged the lion's share of special awards.
They were hailed as Mr. and Ms. Catwalk, Best in Formal Wear and Long Gown, and Best in Bloc Shirt. Bautista got the Best in Tagline award, while Macapagal clinched the Campus Sweetheart and the Miss Silog Republic recognitions.
During the pageant, the two stood out in their answers to an unusual question and answer portion that tested their wit and grace under pressure. From humorous questions, they were able to articulate lessons in life and society.
The contest criteria were wit and intelligence, 25%; confidence and looks, 40%; poise and bearing, 30%; and audience impact, 5%.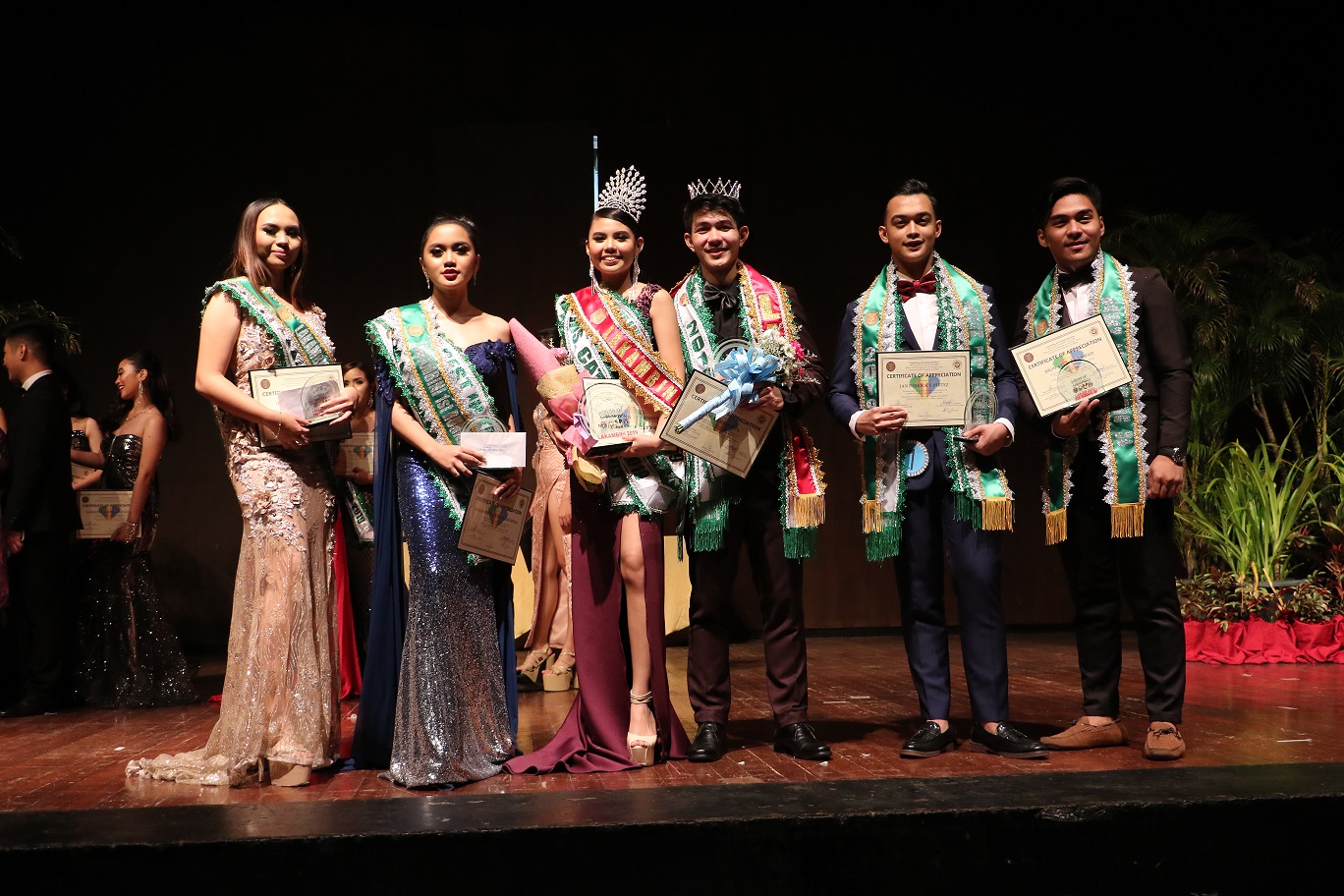 Hailed as first runners-up were Jan Derrick Pertez (BS Development Communication, Bloc U) and Kaxandra Alexis Salonga (BA Communication Arts X3), and as second runners-up, Jhon Arvhy Umpad (BS Electrical Engineering Bloc CD1) and Irah Nicole De Vesa (BS Agriculture, Bloc E1).
Pertez also took home a string of special awards, namely: Mr. Friendship, Best in Production Number, Mr. Photogenic, Voters' Choice, and Mr. Silog Republic.
Salonga was named Ms. Friendship, Best in Tagline, and Voters' Choice, while De Vesa was recognized as Ms. Punctual.
The search for Lakan and Lakambini was one of the psycho-social activities that OSA's Counselling and Testing Division (CTD) began holding since August. Assisting the division were its Gabay student-volunteers.
According to Dr. Erick Vernon Dy, guidance services specialist from CTD-OSA, these psycho-social activities promote excellence and holistic development among students as they adjust to university life and are avenues to develop resiliency and to harness the multiple intelligences of the freshmen.
During a break in the pageant proper, OSA recognized the winners of various psycho-social activity contests.
For inter-bloc competitions, BS Human Ecology Bloc G1 was named as the Best Bloc and its bloc leader Carmela Mae Figuracion as the Best Bloc Head for this Academic Year. The said bloc was also the champion of the Blocbakan: UP Quiz Contest.
BS Computer Science (BSCS) Bloc ST2 had the most number of perfect attendances in the Guidance Instruction classes at OSA; while BSCS Bloc ST1 clinched the "Paramihan ng 100" challenge based on its members' recorded perfect scores in class quizzes, exams, and exercises.
BA Communication Arts Bloc X2 was adjudged to have the best Bloc Shirt, while BS Statistics Bloc X1 was the earliest to submit an entry to the said contest.
For individual tilts, Gerard Noprada of BS Civil Engineering Bloc G1 and Jermaine Valerio of BS Biology Bloc W1 were named as champions in the essay and poster making competitions, respectively.
In their messages, Dr. Portia Lapitan, vice chancellor for academic affairs, and Janett Dolor, RGC, head of CTD-OSA, assured the students of the university's concern for their psycho-social welfare. A number of new freshmen attended the event to support their blocmate-contestants.
"Remember that you are not alone. We are here for you," Dr. Lapitan said.
"Nandito lamang ang OSA para sa inyo. Visit us at our office," added Dolor, who also acknowledged the presence of CTD's registered guidance counselors and staff whom the students could approach for their concerns. (Mark Jayson E. Gloria)