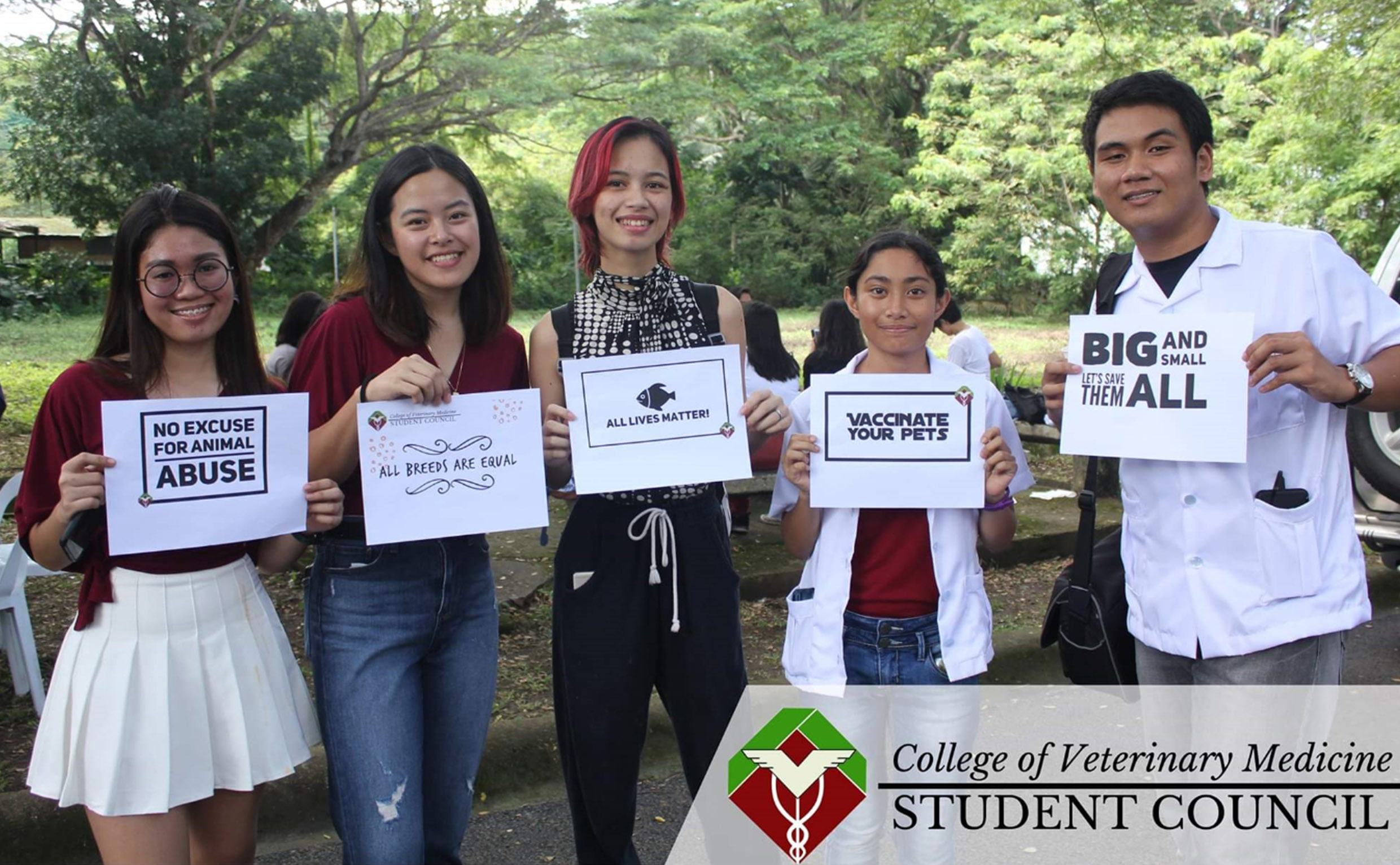 Vet students celebrate Animal Welfare Week
In line with the annual observance of animal well-being, the students of the UPLB College of Veterinary Medicine (CVM) celebrated Animal Welfare Week on Oct. 7-11 in the campus.
The CVM Student Council (CVMSC), together with student organizations, prepared various on-site and online activities in line with this year's theme "Fight for the animals: be the voice of the voiceless."
At the "photowalk" activity during the UPLB Loyalty Day parade on Oct. 10, the participants displayed slogans on animal welfare written on bond paper, photos of which have been uploaded on CVMSC's Facebook page.
A poster/traditional art display of artworks that were entries in the poster making contest was also held at the CVM-IAS Communal Building.
Kenneth Ryan Febrero, a freshman veterinary medicine student with his entry entitled "Ark of greed and ignorance," was declared winner.
The celebration also included an online campaign on animal welfare participated in by student organizations by sharing infographics on the CVMSC Facebook page. These information materials tackled topics such as the Animal Welfare Act, animal welfare vs. animal rights, and responsible pet ownership.
The participating organizations were the UP Venerable Lady Veterinarians Sorority, UP Alpha Chiron Society, UP SAVER, UP Rodeo Club, UP Lady Veterinary Students' Association, and UP Veterinary Medical Students' Society.
The first week of October was declared Animal Welfare Week by then President Gloria Macapagal Arroyo on Oct. 11, 2004 through Presidential Proclamation No. 715. It aims to promote love and kindness in the heart and mind of every Filipino, specifically the youth, for all kinds of animals.
For UPLB student Andrew James Viernes, information campaign is important in ensuring animal rights and welfare.
"Conduct seminars na 'yung target audience ay 'yung mga small communities like barangays," he said, adding that one member per household should be invited to better educate them on how to handle animals.
On the other hand, Anthonette Jepsari, a 21-year old student, suggested that authorities should put abandoned animals in a shelter. If ever they are not able to take care of these animals, these should be released for adoption. (Text by Kaye O. Galler; Photo from facebook.com/UPCVMSC)