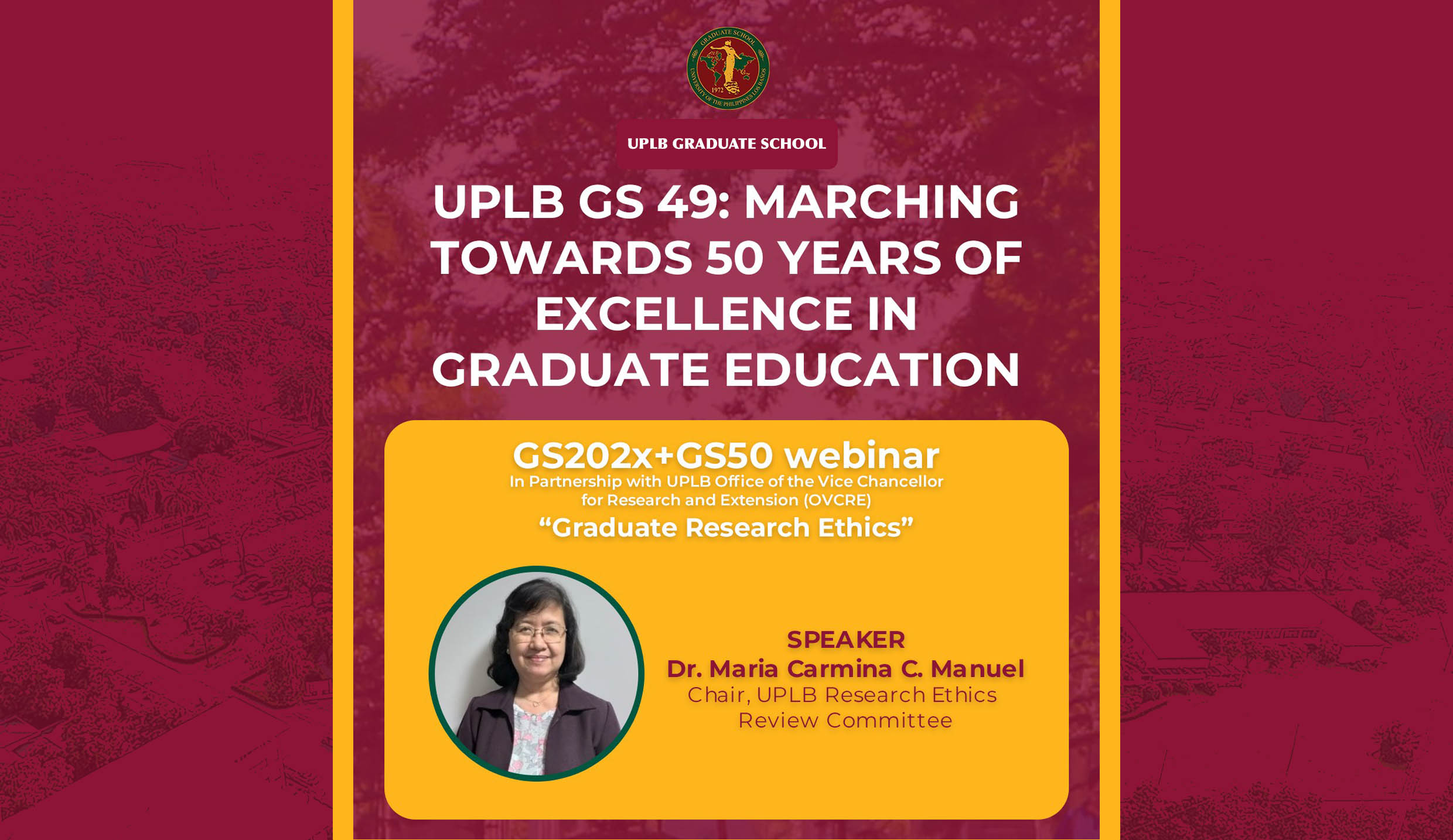 Research ethics webinar opens GS 49th anniv
The UPLB Graduate School (GS) opened the week-long celebration of its 49th founding anniversary with a discussion on the ethical guidelines for research on Dec. 20.
The online webinar discussion was led by Dr. Maria Carmina C. Manuel, chair of the UPLB Research Ethics Review Committee (RERC) and a genetics professor at the Institute of Biological Sciences of the College of Arts and Sciences.
Dr. Manuel discussed the history and importance of following ethical guidelines for research to ensure the safety of human participants and to avoid issues from arising as regards these guidelines. She said that ethical guidelines exist to address violations of ethical principles which were prevalent in research up to the previous century during World War II.
Dr. Manuel said that these ethical guidelines are based on three ethical principles, namely: respect for persons, beneficence, and justice. This entails the preservation of informed consent, avoiding bias, giving the research benefits when applicable, and denying burden on participants as much as possible.
The cornerstone of these guidelines is the Declaration of Helsinki which was originally developed in 1964 by the World Medical Association. It admonishes physicians in medical research to "protect the life, health, dignity, integrity, right to self-determination, and privacy and confidentiality of personal information of research subjects."
Dr. Manuel also emphasized the importance of ethics review in research.
According to her, it is important to protect human dignity and rights, uphold high standards of excellence in research and graduate education, promote meaningful interdisciplinary inter-agency and international collaborations, and comply with publication requirements in reputable journals.
To comply with these guidelines, it has been a practice for many research and academic institutions to create their own research ethics board and committees.
UPLB is following suit with these standards with the establishment of its own research ethics review committee. Dr. Manuel said that RERC is now applying for Level 1 accreditation at the Philippine Health Research Ethics Board.
A Level 1 accreditation will allow the committee to conduct reviews for researches with "minimal risks," in which the probability and magnitude of harm and discomfort anticipated in the research is not greater than those ordinarily encountered in daily life or during the performance of routine physical or psychological examinations or tests.
According to Dr. Manuel, the RERC is housed under the Office of the Vice Chancellor for Research and Extension (OVCRE) and is composed of three panels grouped according to research discipline and a special panel for researches with adverse effect.
The RERC workflow begins with the principal investigator or researcher who submits the research protocol to the RERC secretariat who then forwards it for initial classification. The protocols go through the primary reviewers where it can be disapproved or forwarded for full-board review or given expedited status.
The panel may recommend major or minor modifications in their decision before issuing an ethical clearance for the research. The principal investigator will then submit progress or terminal reports to the RERC secretariat for monitoring.
Dr. Manuel said that although some see ethics review as a barrier to research, she said that it can actually broaden scientific horizons by directing research to more ethical means to pursue knowledge, such as what happened when ethical objections to the use of embryonic stem cells led to the discovery of adult stem cells and the development of technology to induce pluripotency.
In his message, Dr. Jomar F. Rabajante said that research ethics was important in humanizing the results of research and to see the costs and benefits to research subjects. He also said that the webinar will help prepare graduate students for the new policies that the GS will be instituting in 2022, including ethics for graduate research.
This webinar is only the first in the series of activities that GS prepared to celebrate its 49th founding anniversary. Included in the lineup is an anniversary program on Dec. 21 and a virtual night out on Dec. 22. (Jessa Jael S. Arana)