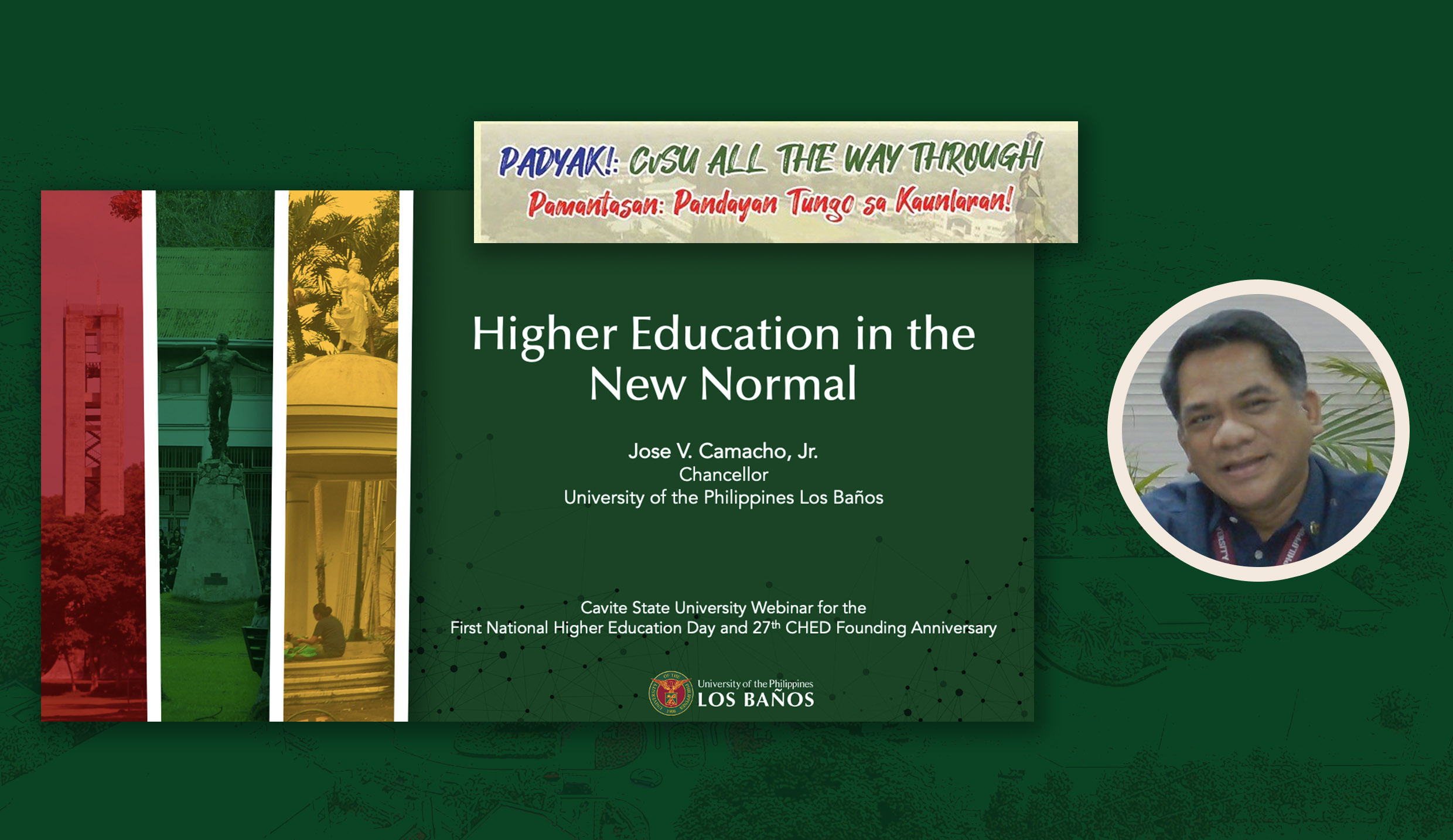 Chancellor Camacho gives his take on HEIs in the new normal
Higher education institutions (HEIs) in the country should get the best of what technology-mediated and face-to-face learning could offer as they chart their way into the future.
This is the essence of what Chancellor Jose V. Camacho, Jr. said in his talk about Higher Education in the New Normal at a webinar of the Cavite State University (CvSU) during the First National Higher Education Day and 27th anniversary of the Commission on Higher Education (CHED) on May 19.
"Certainly, with what we are going through, there is no turning back to the old ways of higher education," Chancellor Camacho noted. "We are moving forward – future-forward. And yet, we need to strike a balance, because after all, we cannot do away with human connection."
Chancellor Camacho acknowledged that the current COVID-19 pandemic has forced HEIs to embrace long-existing modes of instruction, primarily flexible remote learning.
He encouraged the audience in CvSU, composed of administrators, faculty members, staff, and students, to invest in equipment and facilities that could facilitate new instruction modes such as blended learning in a post-pandemic higher education landscape.
"We can work with various organizations and enterprises that would offer good deals on learning management system packages and online journal access," he suggested. "We can include in our research project proposals the purchase of advanced equipment that could not only be used during the duration of the project, but also for instruction."
Aside from these technology-driven investments and endeavors, Chancellor Camacho reminded them of the importance of maintaining the human element in learning. This, he said, can be practiced during the pandemic through compassion for and among students despite their interaction being limited on screen. He also stressed the need to provide gadget, internet connectivity, and mental health support to both the students and faculty members.
Chancellor Camacho also emphasized the need to consider the human element in the post-pandemic tertiary education through inculcating the importance of social interaction, empathy, and engagement, as well as critical thinking, ethics, and lifelong learning.
"It is through maintaining these very basics of human existence where our students become well-rounded individuals – durable and flexible to face the volatile, uncertain, complex, and ambiguous (VUCA) world," he explained.
Aside from Chancellor Camacho, other speakers at the CvSU webinar were Atty. Lily Freida Macabangun-Milla, OIC of the Office of Executive Director of CHED, who talked about gender and leadership in higher education; and CvSU's Russel Villacarlos and Mark Philip Sy, webmaster and head of Management Information Systems, respectively, who tackled digital transformation for HEIs.
The CvSU administration, led by President Hernando Robles, were present in the webinar. (Mark Jayson E. Gloria)