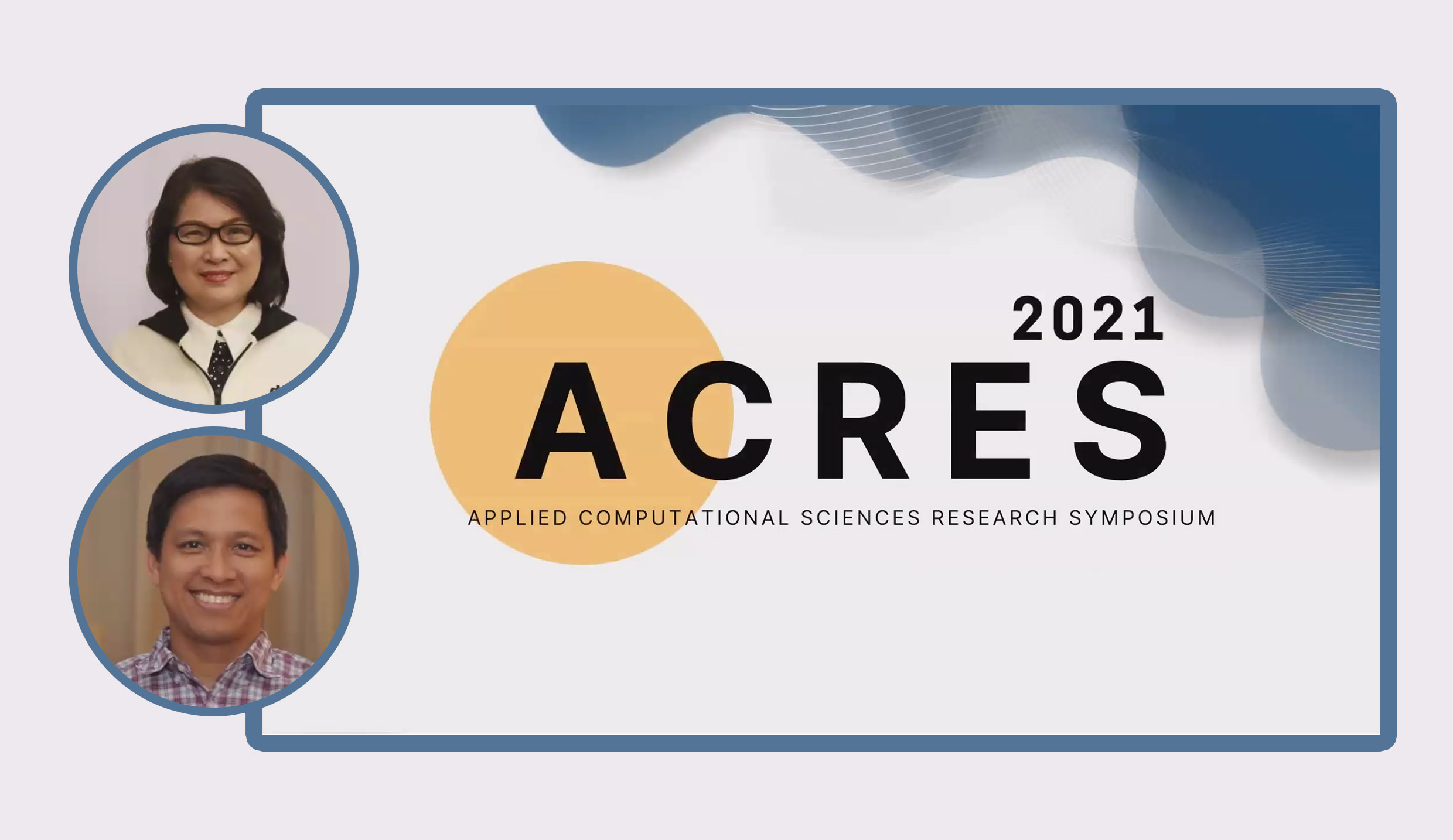 Computational sciences highlighted at symposium
Think you can help solve a deadly disease by running a simulation and analyzing some numbers? No, it's not a Hollywood movie. Researchers are actually doing it.
This was clear in the online congregation organized by the Computational Interdisciplinary Research Labs (CINTERLabs) on Sept. 24, known as the Applied Computational Sciences Research Symposium 2021 (ACRES 2021).
The symposium gathered researchers from various disciplines who shared results from interdisciplinary research that used the computational sciences to understand and solve real-life problems.
This was aptly demonstrated in the two plenary sessions that headlined the presentations.
Dr. Ricardo del Rosario, a senior computational biologist at the Stanley Center for Psychiatric Research at Broad Institute of MIT and Harvard, presented studies that his group conducted where they used computational and statistical tools to investigate a gene and its correlations to tuberculosis recovery and in studying gene diversity in captive and wild marmosets, which is growing in popularity in psychiatric research.
Dr. Rafaelita Aldaba, undersecretary for Competitiveness and Innovation at the Department of Trade and Industry (DTI), talked about the DTI's roadmap in transforming various industries in the Philippines to take advantage of the opportunities in the Fourth Industrial Revolution.
Also known as Industry 4.0, the new age of industrialization is distinct for the growing use of the internet and smart devices, automation, and other digitization of processes, which all lessen the need for human intervention in manufacturing and industrial practices.
The symposium also featured presenters from local and international universities where computational science was applied to address issues related to health, food security, agriculture, artificial intelligence, among others.
In his message, Chancellor Jose Camacho, Jr. recognized the impact of Industry 4.0 across disciplines and emphasized how it can further advance research.
"UPLB acknowledges the strength of these fusions and the importance of the interdisciplinary approach. CINTERLabs is the prime example of this. We believe in their potential to elevate research and development, and hopefully, to contribute to socio-economic growth," he said.
Dr. Merdelyn C. Lit, vice chancellor for research and extension, shared the same thoughts in her message to the audience. "I hope that these groundbreaking researches will serve as lenses through which we can see the worlds' problems more clearly and subsequently contribute to creating effective and practical solutions."
For her part, Dr. Maribel Dionisio-Sese, dean of the College of Arts and Sciences (CAS), acknowledged the role of the computational sciences in informing public policymaking.
"Like in any of the sciences, it is hoped that applied computational sciences will help lead us to a more humane and equitable world, where we can all comfortably live in peace and safety, with dignity and decency," she said.
The CINTERLabs is an interdisciplinary studies laboratory based at CAS that facilitates networking and collaboration across research units to pursue computational research. (Jessa Jael S. Arana)