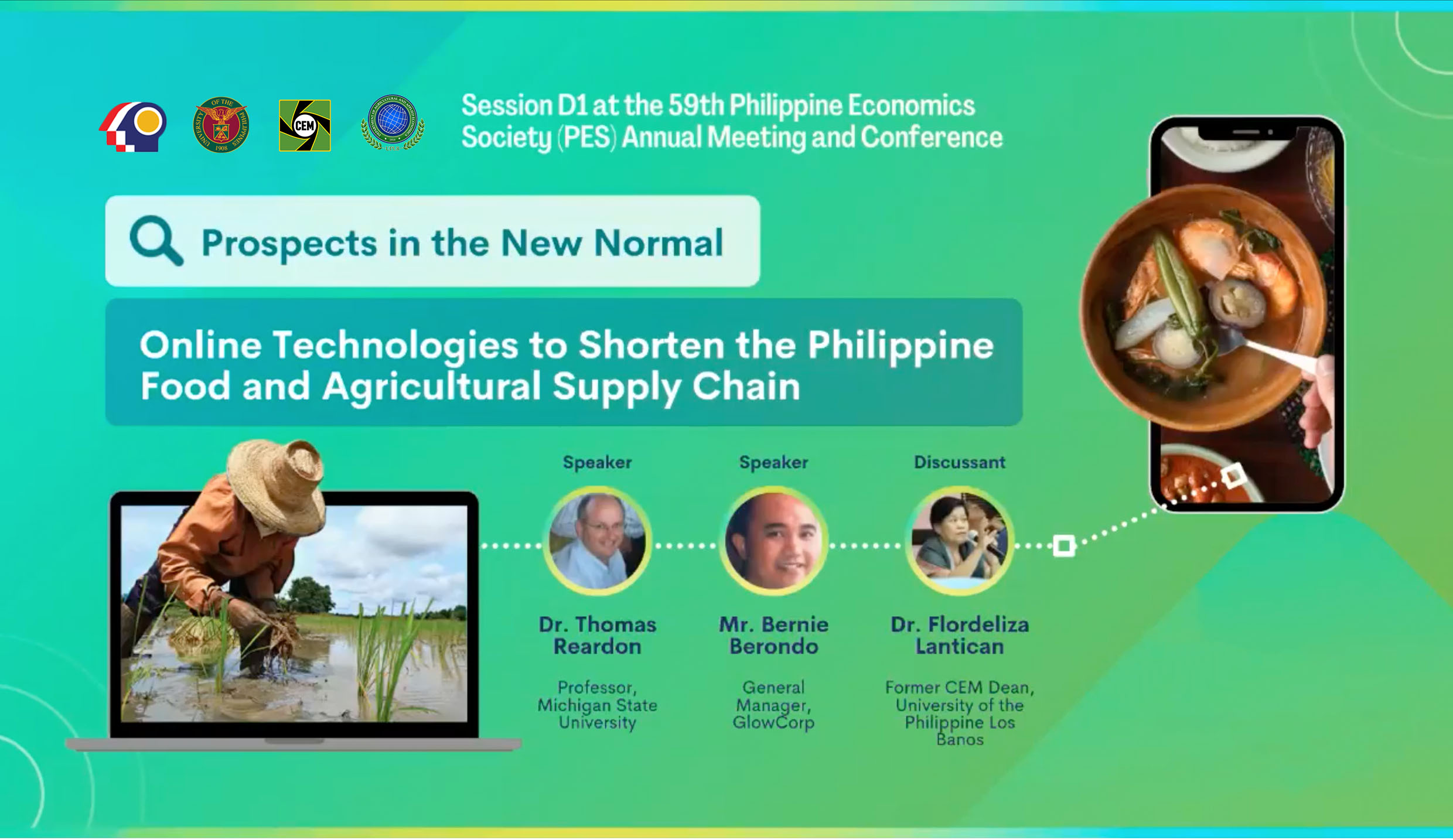 DAAE hosts PES conference session
The Department of Agricultural and Applied Economics (DAAE) of the College of Economics and Management (CEM) hosted Session D1 of the 59th Philippines Economic Society's (PES) Annual Meeting and Conference at 5:30 to 7pm on Nov. 11.
The theme of the conference is "Building Back Better: Harnessing Digitalization Towards a Transformed Philippines."
In support of this, DAAE's session focused on "Online Technologies to Shorten the Philippine Food and Agricultural Supply Chain: Prospects in the New Normal." Like the rest of the sessions, it was held via virtual conferencing.
Attended by close to 250 participants, the session was graced by two prominent speakers, Dr. Thomas Reardon and Bernie Berondo.
Dr. Reardon is a Distinguished University Professor from Michigan State University and one of the world's most prolific writer and renowned researcher in marketing and related fields.
Berondo, on the other hand, is a seasoned practitioner in the field of supply chain management as he heads the Global Organic and Wellness Corporation (GlowCorp), a marketing arm owned by organic farmer cooperatives, associations, non-government organizations, and individuals.
Professor Reardon highlighted the role of the supermarket revolution, which he referred to as the "tree trunk," in the transformation of food & agricultural value chains which was supported, fast-tracked and pivoted by e-commerce revolution, or as he said, the "tree branch."
According to him, e-commerce, which has long been in existence, was only intensified by COVID-19 pandemic.
For his part, Berondo emphasized the more than 10 years of GlowCorp's experience as a social enterprise that bridges the digital divide, which threatens the farmers.
The corporation shortened the supply chain of organic and natural products by getting the produce from the farmers for delivery to supermarkets and distribution centers, where they can be directly accessed by the consumers.
In the pandemic time, GlowCorp successfully adapted by joining the bandwagon of marketing through digital marketing platforms.
The two talks were reacted upon by Dr. Flordeliza A. Lantican, former dean of CEM and now retired professor, and is one of the country's agricultural supply/value chain experts.
Professor Lantican underscored the long channel that food and agricultural products had to undergo using the traditional value chain and welcomed the developments reported by GlowCorp.
However, she lamented the fact that in the Philippines, the supermarket revolution is being hampered by existing rules on foreign direct investments (FDIs) that peg business ownership of foreign nationals to only 40%.
DAAE's chairperson, Assistant Professor Julieta A. Delos Reyes welcomed the participants and guests while CEM dean, Dr. Agham C. Cuevas gave the opening remarks. Dr. Melodee Marciana De Castro, chair of CEM's Knowledge Management Committee, formally closed the session. (Julieta A. Delos Reyes)