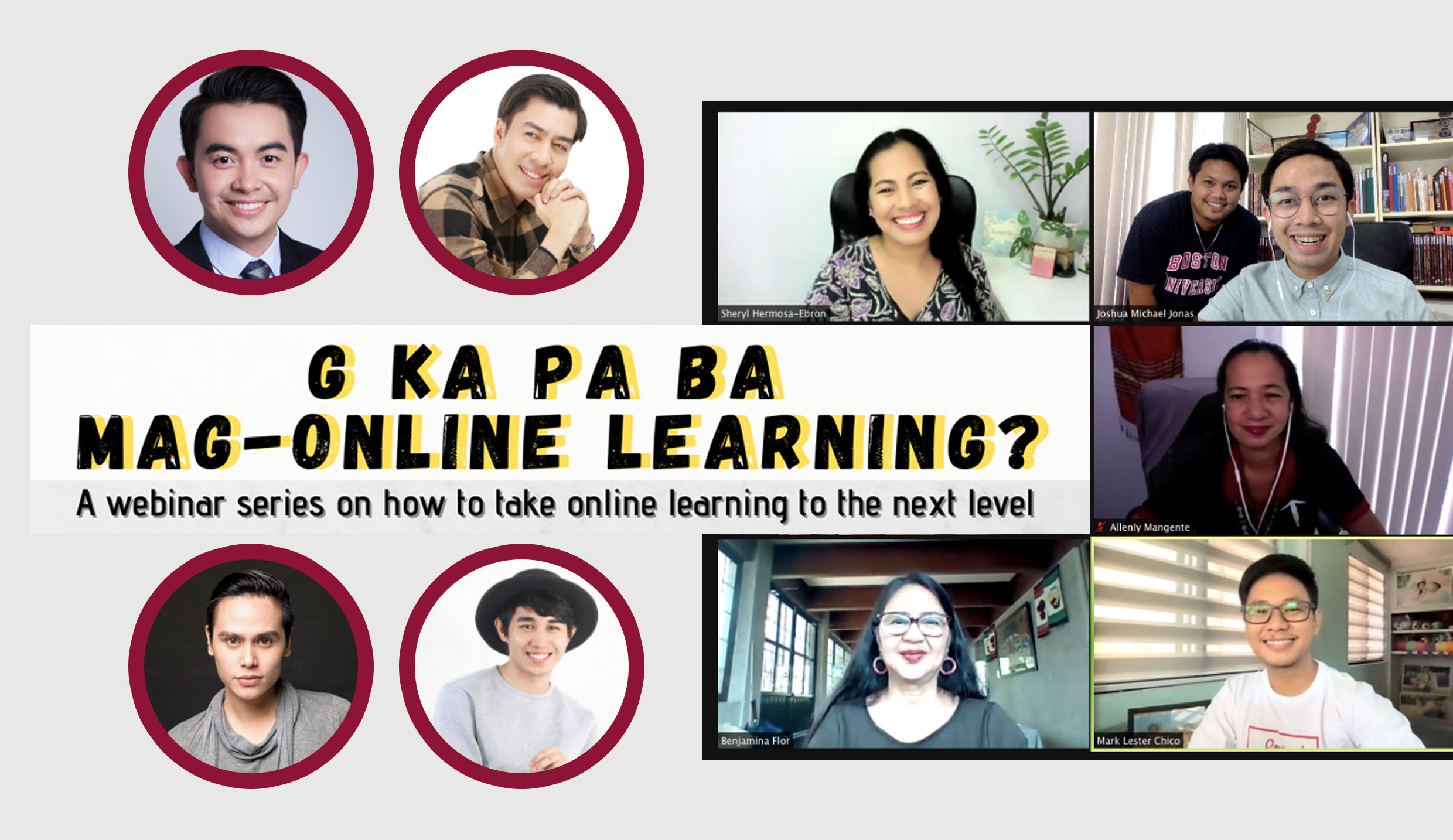 LRC conducts webinar series on improving online learning
The Learning Resource Center (LRC) conducted a series of webinars dubbed as "G Ka Pa Ba Mag-Online Learning? A webinar series on how to take online learning to the next level."
This program served as a follow-up to the G Ka Na Ba Mag-Online Learning? webinar series held in August 2020. The six-part webinar series focused on skills-enhancement topics for students in the online learning setup.
The sessions aimed to equip online learners with the knowledge on public speaking, resume writing, interview, and design skills. The webinars were streamed live through LRC's Facebook Page. 
Around 7,000 individuals registered for the webinar series. The participants were constituents from different UP campuses, state colleges and universities across the Philippines, government and non-government organizations, and private individuals.
The webinar series is categorized into two themes. The first theme, "Prepping Up for Success," covered the first three sessions.
The first session titled, "SPEAK UP!: How to Overcome the Fear of Public Speaking" was held on March 22 with Linus Van Plata, a faculty member at the Department of Humanities of the College of Arts and Sciences.
Plata shared tips and best strategies to the online audience on how to overcome the anxiety of public speaking, as well as, speaking one's mind in different contexts.
The second session conducted on March 24, "DRESS UP!: How to Make First Impressions Last through Power Dressing," had Jose Basil Malicsi, a fashion designer and MA Fine Arts student of UP Diliman as the resource speaker. He discussed tips on what to wear during interviews and presentations, as well as, dos and don'ts of power dressing.
A UPLB alumnus, Brian Carlo Hipolito of the Asian Infrastructure Investment Bank served as the resource speaker for the third session on March 26 titled "STANDOUT!: Part 1: How to make an impressive resume;" and "Part 2: How to ace a job/internship interview."
He provided insights on the importance of making a resume standout and get a lasting impression. He also gave tips on how to properly respond during a job/internship interview.
The second theme, "Levelling Up Your Design Skills," covered the remaining three sessions which had Lawrence Gill Salgado, a digital marketing specialist and freelance photographer as the resource speaker.
In the fourth session, "CREATE AND INSPIRE: Learn the Basics of Graphic Design," held on April 6, Salgado discussed the basic tenets of graphic design and its application to presentations, publicity materials, and visual designs among others.
The fifth session held on April 7 titled, "Smartphone Photography 101: Learn to take better pictures using mobile phones," had Salgado providing best strategies and principles in taking photos using smartphones.
In the sixth session held on April 8 titled, "Image Editing: Learn how to edit photos using Adobe Photoshop," Salgado demonstrated basic editing skills, from using the different tools of the software and different strategies to achieve certain editing outputs, using Adobe Photoshop.
The LRC webinar series, which may also be viewed on YouTube, is part of one of LRC's flagship programs dubbed as LRC CARES or Creative Activities and Recreational & Educational Services. (Joshua Michael G. Jonas)