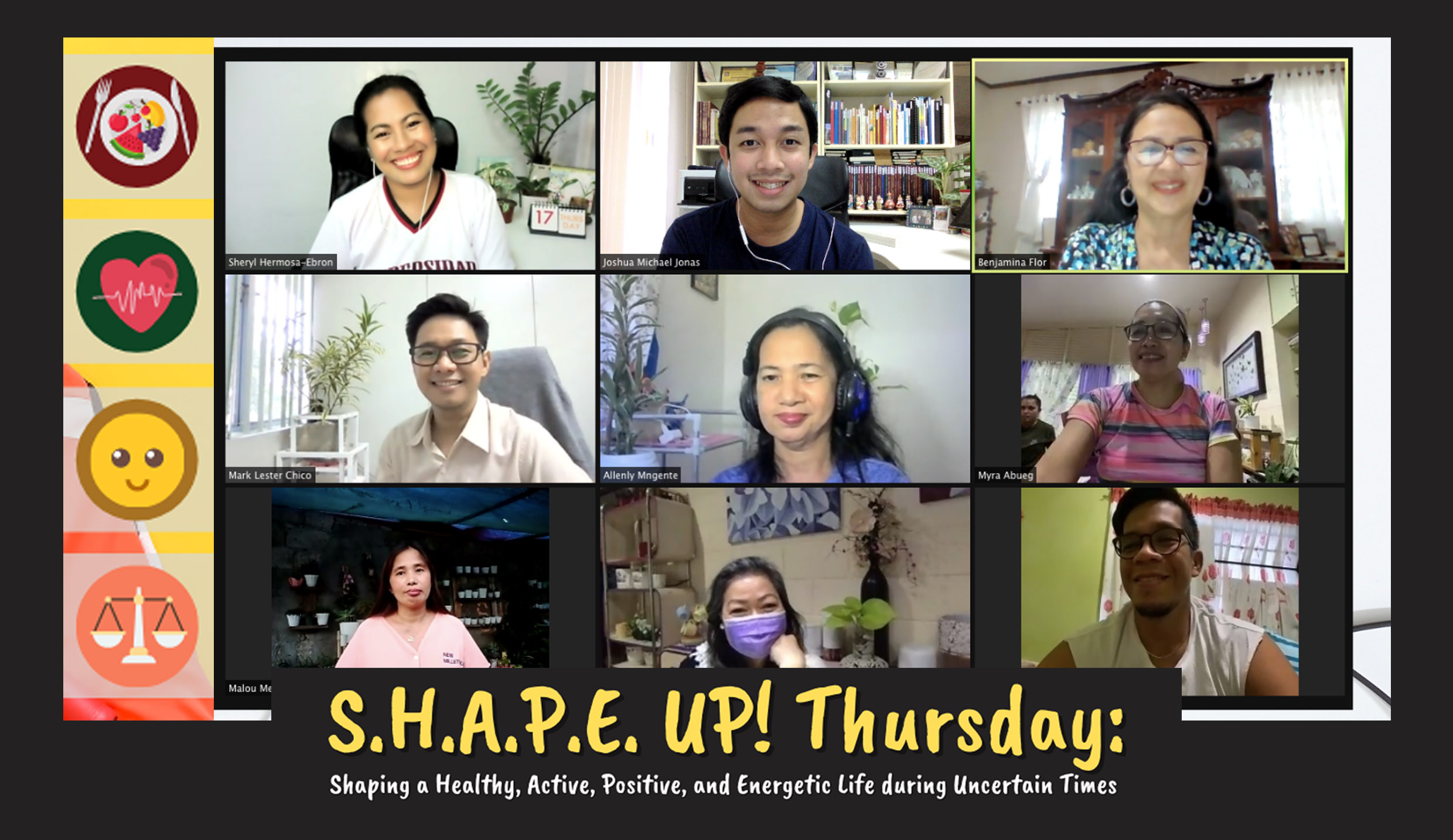 LRC promotes health and well-being in webinar series
Home lockdown and isolation due to the COVID-19 pandemic have been associated with negative changes in mood, sleep pattern, and eating behavior. Studies suggest that people who eat a well-balanced diet are healthier, have a stronger immune system, and have a lesser or lower chance of suffering from chronic illnesses and infectious diseases.
To promote healthy habits during this time, the UPLB Learning Resource Center (LRC) blocked Thursdays for its healthy habits webinar series with sessions packaged under four themes and held over a 24-week period. The webinar series aptly called S.H.A.P.E. UP! Thursday stands for Shaping a Healthy, Active, Positive, and Energetic Life during Uncertain Times (Webinar Series).
The sessions are streamed via Facebook and are divided into two parts: the first part is a health lecture on the four themes with a guest resource speaker, and the second part is a 15-minute Zumba session dubbed "Tara, Let's Zoom-ba!"
The Zumba sessions are led by Marilou L. Mercado, administrative staff member at the Interactive Learning Center (ILC); and performed with staff members of LRC, ILC, University Library, and the Office of the Vice Chancellor for Academic Affairs (OVCAA) from various UPLB locations.
The first theme, "EAT RIGHT! Tips on How to Maintain a Healthy Eating Lifestyle" had sessions conducted from May 6 to June 10. Registered nutritionist-dietitians and faculty members at the Institute of Human Food and Nutrition of the College of Human Ecology (IHNF-CHE) shared to the participants tips on how to maintain a healthy diet during the pandemic.
Dr. Aimee Sheree Barrion, RND, director of IHNF, was resource speaker for the first session that was held on May 6. Dr. Barrion provided an overview of what it takes to eat right in the context of the program of the Department of Science and Technology–Food and Nutrition Research Institute's (DOST-FNRI) "Pinggang Pinoy: Healthy Food Plate for Filipino Adults," which shows the recommended proportion of different food groups a Filipino should consume to achieve a healthy diet. Dr. Barrion also presented computations and equivalents of caloric content in common food items.
Zarah G. Sales, RND, talked about healthy weight and waist in the second session that was held on May 13. Sales discussed the different assessment tools to evaluate one's nutrition status and explained how body mass index (BMI), waist circumference, and waist-to-hip are computed or measured, as the case may be. She also gave tips on how to achieve a healthy weight.
The third session held on May 20 focused on nutrition, immunity, and non-communicable diseases with Dr. Liezl M. Atienza, RND, as resource person. Dr. Atienza provided examples of sources of oxidative stress and its consequences to health. She gave insights on how to achieve a healthy lifestyle to help boost immunity and prevent non-communicable diseases such as eating a balanced diet, exercising at least 30 minutes five times a week, and avoiding sources of oxidative stress.
Nutrition myths and facts were discussed in the fourth session on May 27 by Marjorie Anne A. Layosa, RND. She debunked many common nutrition myths by providing their scientific explanation, including brown sugar being a healthier alternative to white sugar and the much-vaunted effectiveness of skipping breakfast for weight loss.
Aiza Kris M. Bernardo, RND, discussed the basics of reading nutrition labels on the fifth session on June 3. Bernardo identified the different parts of the nutrition facts part of the label and explained how to interpret the different components indicated on it. She provided calculations of the recommended intakes of different nutrients based on the Philippine Dietary Reference Intake (2015) of the DOST-FNRI.
Under the sixth and last session, which was held on June 10, Angielica Reambillo–Navasero, RND and Von Ryan M. Ebron, MM, discussed cooking tips for a healthier diet. Reambillo-Navasero provided key insights on food preparation, cooking, handling, and storage. Ebron, who is also known as "Chef Ian," gave practical tips on how to make food more palatable and nutritious especially during the COVID-19 pandemic where growing and cooking food at one's home is recommended.
The resource speakers for Eat Right! are all faculty members at IHNF-CHE. Interested parties who wish to avail themselves of free online nutrition consultation may check the Facebook Page of IHNF for further inquiries, questions, and concerns regarding health and wellness.
The second theme, titled "WORK IT!: Simple Routines to Stay Active at Home and in the Workplace," is currently in session every Thursday from June 17 to July 22, 2021. This theme focuses on physical activities and home workout routines that can be easily executed without the use of equipment.
In the first three sessions held on June 17, 24, and July 1, Myra Luzviminda G. Abueg, faculty member at the Department of Human Kinetics (DHK), College of Arts and Sciences, discussed Nirvana Fitness and "Strong" workout routines.
Nirvana Fitness is a regimen for calming the mind and body which includes habitual healthy daily breathing patterns. "Strong" workout routines are high intensity cardio and conditioning exercises. Abueg, together with #TeamLRC, and other UPLB staff members provided a demonstration of the Nirvana Fitness and Strong routines.
Percival Henry M. Balite and Naomi D. Mendoza, DHK faculty members, are scheduled to discuss other home workout routines in the succeeding three sessions under the second theme.
Under the third theme titled "STRESS LESS! Strategies on How to Improve your Emotional Wellness," six sessions shall be devoted to tips and strategies to reduce stress and strengthen social connections. This will be handled by Dr. Emely D. Dicolen, a faculty member at UP Manila and an affiliate professor at the College of Public Affairs and Development.
The six sessions of the fourth theme dubbed as "WORK-LIFE HARMONY: Steps on How to Achieve Balance and Harmony between Life and Work," will be handled by Dr. Teri-Marie P. Laude and Nepthaly Joel B. Botor, faculty members at the Department of Human Family and Development Studies-CHE.
S.H.A.P.E. UP! Thursday webinar series is conducted weekly every Thursday at 4 PM until October 2021. (Sheryl Edd P. Hermosa-Ebron & Joshua Michael G. Jonas)