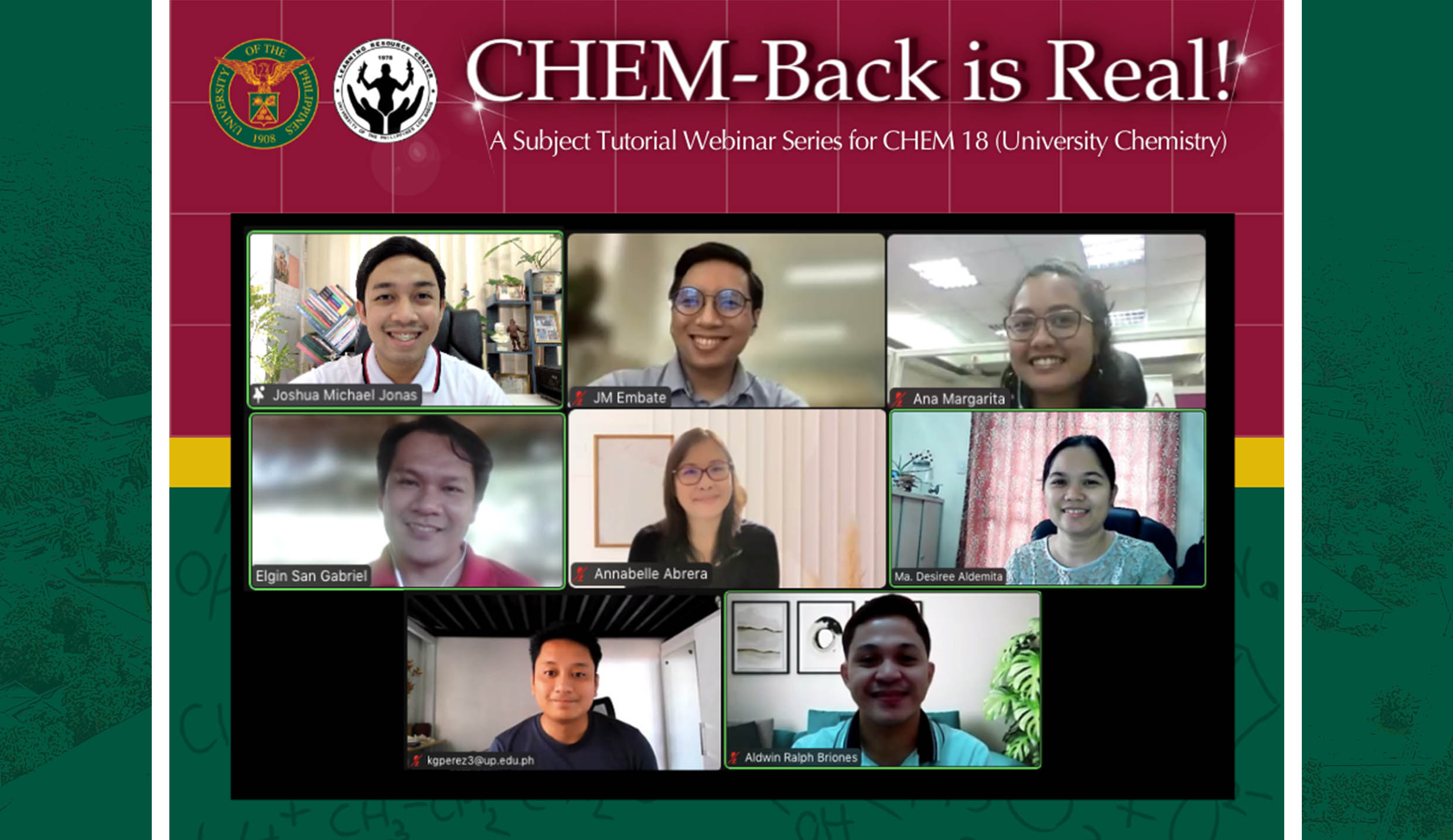 Online chem tutorials hosted for students
The UPLB Learning Resource Center (LRC) conducted a five-day tutorial webinar series for CHEM 18: University Chemistry entitled, "CHEM-Back is Real!" from May 30 to June 3. A total of 136 participants registered for the tutorial webinars.
As part of LRC's tutorial program Together Everyone Achieves More (TEAM) Learning Sessions, they conducted a series of online tutorials for UPLB students enrolled in CHEM 18 to help them review challenging topics in the subject.          
The series featured resource persons from the Institute of Chemistry (IC) of the College of Arts and Sciences who shared essential tips and strategies for understanding and solving problems on these topics.
The first session on May 30 titled "Bonding Tayo?" was led by faculty member Elgin V. San Gabriel, who discussed tips for solving equations about chemical bonding and organic compounds.
Dr. Annabelle T. Abrera served as the resource speaker for the second session, "Attracted Ka Ba?" held on May 31. She explained different concepts about the intermolecular forces of attraction and chemical thermodynamics.
For the third session held on June 1 titled, "Ano Reaction Mo?", Dr. Ma. Desiree Belina-Aldemita provided an overview of the key points in chemical equilibria and helped the students solve problems related to the topic.
The fourth session was held on June 2 and featured the topic, "Kinetics at Nuclear Pa More!" led by faculty member Kevinilo G. Marquez. During the session, he emphasized the importance of the different concepts in chemical kinetics and nuclear chemistry and their applications.
The fifth and last session, "Electron World!" was held on June 3 with Aldwin Ralph C. Briones. He led the review on redox and electrochemistry and facilitated problem-solving activities with the students.
Registered participants of the tutorial-webinar series were given access to recordings of the sessions for their own study and review. (Joshua Michael G. Jonas)