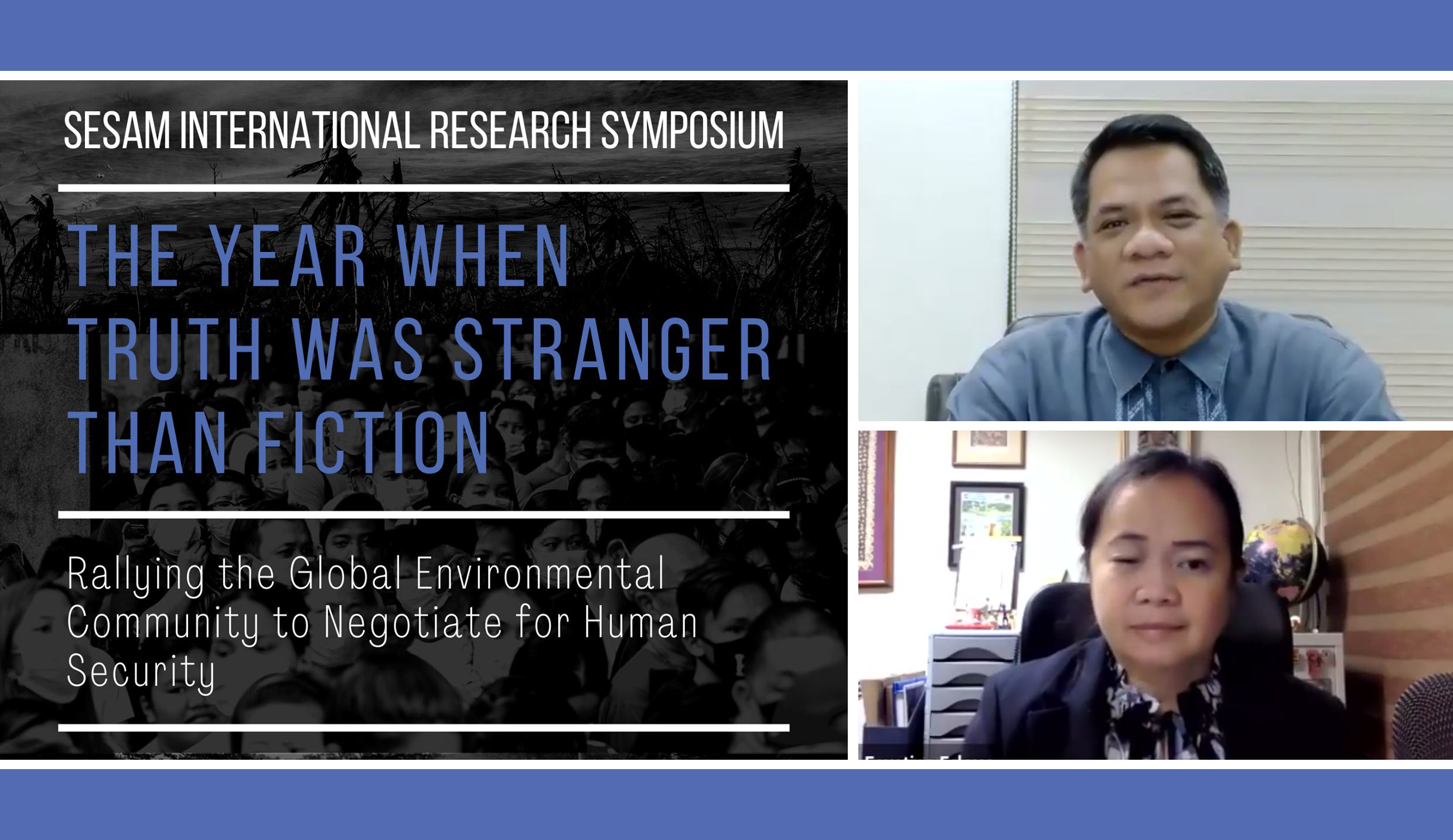 SESAM to go into environmental diplomacy
"We have met the enemy and he is us."
This still holds true today, 50 years after Walt Kelly, an animator and cartoonist, first coined this for an Earth Day celebration poster in 1970.
On the 43rd year of its establishment, the School of Environmental Science and Management (SESAM) held an international symposium that very much summed up what Walt Kelly said decades ago: the enemy is "us."
But beyond causing collective hand wringing in despair over the state of our environment, SESAM elevated the discussion at the symposium to find its way toward helping equip and enable professionals in environmental studies to become more effective defenders of the country's position concerning the environment in the international arena.
Yes, you read it right, SESAM, one of UPLB's younger academic units, is poised to chart a new path; and the symposium, entitled "The Year When Truth was Stranger than Fiction: Rallying the Global Environmental Community to Negotiate for Human Security," is one of the ways by which it is preparing itself for the work ahead. 
The information-packed symposium, held via Zoom and streamed online on UPLB Official Facebook on Dec. 11, featured talks by experts, specialists, teachers, and researchers in veterinary medicine, climatology and agrometeorology, watershed science, national and international environmental governance, environmental economics, geology, data science, and environmental justice. 
The symposium featured information on the diseases that plagued pigs and people and the typhoons and floods that devastated parts of the country this year (2020), causing economic disruption and human misery, and highlighting failures in mitigation and adaptation.
It provided some suggestions and solutions to these problematic situations such as strengthening biosecurity and applying One Health, an integrative approach that takes into account environmental, animal, and human health as a system; using impact-based weather forecasting; and applying watershed approach in ecosystems management.
The resource persons also proposed capitalizing on and supporting emerging innovations toward food sufficiency, policy, and research support; coping mechanisms amidst the continuing transmission of COVID-19 while opening up the economy; and implementing programs that will encourage participation of affected populations in common property resources.
Other resource persons proposed localizing international laws for use in environmental conflict resolution and redefining Philippine national security and national defense interests into a more comprehensive "human-ecological security," through the inclusion of environmental risks and environmental disasters.
On the aspect of international environmental diplomacy, resource persons shared their experiences as members of the negotiating panel for the Philippine government, for the United Nations, and for non-government organizations in crafting international treaties, protocols, and conventions.
Presentations related to this aimed to provide lessons for SESAM to use in preparing for its foray into environmental diplomacy.
This new direction comes after the realization that the solutions to environmental problems are beyond "us" in the country and should thus be elevated to a higher body, to include a wider scope of "us," the international community.
To do this, Dr. Maria Victoria Espaldon, faculty member and former SESAM dean, quoting author Robert Frost, said that SESAM needs 'to take the road less traveled by' in order "to make all the difference." Dr. Espaldon explained this in the closing remarks that she gave for the international symposium.
In her message, she said that SESAM, itself an offshoot of a similar decision 43 years ago, is "an embodiment of a road less traveled by" and has since contributed much to advances in environmental science.
"We need to put science at the forefront of policy and decision-making and in negotiating for the environment" by "building a cadre of people" trained in "international environmental relations, local and national negotiations and diplomacy," and "competent Filipinos who would bring good science into resolving environmental conflict toward advancing Filipino nationhood and development," Dr. Espaldon pointed out.
This move by SESAM aligns with the call of Chancellor Jose V. Camacho, Jr. for a future-proof UPLB that fosters a mindset of resiliency.
Chancellor Camacho in the message he gave to formally open the symposium, reiterated this call, saying that this involves "not just surviving disasters, but foreseeing and preparing for them so that their impact is mitigated."
Chancellor Camacho's message was echoed by the executive director of Forest Foundation Philippines (FFP), Atty. Jose Andres A. Canivel, in a message, wherein he rallied the participants to help avert ecological and sustainability crises confronting our people by putting science at the forefront of decision-making.
The international symposium, a first for SESAM, was co-sponsored by FFP and the Environmental Management Bureau of the Department of Environment and Natural Resources. (JMBo)