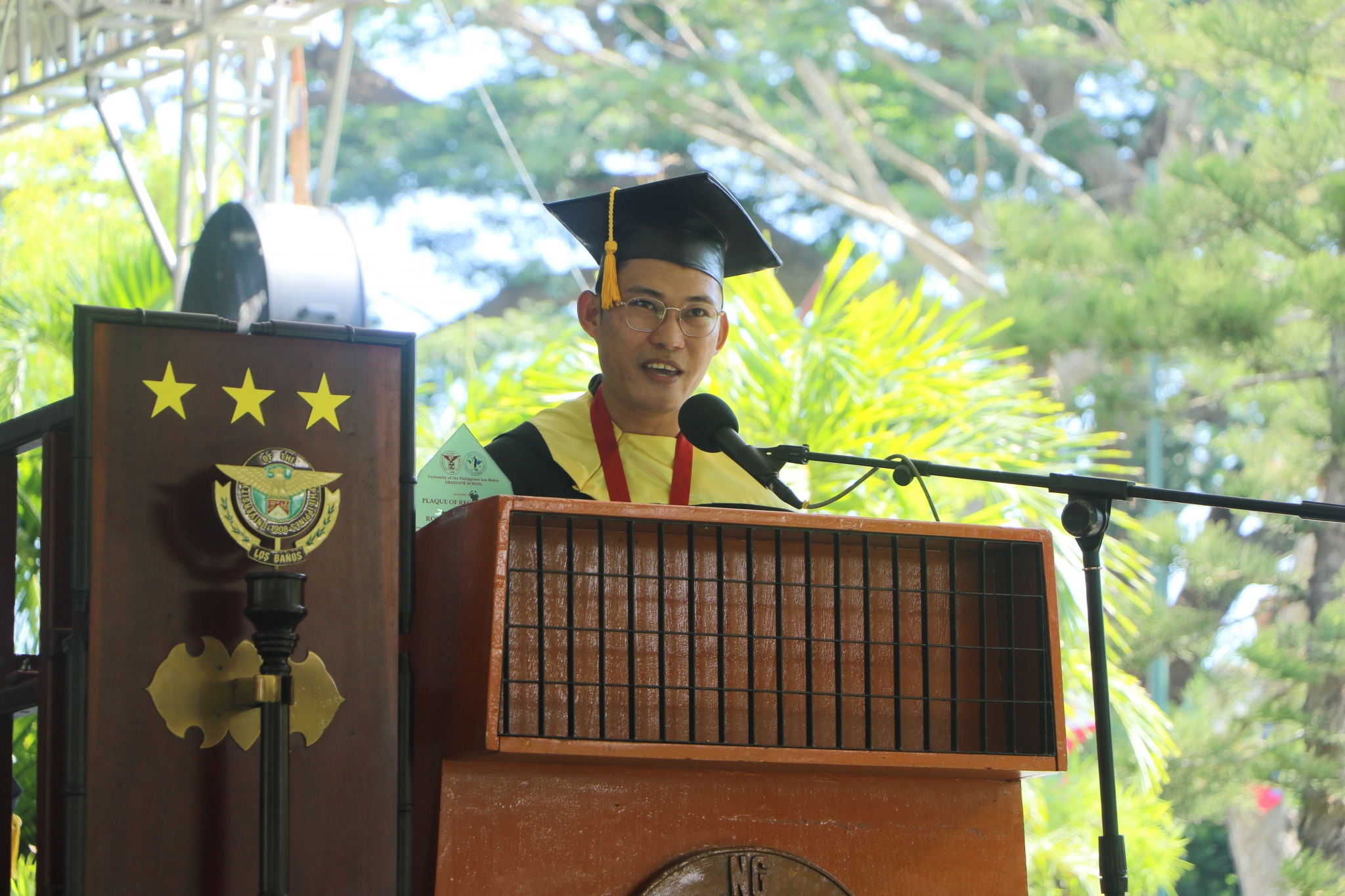 The Speech of Rommel Arrobang, Top UPLB MS Graduate
Good morning, everyone. Honored guests, members of the faculty, my fellow distinguished graduates, class of 2019. Good morning and welcome.
When I was informed by the Graduate School to deliver a speech, I had a mixed-emotions, When I started writing this speech, I was clueless. I don't know what to share and talk about. Then, I settled by making it something from the heart. I can't tell you the absolute truth, but I can tell you what I believe in.
This is my personal truth…
I believe that all of us have a unique definition of life. All of us have different paths to take and different journeys to follow. All of us are different and, yet, we all have one thing in common. We have our families. One way or another, we belong to one and this is where I gained my truths.
My family is far from typical but mine is the perfect one for me. They are the foundations of my truth. They are the treads of my identity. Thanks to my grandmothers, Mama Bebing and Mama Bolet, I learned how to wake up early every day. School days were never good to me because I wanted some more time to sleep but my grandmothers patiently prepared everything. They made my breakfasts and tidied up my things. At that time, all of what they have been doing were a common thing for me but, now, I realized that all their sacrifices made me of who I am today.
I grew up in a place where the shore meets the rice fields. Lolo Carlita went to his rice field before sunrise with my childhood friend, his carabao. After plowing the field all day long, he would greet me with a wide smile on his face and hugged me with his muddy arms as if he was never tired. He is a very hardworking man and a jolly person as well. I became an agricultural engineer because of my grandfather. I saw his struggles growing up. Planting rice was never easy, but my grandfather was passionate in what he was doing. I remembered him saying, "Kung hindi ako magtatanim, ano ang kakainin ng mga tao?" I met so many farmers just like my grandfather and they have the same stories. Stories of struggles but not giving up. I believe that it is high time to acknowledge every Filipino farmers' for providing food for everyone and that they are one of the pillars of our country. My goal is to help the agricultural sector uplift the lives of our farmers. For my Lolo Carlito, thank you and I am honored to be a farmer's grandson.
My late grandfather, Papa Frank and my mother, Mama Mitzie are both overseas Filipino workers. I grew up only seeing them for a short period of time every year. They needed to work abroad to sustain our family. Through Papa Frank's sacrifices and support, I graduated in college. My mother gave birth to me when she was just fifteen and because of that, I made a special bond with her. She is my best friend. Before pursuing my Master's Degree, I suffered from a quarter life crisis and life was never good to me. I suffered from depression for more than a year and my mother was my light. Every time that I gave up believing in myself, she was there, encouraging me to move forward. For every "Kaya mo 'yan!", my mother cheered me up. She gave me infinite second chances every time I felt like giving up. Thank you, Mama, for that unconditional love. Thank you for being my cape when I decided that I wanted to fly again. Now, I may not be at the top, but I am still going up.
My family may not be perfect, but they are more than enough. They are my comfort blankets. They are my strengths.
To my other family here in UPLB, thank you for all the memories and simple truths that I will forever treasure. To Dr. Rossana Marie C. Amongo, thank you for being my mentor, I learned so much from you, Ma'am. Sincere gratitude is also extended to the members of my Guidance Committee, to the faculty members who became my professors, to my batchmates and friends who served as my support group in this journey, to the IAE family and the AMD family. Thank you very much!
To all the family and friends who are with us today, and to those who could not be here in person as we celebrate this momentous event, Thank you!
To my fellow graduates, the MS graduating class of 2019, I challenge you to think of what your purpose is! What are your personal truths? I encourage you to think about your families every time you make a move. For every decision you make, think about your families. To those who have children, think of them. Think about their future. Make them your priorities and you will never be in vain.
Through the knowledge and experiences, we have gained not only in our journey here in UPLB but the entirety of our lives, I aspire that we could use it for the benefit of all. Upon the acceptance of our diplomas, we have the responsibilities to our society and to the world we are living in. I believe that we have the capabilities to uplift the lives of others. We could make ripples of change. We should aspire to be the forces that create good in this world for better future of mankind.