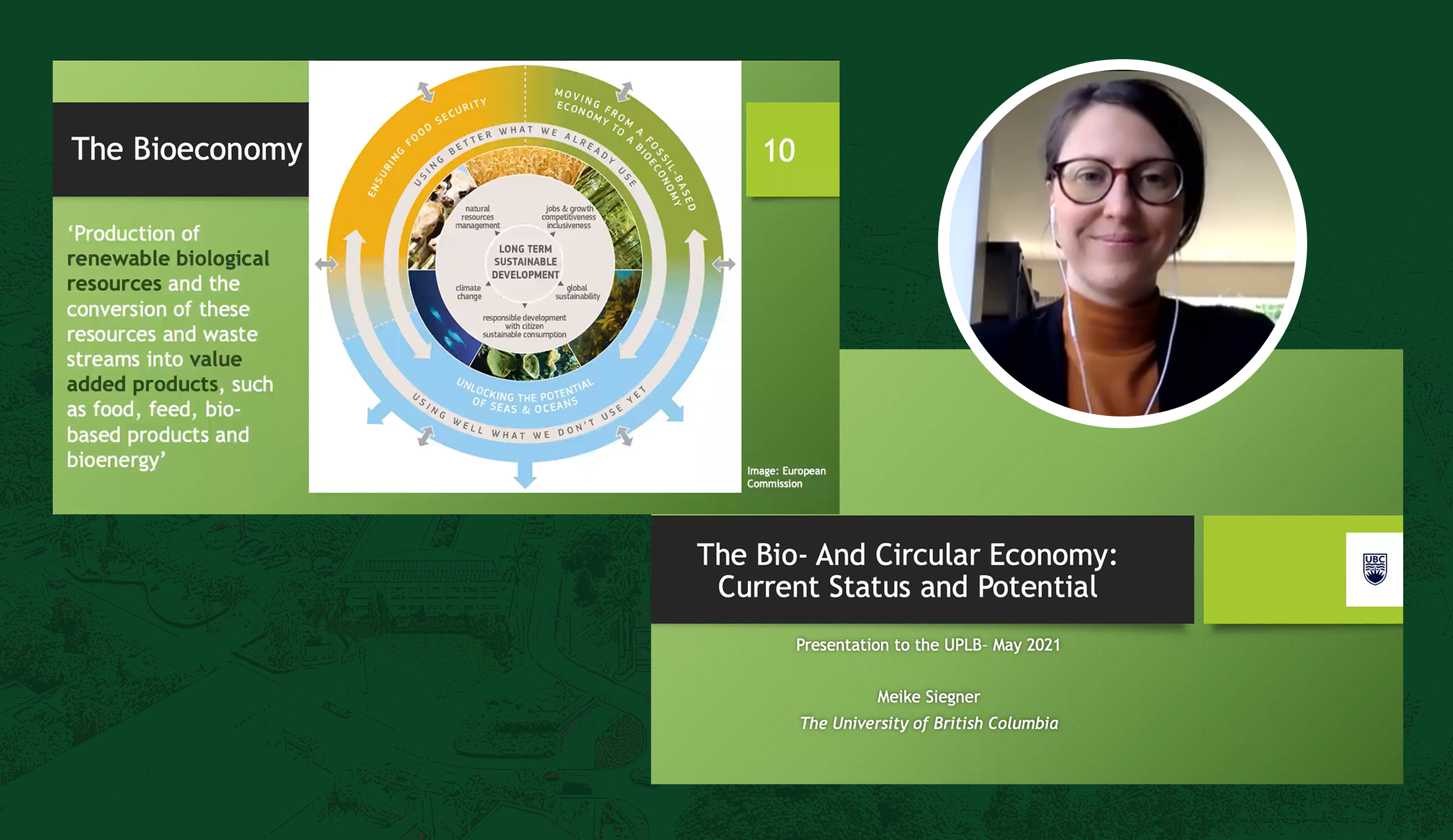 UPLB holds webinar series on sustainability, social entrepreneurship, and the circular economy
UPLB through the College of Engineering and Agro-industrial Technology (CEAT) and the Technology Transfer and Business Development Office (TTBDO) launched on May 6 a webinar and workshop series on sustainable and socially responsible entrepreneurship and business models.
The webinar topics revolve around social entrepreneurship and the circular economy.
Headlining the webinar series is Mieke Siegner, a visiting professor from the University of British Columbia. Siegner is part of the Sustainable Business Management group at the Faculty of Forestry of UBC in B+Vancouver in Canada where she spearheads entrepreneurship and social innovation focusing on research in natural resources
The 8-part webinar-workshop series is a collaborative undertaking with the Innovation for Social Impact Partnership (ISIP), a project co-implemented by the Philippine Development Foundation (PDF), the United Nations Development Programme (UNDP), and the Department of Foreign Affairs and Trade of Australia.
Chancellor Jose V. Camacho, Jr.; Australian Ambassador to the Philippines Steven J. Robinson; vice chair of PDF, Dr. Eric Tomacruz; resident representative of UNDP to the Philippines, Dr. Selva Ramachandran; and officer-in-charge of CEAT, Dr. Myra Borines each gave messages during the launch.
In his message, Chancellor Camacho highlighted the significance of the webinar series and its topics on sustainability, social entrepreneurship, and circular economy from the context of his vision for UPLB to be a future-proof university.
According to him, a future-proof university is one that identifies perspectives, attitudes, and actions needed for what is ahead, educates its students about them, and makes the institution a living example of its advocacy.
Ambassador Robinson expressed pride in the Australian government's support for social impact partnership because it promotes Australia's goal of advancing inclusive economic growth in the Philippines through social enterprise knowledge and capacity building.
"ISIP's deployment of visiting professors to higher education institutions (HEIs) across the country build's upon Australia's long history of support to the Philippines in education and training," Ambassador Robinson pointed out.
Dr. Ramachandran said that ISIP projects, which UNDP is supporting, work on strengthening the Philippines' social enterprise ecosystem. He said that the key to achieving ISIP's project objective to provide support for micro, and small and medium enterprises is collaboration with HEIs, in particular, access to entrepreneurship education.
Dr. Tomacruz highlighted PhilDev's critical component of education in its work, and of developing and supporting the youth. He said that the webinar-workshop will teach participants social entrepreneurship as well as environmental, social, and corporate governance; and what this means toward creating a bio and circular economy.
Kevin dela Cruz, entrepreneurship and incubation manager of ISIP, said that the webinar-series is a collaboration between the United Nations Development Program Philippines and Philippine Development Foundation, supported by the Australian Embassy in the Philippines.
ISIP, according to dela Cruz, is a three-year project aiming to support the social enterprise ecosystem in the Philippines in order to contribute to the achievement and acceleration of the sustainable development goals.
In her message, Dr. Borines thanked the organizations and the people who made the webinar-workshop series possible, namely: the Australian Embassy, ISIP and UNDP Philippines and the Philippine Development Foundation; TTBDO Director Romer Carlos, TTBDO Development Manager Jose Marie Abilay, and Dr. Kevin Yaptenco, a faculty member at CEAT.
"We believe that this will be helpful in teaching us more about entrepreneurship and how it can be applied in academe and society," Dr. Borines said.
Siegner gave an overview of the topics that will be discussed in the webinar-workshop series. She also shared the best practices of UBC in teaching social entrepreneurship and promoting an entrepreneurial culture in academe.
Siegner highlighted the importance of entrepreneurs and researchers in academe making an effort to make space for innovation in research and teaching and for entrepreneurship through interdisciplinary dialogue.
She said that at UBC, she is part of an "eclectic group of researchers" with a social science-focused background in business and economics and markets, and in her case, in social entrepreneurship and social impact. "We are focusing entrepreneurship and business education around natural resource systems," Siegner added.
Her engagement with UPLB focuses in three areas of her research and work, namely: corporate sustainability, social enterprise, and social entrepreneurship. Expressing confidence that "a lot of innovation is already happening," Siegner said that she intends to share best practices and some of the themes and the research that she is exploring.
In describing her background, Siegner said, "we focus on something that I like to call nested incubation for social impact. As a research-intensive university, we are focusing on providing practical exposure to our students."
The webinar-workshop series ended on May 19. Recordings of the webinars are available on Facebook at the CEAT page and TTBDO page. (Josephine M. Bo)