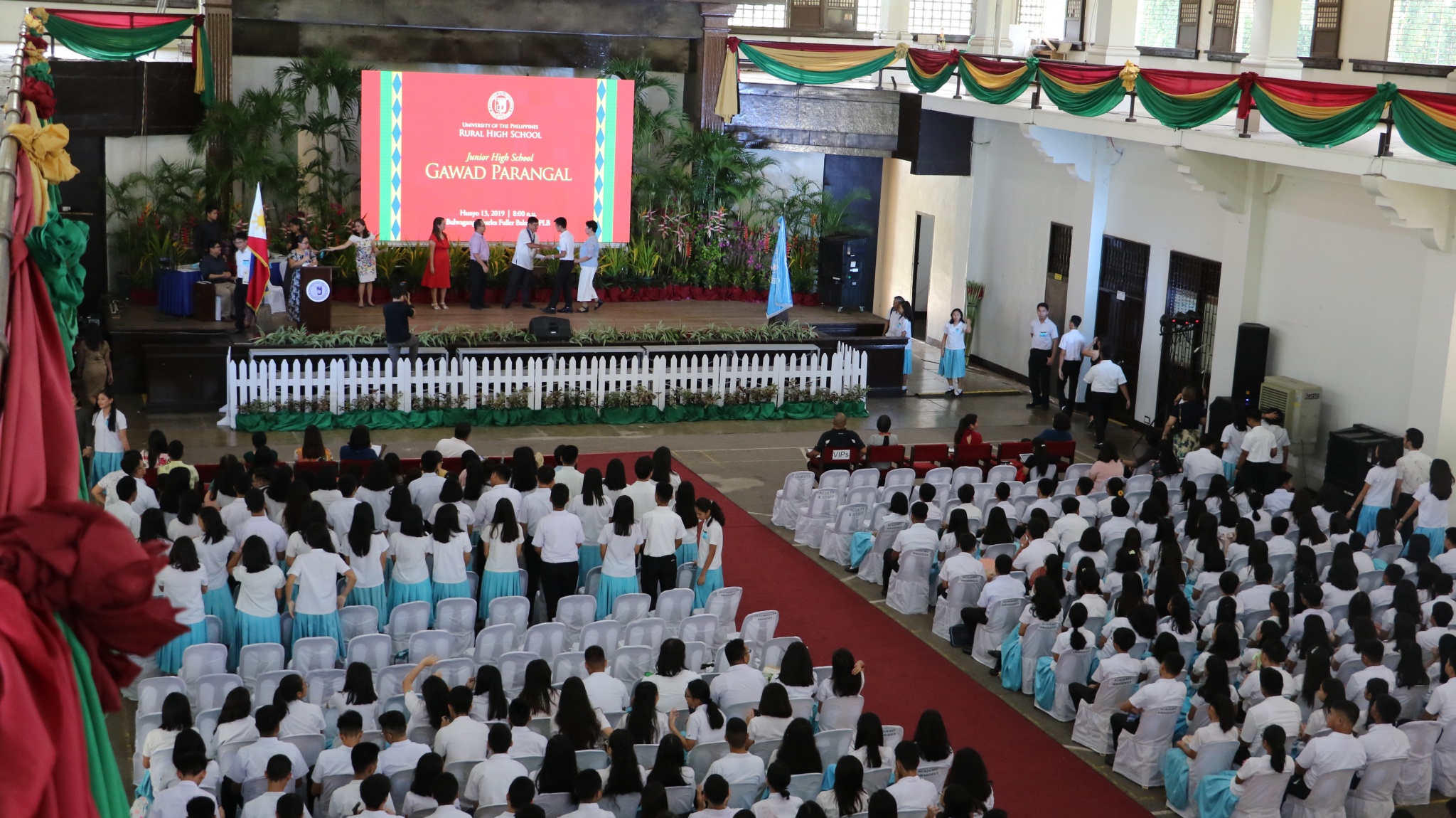 122 'Ruralites' complete junior high
The UP Rural High School (UPRHS) Batch 2015 officially completed Junior High School (JHS) during a ceremony on June 13 at the Baker Hall.
A total of 122 JHS completers received their certificates and will move up to Senior High School (SHS) at the opening of a new academic year in August.
Leading them is Alexandra Hendrich P. Marco, academic excellence awardee, who finished JHS with high honors alongside six fellow completers. Another 45 students capped JHS with honors.
Marco was also named as Best in Science, Best in Mathematics, and Best in Filipino.
"Mutyang Rural taught me to be tough even when things get really hard; to set a goal no matter how small or big; and to persevere for achievement," said Marco in her message as JHS outstanding honor student.
Francine Maria Allison A. Co, another completer with high honors, bagged six special awards: Best in English, Best in Literature, Best in Information Technology, Best in Life Skills Education A, and UPRHS Leadership Award.
She also received the Dr. Leonido R. Naranja Academic Excellence in Agriculture, together with Isaac R. Acerdano.
Rocela Maria S. Faylon, Dana Kye Mishael M. Pacis, and Myka Joana R. Macasiab took home the Best in Social Studies, Best in Physical Education, Health and Music, and Best in Life Skills Education B awards, respectively.
Arcedano, Faylon, and Pacis finished JHS with honors, while Macasiab, with high honors.
Gracing the Completion Rites were guest speaker Dr. Alexander G. Flor of the UPRHS Golden Jubilarian Class 1969 and dean of the UP Open University Faculty of Information and Communication Studies, and Dr. Portia G. Lapitan, vice chancellor for academic affairs of UPLB.
"The next two years will be the best years of your lives," said Dr. Flor, who looked back at his generation's high school experience and encouraged the completers to cultivate bravery, strength, and love.
Dr. Lapitan, who delivered an inspirational message on behalf of Chancellor Fernando C. Sanchez, Jr., encouraged the students to make the most of SHS to learn more and to discover their potentials.
During the ceremony, UPRHS officer-in-charge Lea C. Garcia presented the students to Dr. Felino P. Lansigan, dean of the College of Arts and Sciences, who confirmed their completion.
Some JHS completers received co-curricular awards during the Gawad Parangal that was held the same day prior to the Completion Rites, also at the Baker Hall. (Mark Jayson E. Gloria)