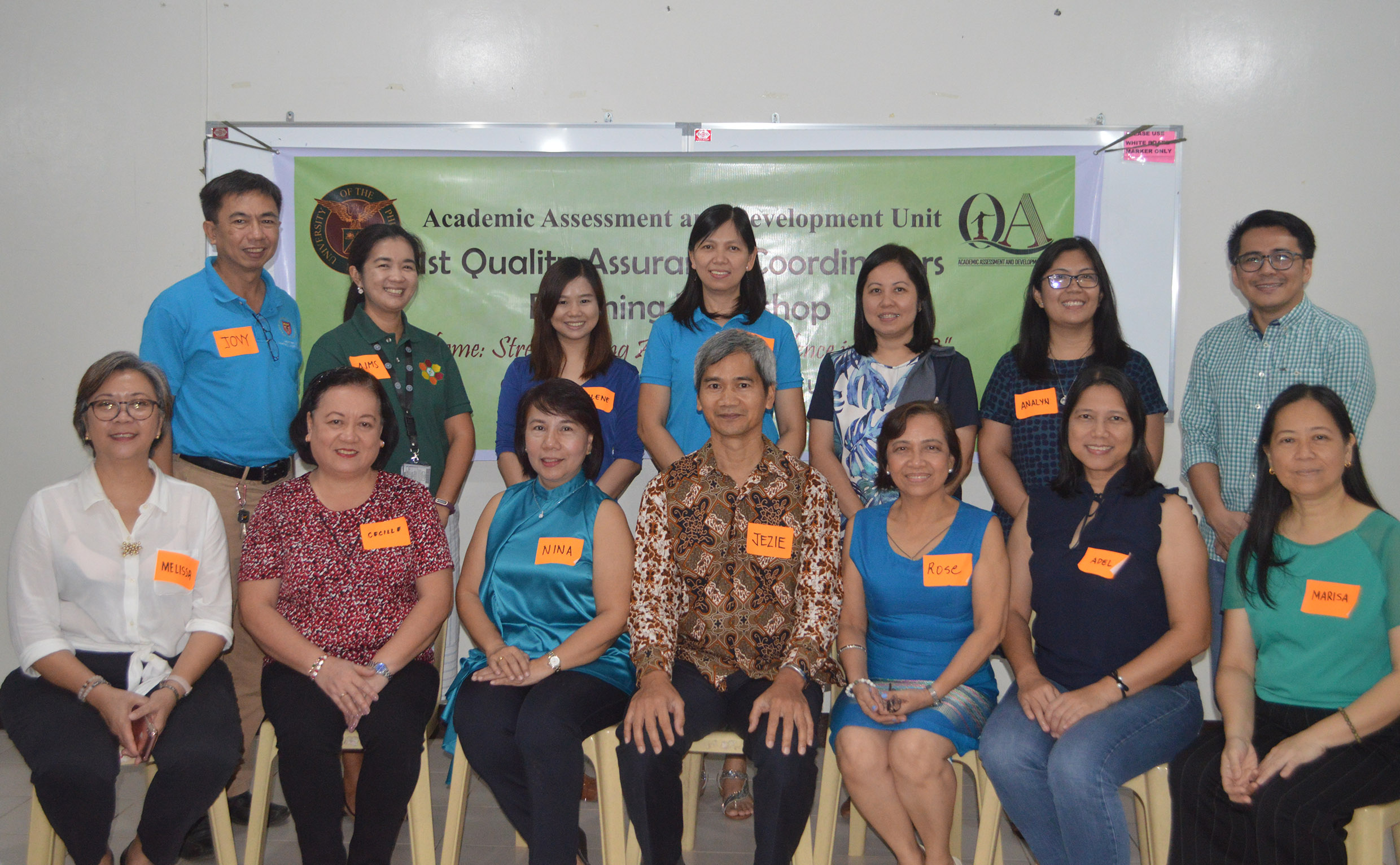 AADU makes roadmap for QA in UPLB
UPLB is preparing itself to pursue activities toward putting in place quality assurance (QA) processes this year.
At the first QA coordinators planning workshop on Nov. 22-23, 2019 at the Obdulia Sison Hall, the Academic Assessment and Development Unit (AADU) planned its activities for 2020.
AADU is UPLB's new QA office, created by the UP Board of Regents on Dec. 3, 2018 to handle functions related to QA, including internal assessment, information process development, database management, and documentation.
During the workshop, AADU and its designated QA coordinators from the colleges reviewed the status and action plans based on the pilot external institutional assessment to UPLB by the European Union Support to Higher Education in the ASEAN Region (EU-SHARE).
The participants also prepared for the internal and external assessment of all degree programs, part of which is being familiar with the Internal Academic Assessment and Development System (iAADS), a self-assessment tool that can help units evaluate their core academic functions in teaching, research, and extension.
Leading the workshop was Dr. Jezie Acorda, then director of AADU and now dean of the College of Veterinary Medicine.
Participating in the workshop were the QA coordinators, namely: Dr. Adeliza Dorado of the College of Agriculture and Food Science; Arlene Gutierrez of the College of Economics and Management; and Dr. Myra Borines of the College of Engineering and Agro-Industrial Technology, all associate deans of their respective colleges.
College Secretaries of the College of Development Communication, Dr. Edmund Centeno and of Graduate School, Dr. Aimee Lynn Barrion-Dupo also took part in the workshop as QA coordinators.
Completing the roster of QA coordinator-participants were Rosemarie Eusebio of the College of Arts and Sciences; Dr. Analyn Codilan of the College of Forestry and Natural Resources; Rhea Gumasing of the College of Public Affairs and Development; Dr. Jovencio Hubert Abalos of the College of Veterinary Medicine; Dr. Marisa Sobremisana of the School of Environmental Science and Management; and Melissa Ferido, representing Dr. Greg Pawilen of the College of Human Ecology.
Also present during the workshop was Dr. Nina Cadiz, then member of the Academic Assessment and Development Advisory Committee (AADAC) and now director of AADU.
"This workshop will be very useful as a starting endeavor to equip you, your college, and UPLB with the foundations for efficient and effective operations," Dr. Cadiz said to the QA coordinators in her opening remarks.
She also emphasized the importance of being updated about QA matters and the value of teamwork in ensuring quality higher education in UPLB.
Some activities slated for AADU in 2020 are the establishment of their physical office, which will be inaugurated within the 1st quarter of 2020, and the holding of more AUN-QA trainings for academic staff.
As of this time, UPLB has the capability to train its AUN-QA team with Dr. Cadiz and Dr. Serlie Barroga-Jamias, vice chancellor for community affairs and AADAC member, having just completed the ASEAN University Network-Quality Assurance Training Course for Accomplishing Institutional Assessment (Tier 3).
The training was held on Jan. 6-9, 2020 in Bangkok, Thailand.
Faculty members who completed up to Tier 2 training course are Dr. Jose DV Camacho, Jr., dean of Graduate School and Dr. Portia G. Lapitan, vice chancellor for academic affairs while Dr. Tonette P. Laude, Dr. Acorda, Dr. Pawilen, and Dr. Borines have finished Tier 1 of the training course.  
(Jessa Jael S. Arana)
Aligned with our commitment to: