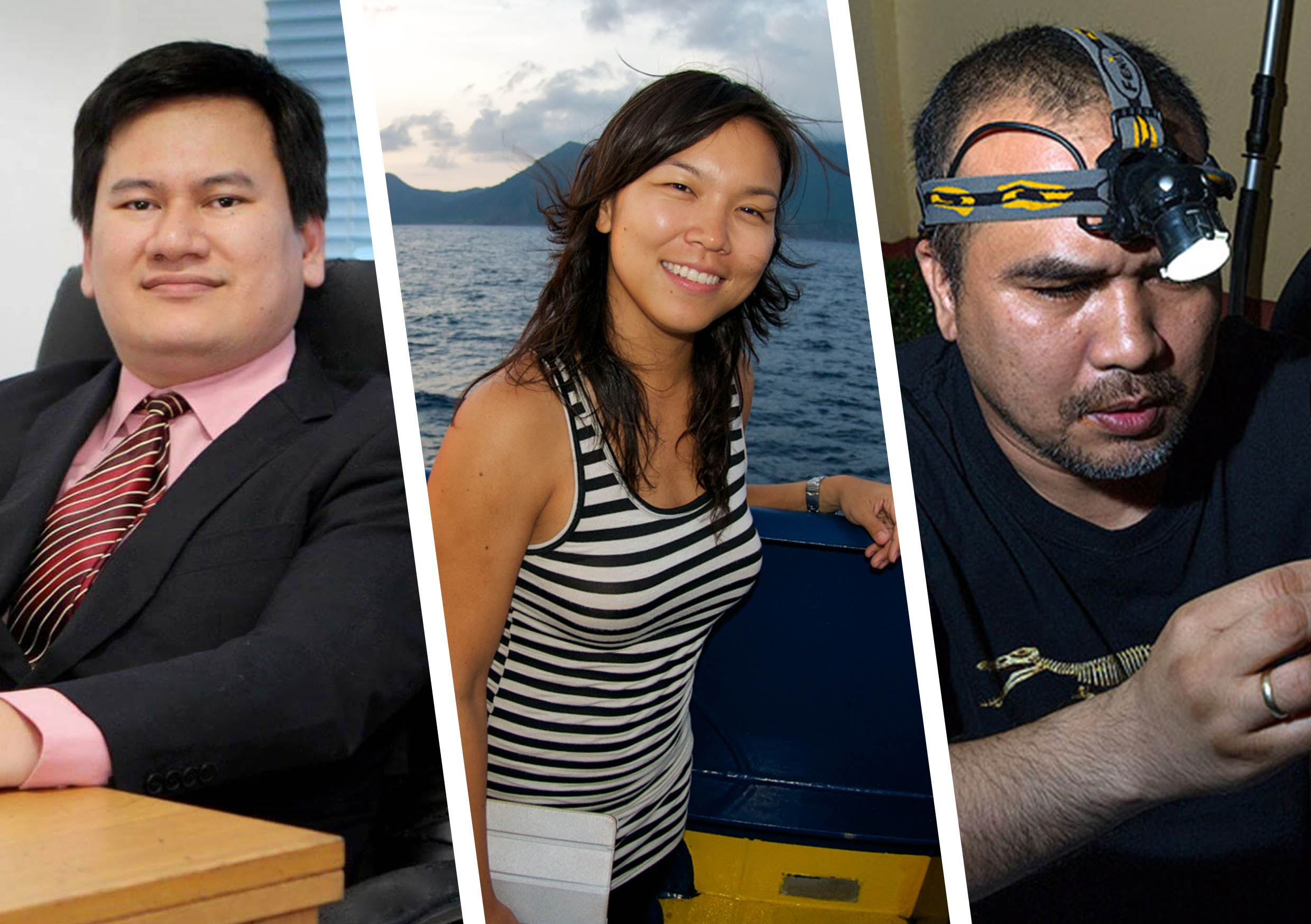 Of the eight Filipinos selected into the Asian Scientist 100 List of prize-winning Asian researchers, academicians, innovators, and business leaders from across the Asia-Pacific region, three are UPLB alumni.
They are Dr. Rogel Mari Sese, Dr. Aletta Concepcion Yñiquez, and Phillip Alviola.
These three represent the younger generation of UPLB alumni who by their work, sustain and uphold UPLB's contribution to the fund of knowledge in science. Their accomplishments hold promise not only for the country, but also inspiration for future scientists from UPLB.
In recognition of their accomplishments, the Horizon came up with these short articles, a brief look-see into what helped them land their slots in the reputable Asian Scientist 100 List of the Singapore-based Asian Scientist magazine.
Dr. Rogel Mari Sese: Reaching for the stars and beyond
We have all been encouraged to "reach for the stars" at some point in our lives. For Dr. Rogel Mari Sese, this endeavor is literal, being the program leader of the National SPACE Development Program (NSDP), a project under the Department of Science and Technology (DOST) that aims to establish a national space agency in the country.
At the tender age of 5, he already knew that he was going to pursue a career in space science. He had been exposed to scientific inquiry quite early and knew how to splice DNA at 11, through his mother who is a biology professor. He studied BS Applied Physics at UPLB, the closest program to astrophysics, his "true calling."
His choice did not disappoint as it opened numerous opportunities for him. Dr. Sese has gone from teaching physics at UPLB, to becoming a proponent of space education among high school and elementary students through the Philippine Space Science Education Program (PSSEP) under the DOST-Science Education Institute. He has also learned the intricacies of pushing for a space law in the Philippines.
Dr. Sese, however, admits that his advocacy for space education was not always met with enthusiasm. But he braved these doubts with a vision and a strategy: "It's a matter of educating the public on the value and benefit of space. That it's not as out of this world as they think and it's something that they use in their everyday life, even without them knowing," he said.
Until 2012, the Philippines was far from creating a national space agency. But the notion gained momentum with the filing of the Philippine Space Act of 2012 when it was finally given more attention in Congress. Space science had finally begun to take some traction.
In 2016, the Philippines launched the microsatellite Diwata-1, the first satellite built and designed by Filipinos. Through the PSSEP, more and more universities are now offering programs in aerospace engineering. Dr. Sese believes that soon, young researchers will be ready to man the space agency and the space industry.
Meanwhile, his unwavering efforts have drawn international recognition when he was listed in the Asian Scientist 100. But this is just icing on the cake because what Dr. Sese wants to ultimately set up is a space program in the country. "Without a space program, we'll be definitely left behind. It's vital to the long-term sustainability of the country," he said.
Despite the big amount of catching up that the country has to do, Dr. Sese is ready to do what it takes and turn this late foray into space science into an advantage, by learning from other countries' experiences.
In the face of it all, Dr. Sese maintains the child-like wonder that got him started in the first place. He sums up what made space science exciting for him, "just looking up at night to see the sky, all the stars – everything. There's nothing like it." (Jessa Jael S. Arana)
Dr. Aletta Concepcion Yñiguez: Making a splash in Marine Bio and Fisheries Research
She made headlines in UPLB when she graduated in BS Biology, magna cum laude, and as the valedictorian of Class 1999. In 2017, the National Academy of Science and Technology (NAST) named her an Outstanding Young Scientist.
This time, she is making a splash in the science community with her inclusion in the Asian Scientist 100 List.
Dr. Yñiguez is a biological oceanographer and assistant professor at the UP Diliman Marine Science Institute (MSI). She is leading researches that contribute to the country's fisheries sector.
"We're trying to develop models and figure out when and where red tide would occur," Dr. Yñiguez said in an interview with DOSTv, the official science program of the Department of Science and Technology (DOST). The biophysical models for sardine fisheries and red tide that she spearheads have earned for her the NAST and Asian Scientist honors.
A team that she led used the data to come up with computer and mathematical models to forecast the occurrence of red tide or harmful algal bloom, which causes fish kills and makes shellfish poisonous for human consumption. These models serve as decision-support system for government agencies and fishermen. Dr. Yñiguez's inquiring mind also takes her to the world of microorganisms at the base of the food web of marine ecosystems because they are critical to our marine ecosystems.
A year after earning her PhD in Marine Biology and Fisheries from the University of Miami's Rosenstiel School of Marine and Atmospheric Science in 2007, Dr. Yñiguez joined the faculty of the UP MSI. She was UP MSI's Deputy Director for Instruction from 2009-2012 and currently heads the Biological Oceanography and Ecosystems Laboratory (BiOME Lab).
She makes certain that a next generation of students will aspire to become marine scientists by serving as camp director of the DOST Science Education Institute Climate Change and Marine Science High School Summer Camp. "We're surrounded by waters; we're an archipelagic country. We need more marine scientists who will make sure to sustain our marine resources," she said in the DOSTv interview.
Making a splash in marine biology and fisheries research, she is, and this is because Dr. Yñiguez is powered by the passion to contribute towards developing and protecting marine resources in our country. (Mark Jayson E. Gloria)
Philip Alviola: Crusading for the cause of biodiversity conservation
"Not all superheroes wear capes."
This can be said of a rare breed of "superheroes" in the Philippines – the scientists who, sometimes foregoing creature comforts, devote their entire life in the country for the betterment of their field/s of expertise.
UPLB's "Batman" is one of them, but he not only earned this moniker by being a self-sacrificing "superhero-scientist" but also because one of his crusades is the protection of bats.
He is Phillip Alviola, an associate professor at the Institute of Biological Sciences (IBS) and a curator at the Museum of Natural History (MNH). He studies the ecology of cave-dwelling bats, as well as the conservation and protection of biologically rich cave systems in the country.
This year, the Asian Scientist Magazine featured him in its annual listing of Asia's 100 best researchers, academics, and innovators. In 2017, he was also awarded the Outstanding Young Scientist in Wildlife Biology by the National Academy of Science and Technology.
Having lived his whole life in Los Baños, Phillip has grown with the MNH, which he considers as the launching pad of his academic career. At an early age, he learned a lot from the Museum where his father, the late wildlife biologist and IBS Professor, Pedro Alviola III, worked as a curator.
"UPLB has been the cornerstone of my educational attainment, and the University's teachings and values have been pervasive in my personal development and every academic achievement I have attained," he said.
Phillip and his team's research on cave bats have been significant in the implementation of the Republic Act 9072, a law that protects and manages caves and cave resources as part of the country's natural wealth. No wonder that the House of Representatives bestowed upon him the Medal of Excellence in Wildlife Biology in 2012.
Apart from the ecology of cave-dwelling bats and bat virology, Phillip's research also dwells on mammalian ecology, taxonomy, and conservation biology.
"By discovering new, locally restricted, and threatened mammals in different mountain ranges, our work on Philippine mammals in Sierra Madres, Cordilleras, Caraballos, and Bicol Peninsula has resulted in designating or proposing these areas as natural parks by the national government," Prof. Phillip said.
From 1999 to 2010, his team traveled to many natural parks in the country to train staff and local villagers to conduct a community-based biodiversity monitoring system. In turn, most of them have been regularly reporting on the status of their park's biological diversity and how they are countering man-made threats.
"I'm always motivated by the numerous questions that often arise out of our research. It's the eagerness, or sometimes the frustrations as well, to answer these questions that drive me to conduct more research," said Prof. Phillip, who is also one of the most "Googled" scientists in the Philippines.
Driven by this mission and his passion for conservation, UPLB's own Batman crusades for the protection of the country's biodiversity-rich areas so that ecologically important species, like bats, will continue to fly freely. (John Glen S. Sarol)