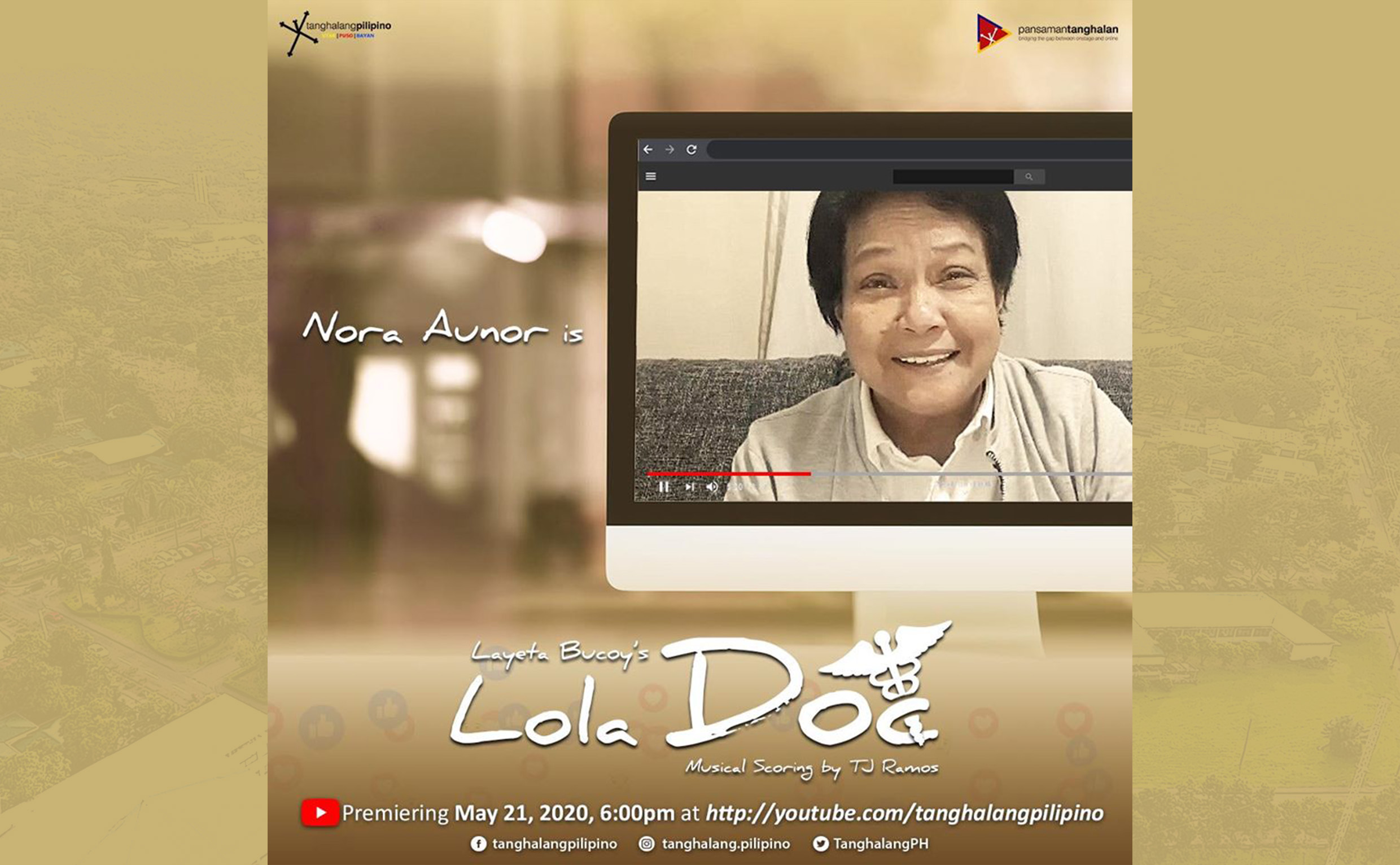 Bucoy 'monovlogs' pay tribute to COVID-19 frontliners
Art imitates life, even in the time of COVID-19.
The latest literary works of Layeta Bucoy, UPLB's lone UP Artist, homegrown playwright, and faculty member at the Department of Humanities, is a story about life, struggles, and love for family amid the pandemic and community lockdown.
Called "Lolo Doc" and "Lola Doc," these separate theatrical pieces respectively feature veteran thespians Nanding Josef, currently Tanghalang Pilipino's (TP's) artistic director, and Nora Aunor, dubbed as Philippine cinema's "superstar."
These stories are presented in "monovlog" format, which divert from traditional theater performance. "Since it is intended to be a vlog, its liveness is mediated by technology unlike that of theater performances," said Bucoy.
Monovlog combines the terms 'monologue' or long speeches delivered by an actor to express their thoughts out loud or to address the audience, and 'vlog' or a blog in video format.
According to Bucoy, she was inspired to explore the format after following several online vloggers. She had previously pursued the experiment through a series of monovlogs with UP Diliman assistant professor Olive Nieto and Bicol-based theater group Sining Banwa.
"Lolo Doc" and "Lola Doc" are moving stories about elderly frontliners working in the COVID-19 pandemic who can only be with their beloved grandchildren through video calls.
In these intimate conversations, the audience gets to reflect upon the love between families, on pursuing dreams, and choosing to stand with the principles of one's profession, all framed within the isolation and uncertainties brought by the pandemic.
"The fear of death should not prevent us from living, but should compel us to strive for the best expressions of the human spirit," Bucoy explained about her monovlogs' main message.
The idea for these monovlogs, Bucoy said, came from Josef, who requested her to write one that would pay tribute to frontliners. "Lolo Doc" was initially released on Tanghalang Pilipino's Facebook page.
She later penned "Lola Doc," again at Josef's behest to feature Aunor.
Both monovlogs were met with positive feedback from their online audience and amassed thousands of views a few weeks after their release.
"Lolo Doc" and "Lola Doc" are part of the PansamanTANGHALAN program of TP, which was put up for the theater scene to cope with the pandemic. It is also a way to raise funds to address COVID-19 related needs.
"[PansamanTANGHALAN] is our effort to not just continuously work on our goal in the theater to showcase the Filipino artists' excellence, but to also use theater to show what is really happening now as well as the noble things that we do as human beings and as Filipinos," said Josef on their Youtube channel.
Bucoy continues to work with TP in this time of pandemic. This year, she joins TP in its online launch of the Virgin Labfest, the annual laboratory festival hosted by the Cultural Center of the Philippines (CCP) that features new plays from emerging and established Filipino playwrights.
On June 16, 8PM, Bucoy will be handling a panel discussion on the CCP Facebook page about writing and collaborating for online monologues. She will be joined by Josef who will lead an extended discussion of "Lolo Doc."
Watch the monovlogs here:
Lolo Doc: https://bit.ly/LoloDocPansamanTanghalan
Lola Doc: https://bit.ly/LolaDocPansamanTanghalan
(Jessa Jael S. Arana)
Aligned with our commitment to: