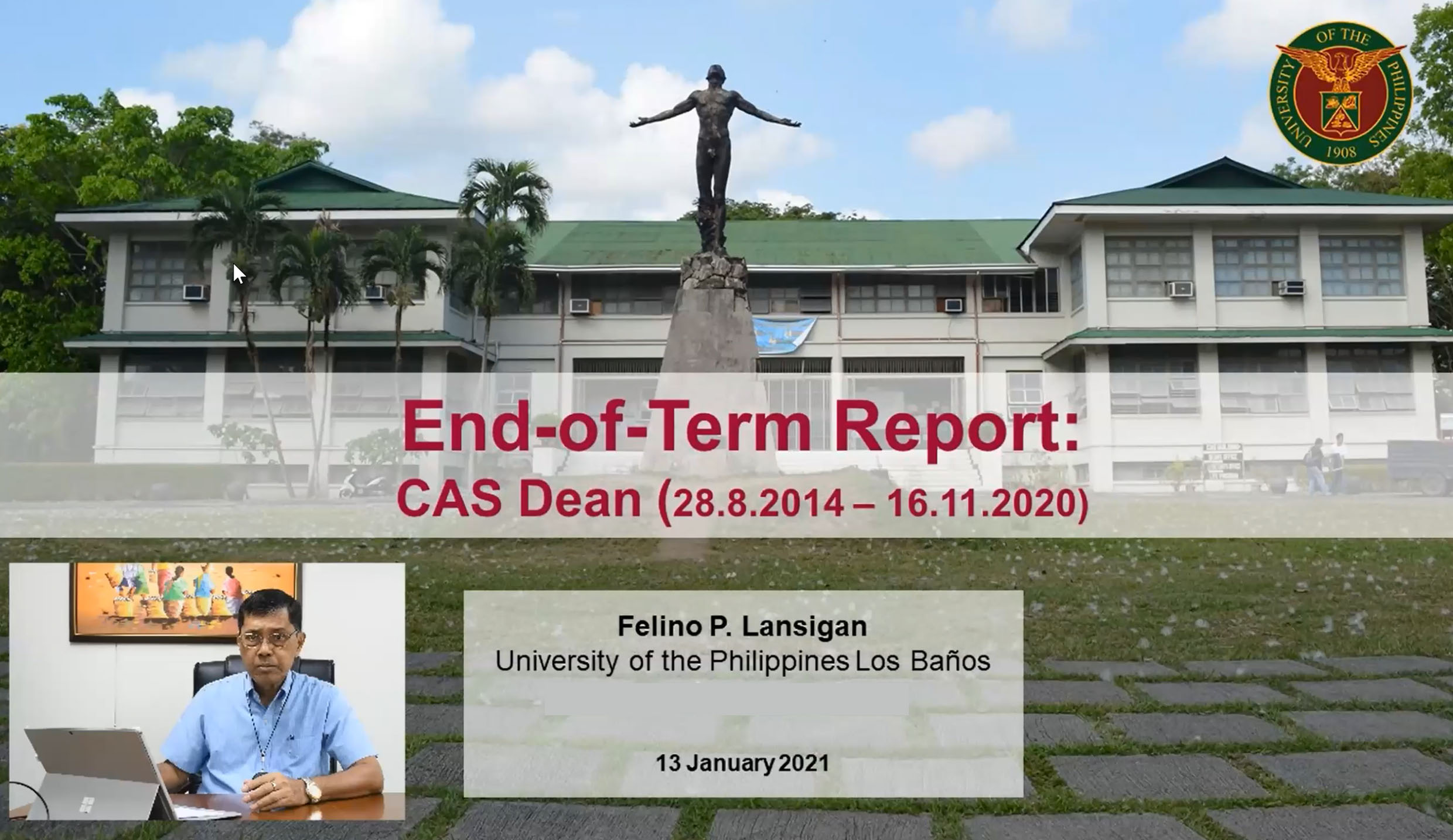 CAS dean presents end-of-term accomplishments
Dr. Felino T. Lansigan, former dean of the College of Arts and Sciences (CAS), presented on Jan. 13 the college's accomplishments during his watch.
The online presentation covered the highlights of accomplishments of CAS, as well as activities initiated and conducted from Aug. 8, 2014 to Nov. 16, 2020.
According to Dr. Lansigan, his administration saw through the revision of curricular programs, as well as the institution of new general education courses in line with the implementation of the K to 12 program.
During his term, CAS aligned its faculty development, research, and internationalization programs and activities in support of the UPLB goals and priorities toward becoming a graduate research university.
CAS also addressed the challenges brought about by the COVID-19 pandemic, requiring as it did the immediate transition to online or remote learning and teaching mode.
Specifically, this involved the immediate review and redesign of curricular programs, preparation of course packs, and support for the students and faculty in transitioning to online teaching and learning.
Dr. Lansigan also reported the current faculty-student ratio; instruction activities such as the revision of degree programs and reconfiguration of courses; implementation of student exchange programs; strengthening of the graduate programs; and the institution of MS Physics and PhD in Applied Mathematics. He also noted an increase in the number of honor graduates of the college.
He also highlighted an increase in the number of research grants, international publication awards, attendance and hosting of international conferences, faculty visit and exchange programs, and other related activities.
The foremost extension and public service activity of CAS, according to Dr. Lansigan, was the holding of the National Service Training Program (NSTP) in public elementary schools, health and fitness recreational activities, and provision of technical assistance to government agencies and industry.
Under his leadership, CAS conducted capacity-building activities for faculty and administrative personnel, collaborated with students in their activities, and strengthened alumni involvement.
In terms of infrastructure development, the college also undertook the rehabilitation of the UPLB Makiling Theater, classrooms, and other facilities, as well as the construction of the animation studio.
By way of closing his presentation, Dr. Lansigan gave suggestions and pieces of advice on the college priorities and action points for consideration by the next CAS dean.
He expressed his gratitude to UPLB where he spent the most part of his life and thanked the deans and vice chancellors, as well as the faculty and staff whom he worked with.
He enjoined his CAS family to support the next CAS dean especially in these trying and challenging times. He called on them to be more compassionate and understanding without compromising honor and excellence.
The presentation was hosted by Dr. Mabini DG. Dizon, CAS faculty member, and was attended by CAS OIC Dean Ivan Marcelo Duka, Vice Chancellor for Administration Rolando T. Bello, chair of the search committee for the next CAS dean, and 90 other participants.
Vice Chancellor Bello discussed the search process and introduced the members of the committee, namely: Dr. Joselito G. Florendo, representing the UP President; Dr. Rio John T. Ducusin of the Department of Veterinary Clinical Sciences; Dr. Elenita L. Racelis of the Training Center for Tropical Resources and Ecosystems Sustainability, College of Forestry and Natural Resources; Ms. Marivic L. Mendoza of the College of Engineering and Agro-Industrial Technology; Mr. Sean Icely Allorde of the student sector; and Ms. Leni N. Garcia and Ms. Leila D. Tamayo of the OVCA, as recording secretary and support staff member, respectively. (KEAraguas)