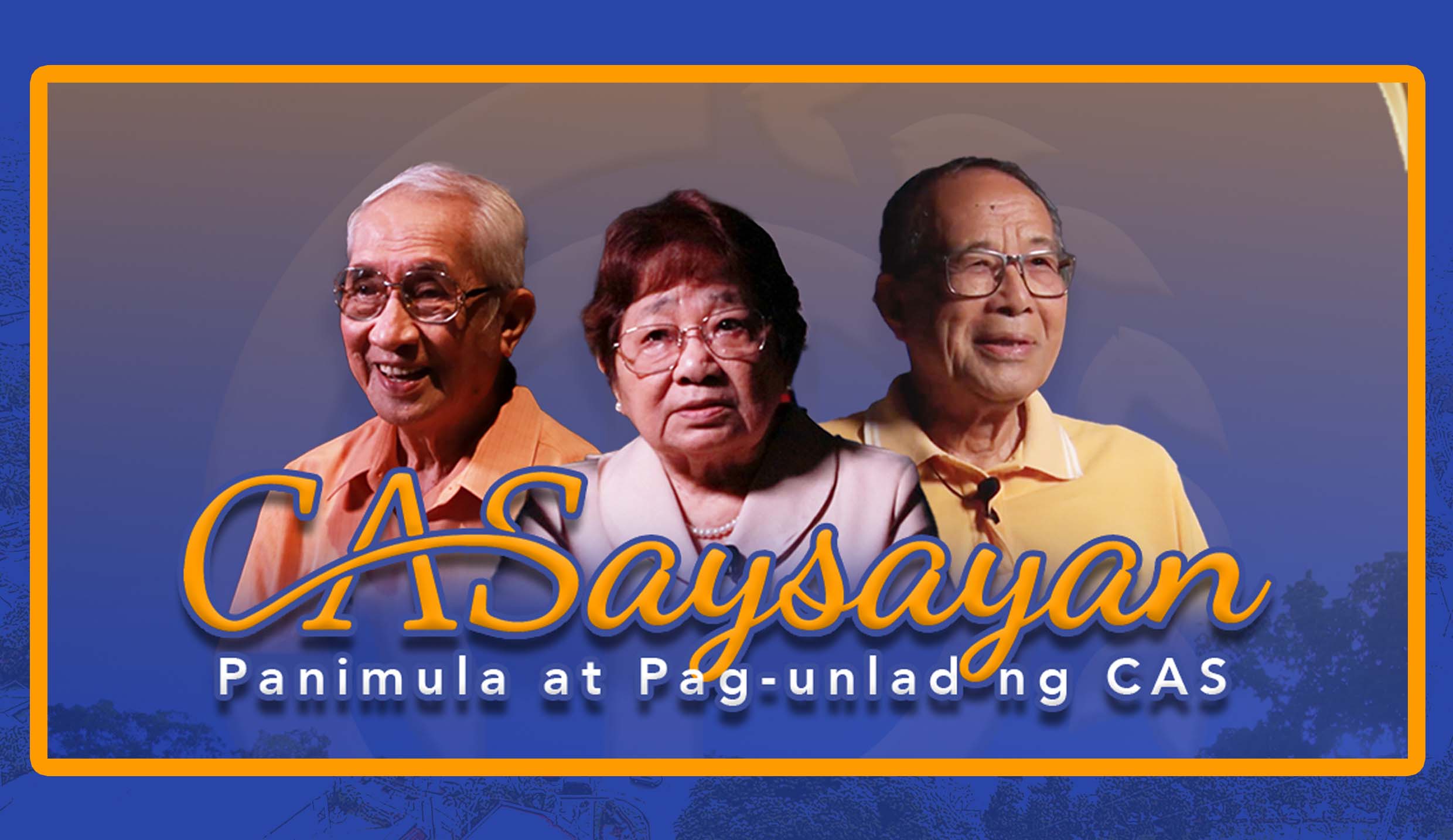 CAS kicks off 8-month long celebration of 50th founding anniversary
The College of Arts and Sciences (CAS) kicked off its eight-month long celebration of their 50th founding anniversary with the theme "50 Years of Strengthening Connections and Solidarity" on April 18 at 3 PM via live streaming.
The first part of the celebration was the CASaysayan: Panimula at Pag-unlad ng Kolehiyo ng Agham at Sining which tackled the history of the college and featured stories and testimonies from its pillars.
Professor Emeritus Enrique Pacardo, former associate dean of CAS, shared about the history and creation of the college. As the associate dean, he said that he had to make sure that both the arts and the sciences, being both ends of a spectrum, were well-attended.
National Scientist Dolores Ramirez, the first CAS college secretary, also narrated her experiences as one of the people who witnessed the development of the college. As college secretary, she had to solve problems in scheduling conflicts, lack of instructors, and difficulties in pre-registration.
National Scientist Emil Q. Javier, former UPLB Chancellor, looked back on how CAS developed through time. As a former chancellor, one of the things that he encountered was the problem between arts and sciences and agriculture and forestry. He decided to separate the colleges to create one that focuses on arts and basic sciences, and another that focuses on applied sciences.
They all narrated how Salvador P. Lopez, the 12th president of UP, proposed that the University adopt the university system and create autonomous campuses, with Los Baños as the first autonomous campus. The creation of CAS followed soon after and was a very important development for the university, noted NS Javier.
Dean Maribel L. Dionisio-Sese gave her closing remarks where she talked about the beginnings of CAS under the leadership of Dr. Edelwina Cu Legaspi, the first dean of CAS.
"It is a supreme irony that the academic institution Dean Legaspi led was created three months after Martial Law, yet expected to serve as the fount of liberal education and bedrock of basic sciences instruction of all students of [UPLB]… Indeed it must have been a tightrope act for her to hold the lead torch of academic freedom up high, away from the forces that must have sought every which way to pull it down and extinguish its light," she said.
She also revealed the activities that will be included in the celebration. These include the CASalo sa Singkwenta, alumni sharing webinars, the college's first national student faculty research conference, a festival on literature and creative arts, a poster making contest, and a digital trivia game.
Also part of the celebration will be the awarding of its outstanding personnel, students, and former officials, the launching of a CAS coffee table book, the inauguration of the Edelwina Cu Legaspi Hall, and a street party at the CAS triangle.
She ended her speech by calling for active participation and support for the anniversary celebration.
The celebration launch can be viewed on the UPLB CAS at 50 Facebook page. (Kyle Ramiel Dalangin)
Aligned with our commitment to: