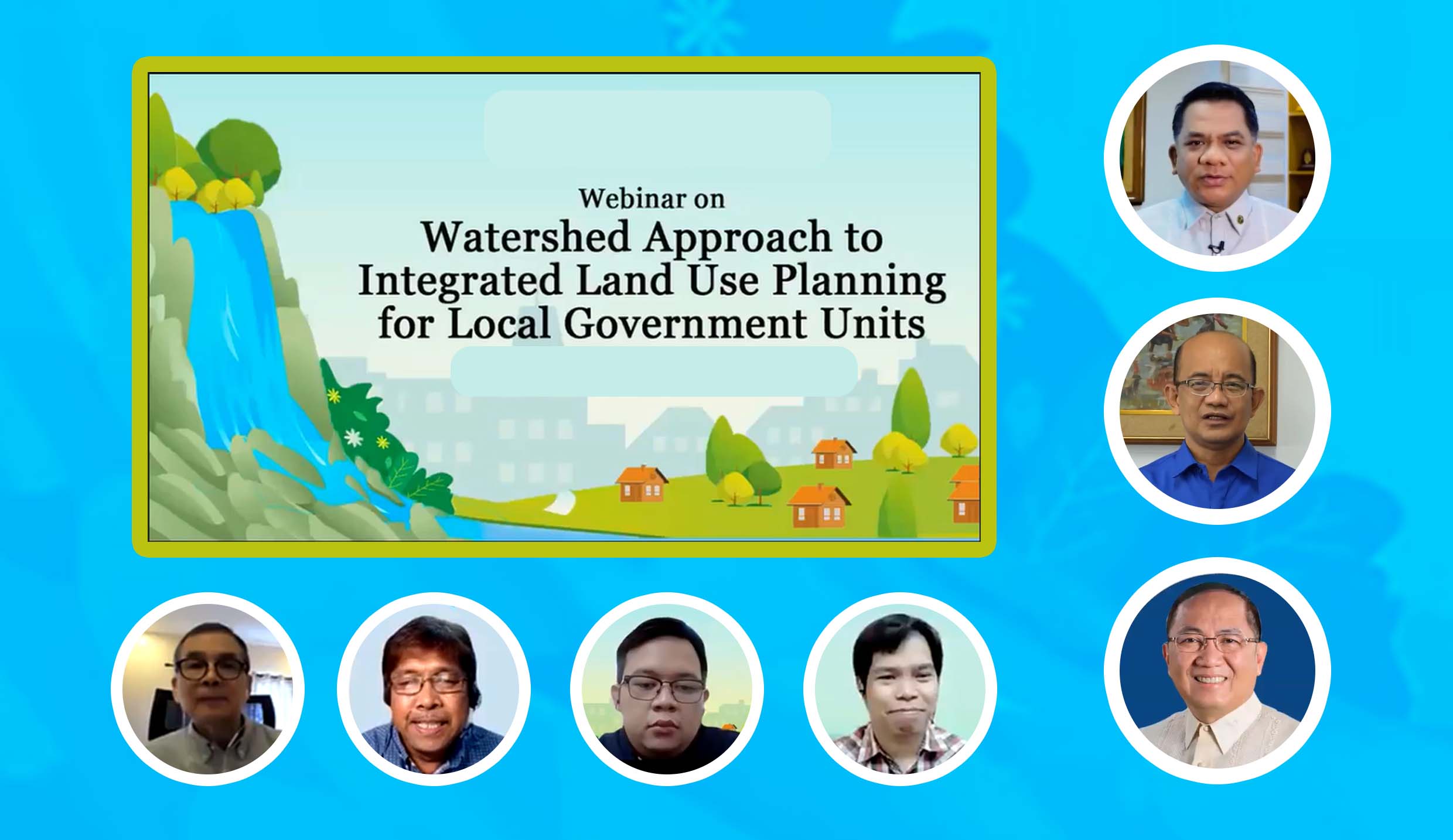 CCC, UPLB-CFNR, DOST-PCAARRD hold webinar on integrated watershed approach
The Climate Change Commission (CCC), together with the College of Forestry and Natural Resources (CFNR) and the Department of Science and Technology – Philippine Council for Agriculture, Aquatic and Natural Resources Research and Development (DOST-PCAARRD), held a webinar entitled, "Watershed Approach to Integrated Land Use Planning for Local Government Units" on Dec. 10.
On behalf of CCC, Vice Chairperson and Executive Director Emmanuel M. De Guzman officially opened the conference with his opening message.
He stated the purpose of the webinar and its importance in addressing environmental degradation and climate change to prevent future health crises.
Director Reynaldo V. Ebora of DOST-PCAARRD talked about how the webinar is the perfect avenue to discuss climate change and application of watershed ecosystem approach. He also expressed gratitude for the long-term partnership with UPLB-CFNR in utilizing technology to address climate change and environmental research and development concerns.
Dr. Eduardo Mangaoang, a member of the CCC National Panel of Technical Experts, tackled the top 10 climate change-induced risks and hazards such as sea level rise and coastal erosion, as well as its impact on the hydrological system and watersheds.
Dr. Rex Victor Cruz, a faculty member at the UPLB-CFNR, discussed the use of watershed ecosystem management approach in updating the Comprehensive Land Use Plan (CLUP) and Forest Land Use Plan (FLUP).
He also discussed the project that they are implementing entitled, "Policy Studies and Development to Promote Resiliency of Philippine Watershed," wherein they review policies related to watershed management.
Aside from this, he also discussed the benefits of using ridge-to-reef watershed ecosystem management (R2R/WEM) approach to land use planning.
Mr. Sealiel Patino, a CCC Development Management Officer, gave a presentation entitled "Reflecting the Watershed/R2R in the Enhancement of the CLUP and Zoning."
He talked about the things that should be considered in terms of how to better integrate the approach of watershed ecosystem into development planning and the different issues to address.
An open forum was conducted which tackled different concerns such as the government policies and response to watershed issues and the capacity-building programs for academe.
To close the program, Dr. Jose V. Camacho, Jr., chancellor of UPLB, reiterated that the R2R/WEM approach to land use planning is critical to achieve success in creating sustainable communities with livelihood resilience, food and water security, and reduced poverty.
Chancellor Camacho also introduced the new research agenda of UPLB named "AGORA" or Accelerating Growth through One Research and Action.The virtual webinar can be viewed on the WILUP UPLB FB page. (Kyle Ramiel Dalangi
Aligned with our commitment to: