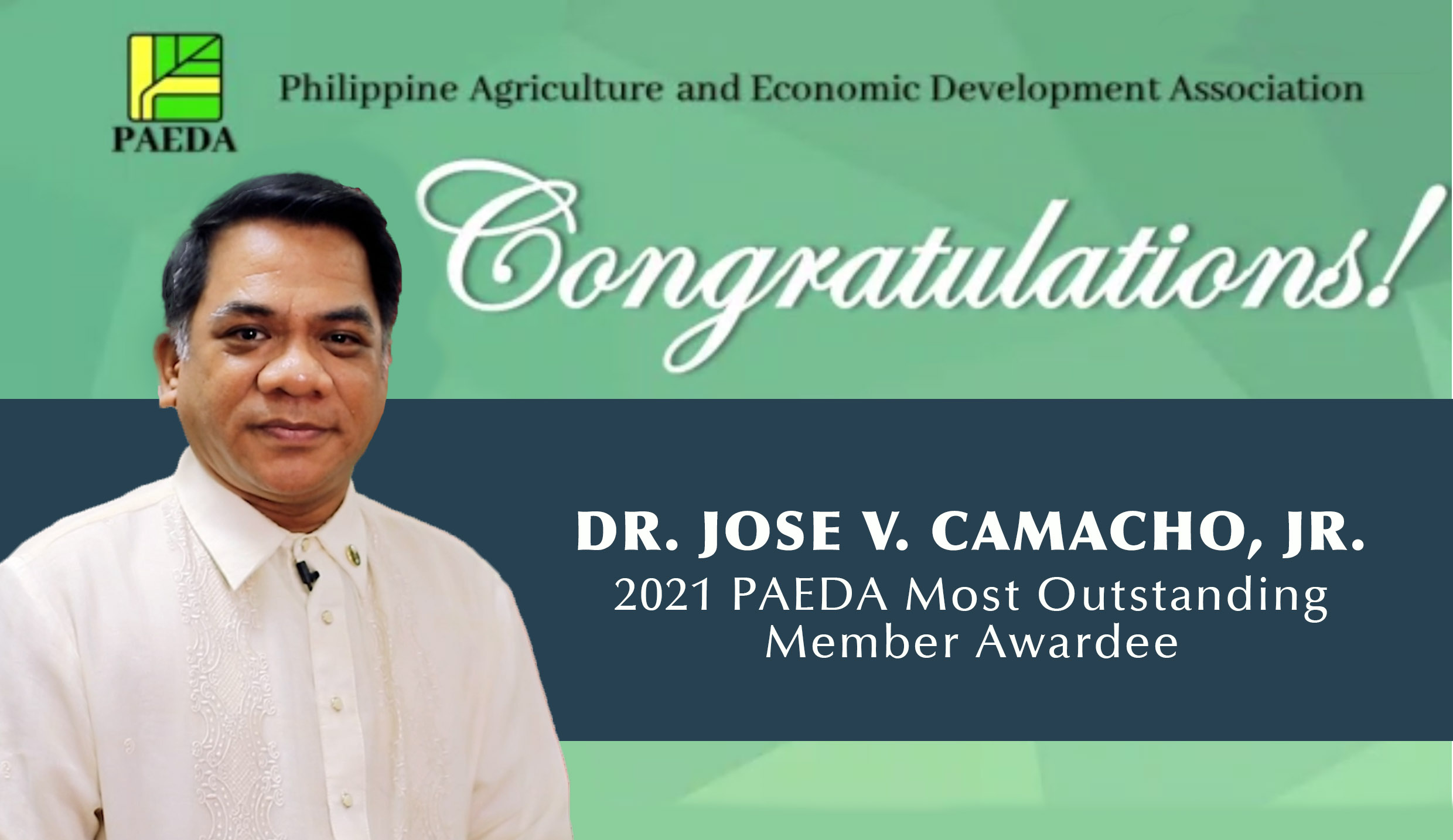 Chancellor Camacho calls for agriculture resiliency at PAEDA awarding
As the country continues to face the challenges of the future, Chancellor Jose V. Camacho, Jr. highlighted opportunities for increased resilience to unexpected circumstances such as the current worldwide health crisis.
Chancellor Camacho outlined his propositions in his keynote speech at the 1st International Conference of the Philippine Agriculture and Economic Development Association (PAEDA) on June 3 during which he was also honored as its 2021 Most Outstanding Member.
Chancellor Camacho pointed out how the pandemic exposed the many shortcomings of the country's social systems in delivering critical services for aid and relief. He underscored the necessity of digital technology in the modern age.
Moreover, he emphasized the importance of agriculture, especially within the context of calamities; and how sustaining its growth has the potential to make the country more resilient against future shocks. He cited reports from the Philippine Statistics Authority documenting a 0.5% growth in the second quarter of 2020, with crops and fisheries recording a 5% and 0.9% growth, respectively.
"I believe it is our responsibility to initiate measures meant to maintain the momentum of agriculture and to lessen the impacts when calamities like this occur again. Resiliency must become our watchword, the primary factor in our projects, programs, and policies for the future," he said.
He mentioned UPLB flagship initiatives geared toward this direction, among them Project SARAI (Smarter Approaches to Reinvigorate Agriculture as an Industry in the Philippines), an interdisciplinary and inter-HEI program, which provides accurate and timely advisories to farmers using satellite data; smart forestry, or digitally assisted monitoring and assessment of trees at the College of Forestry and Natural Resources; and the creation of a transdisciplinary master's program in resilience.
With digital technology no longer a luxury, there must be more efforts toward ensuring better access to it and maximizing its benefit for the agriculture, fisheries, and natural resources sector, Chancellor Camacho said.
The 1st PAEDA International Conference held online from June 3 to 4 featured plenary and parallel sessions focused on innovations in food and fiber supply chains, market competitiveness and policy, adaptation and resiliency solutions to disruptions, and sustainability in the agriculture, aquatic, and natural resources sector. It was attended by representatives from academe, private sector, and local and national government agencies. (Jessa Jael S. Arana)