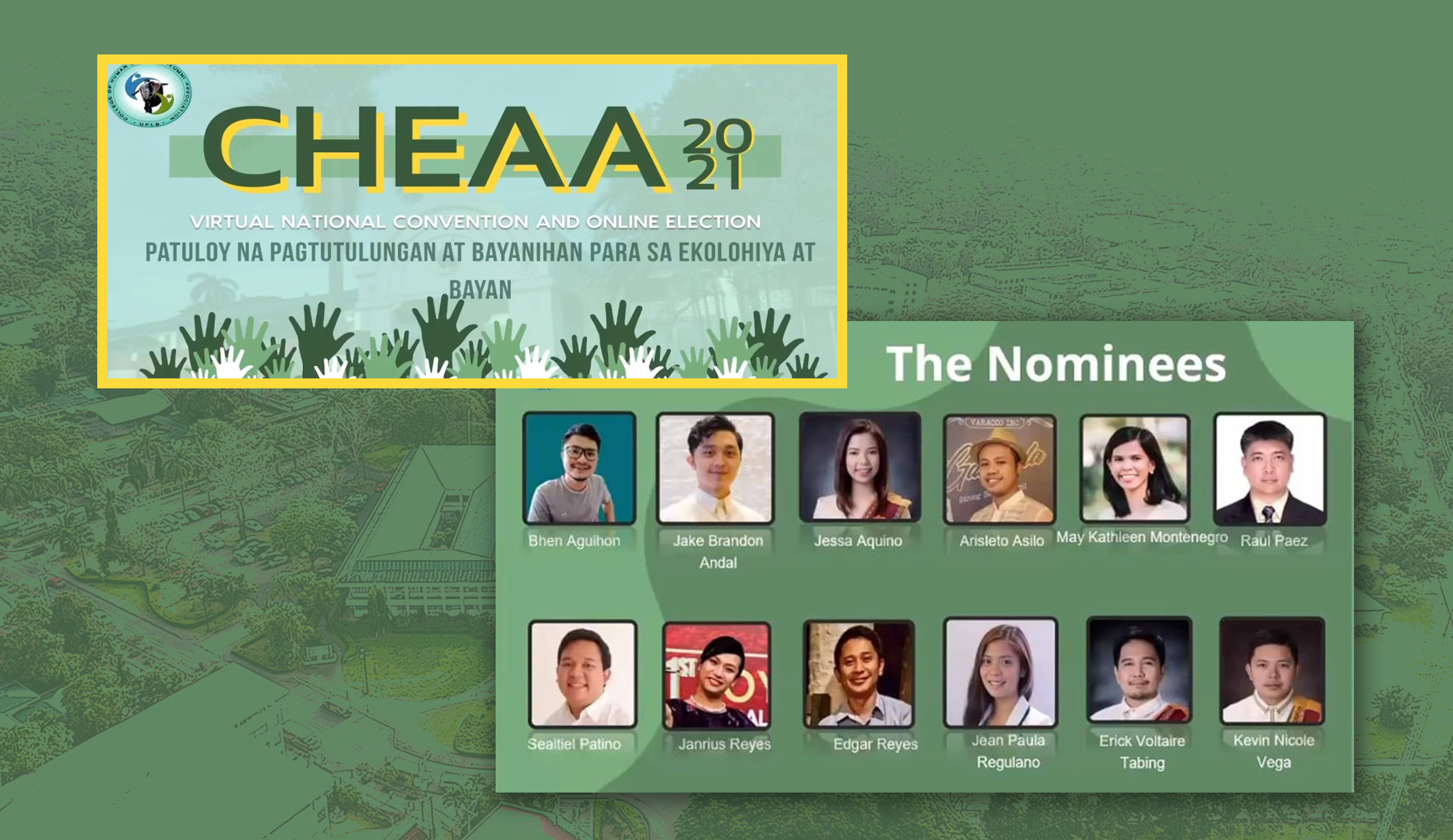 CHE AA holds convention and election
The College of Human Ecology Alumni Association (CHE AA) held its 2021 Virtual National Convention and Online Election with the theme, Patuloy na Pagtutulungan at Bayanihan para sa Ekolohiya at Bayan, on April 9.
The event was participated in by 103 via video conference and had 1,200 live views on Facebook.
Chancellor Jose V. Camacho, Jr. gave a special message, expressing his pride in CHE AA and encouraging its members to continue undertaking collaborative and cooperative efforts.
Floro Francisco, CHE AA President, presented the agenda of the convention, which included a presentation of its projects and financial reports, ratification of an amendment, and the online election.
Francisco emphasized in his report the value of giving back to the College and expressed his hopes to register the organization with the Securities and Exchange Commission and to improve its constitution and bylaws.
CHE AA reported developments on its flagship programs and advocacies for the past years such as the donation drive for the Taal Volcano eruption survivors, alumni support and welfare, and alumni network and fellowship.
CHE AA also announced fund raising activities including a donation drive and selling of handcrafted washable face masks from Lumban workers, t-shirts, and wall clocks with the CHE logo imprinted on its face.
The program also had a networking part where participants proceeded to breakout rooms to enable them to meet with fellow alumni and create connections.
Aries Asilo, chairperson in charge of amendments, facilitated the process to ratify an amendment of its by-laws. An election was also held for seven members of its new board of trustees through the assistance of Katherine del Rosario, CHE faculty member.
CHE AA External Vice President, Dr. Normahitta Gordoncillo, concluded the program with a message thanking the organizers, the donors, and the participants who were there despite the event being held on a holiday. (Eunice A. del Rosario)