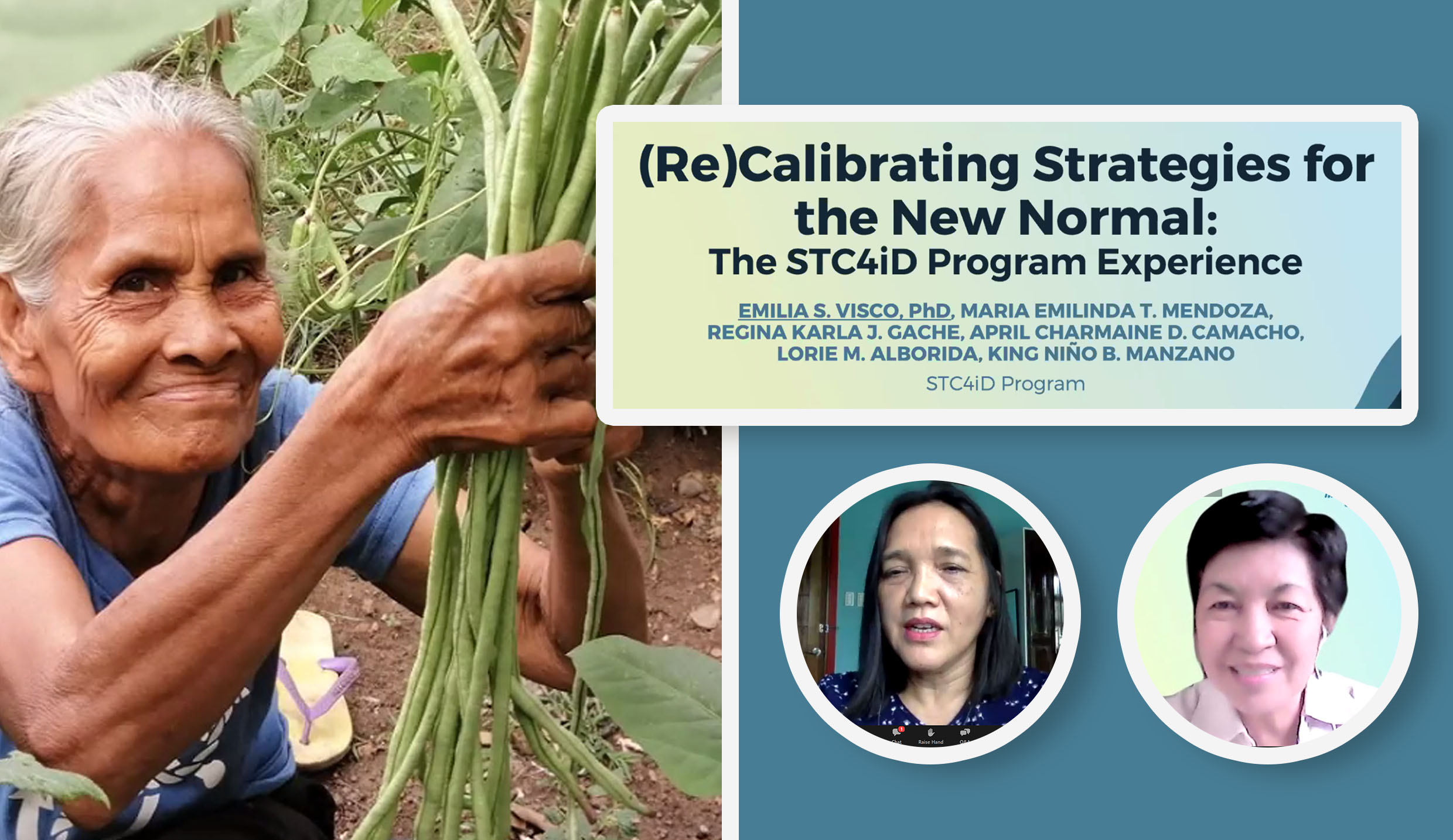 CHE explores community dev't amidst COVID-19
Even as the pandemic continues to disrupt normal routines, academe is finding ways to continue its research activities and serve communities in the new normal.
The College of Human Ecology (CHE) showed how it is responding to the challenge in their mini conference held on Dec. 7 via Zoom.
Titled, "Community-based interventions for inclusive development in the time of COVID-19," the conference explored how organizations and research institutions can continue to operate and work with communities despite the limitations imposed by the pandemic.
The conference's morning session featured plenary speakers Dr. Emilia Visco, faculty member at the College of Human Ecology and Dr. Emma Ruth Bayogan of UP Mindanao who each discussed their experiences in project implementation and how they have adjusted their operations amidst precautions against COVID-19.
Dr. Bayogan, program leader of the "Enhancing livelihood opportunities in conflict-vulnerable areas in Mindanao through the LIFE (Livelihood Improvement through Facilitated Extension) Model" or LIFE Program discussed how they have continued working to capacitate communities in conflict areas and help create better livelihoods by connecting them with experts and partner agencies and facilitating collaborative livelihood activities among their various groups.
Dr. Bayogan's team faced multiple adjustments with the implementation of quarantine protocols in the country since most of their activities required plenty of travel and face-to-face interactions. To continue the program, they conducted their activities remotely by coordinating with their on-the-ground facilitators through mobile or online conferencing and producing print and video materials in advance which community members can access at their own time.
All their administrative papers are also constantly followed up remotely to ensure that they are still being processed on schedule.
Dr. Visco's team faced similar difficulties in carrying out their program "S&T Community-based for inclusive development" (STC4iD) program which works with five partner state universities and colleges (SUCs) spread out in Mindanao and Visayas.
Like the LIFE program, STC4iD also continued to work with far-flung communities and helped implement livelihood projects that were based on the community's culture and needs. The community activities and trainings were similarly hampered when the pandemic hit the country.
In response to this challenge, Dr. Visco and the STC4iD team first ensured that their partner communities had enough resources to survive the pandemic. They also coordinated with their partner SUCs for the continuation of monitoring and evaluation of the communities and for the distribution of modules.
The program utilized the online platforms to spread information and technologies from their project to a wider demographic.
The mini conference's plenary sessions were followed by research presentations which featured topics on food security, community-based enterprise development, and project monitoring and evaluation.
In a brief message, Dr. Raden Piadozo, dean of CHE, acknowledged the difficulties of adapting to unforeseen disruptions in the implementation of community-based programs and encouraged the participants to use the outcomes of the activity to continue efforts for the attainment of inclusive development. (Jessa Jael S. Arana)