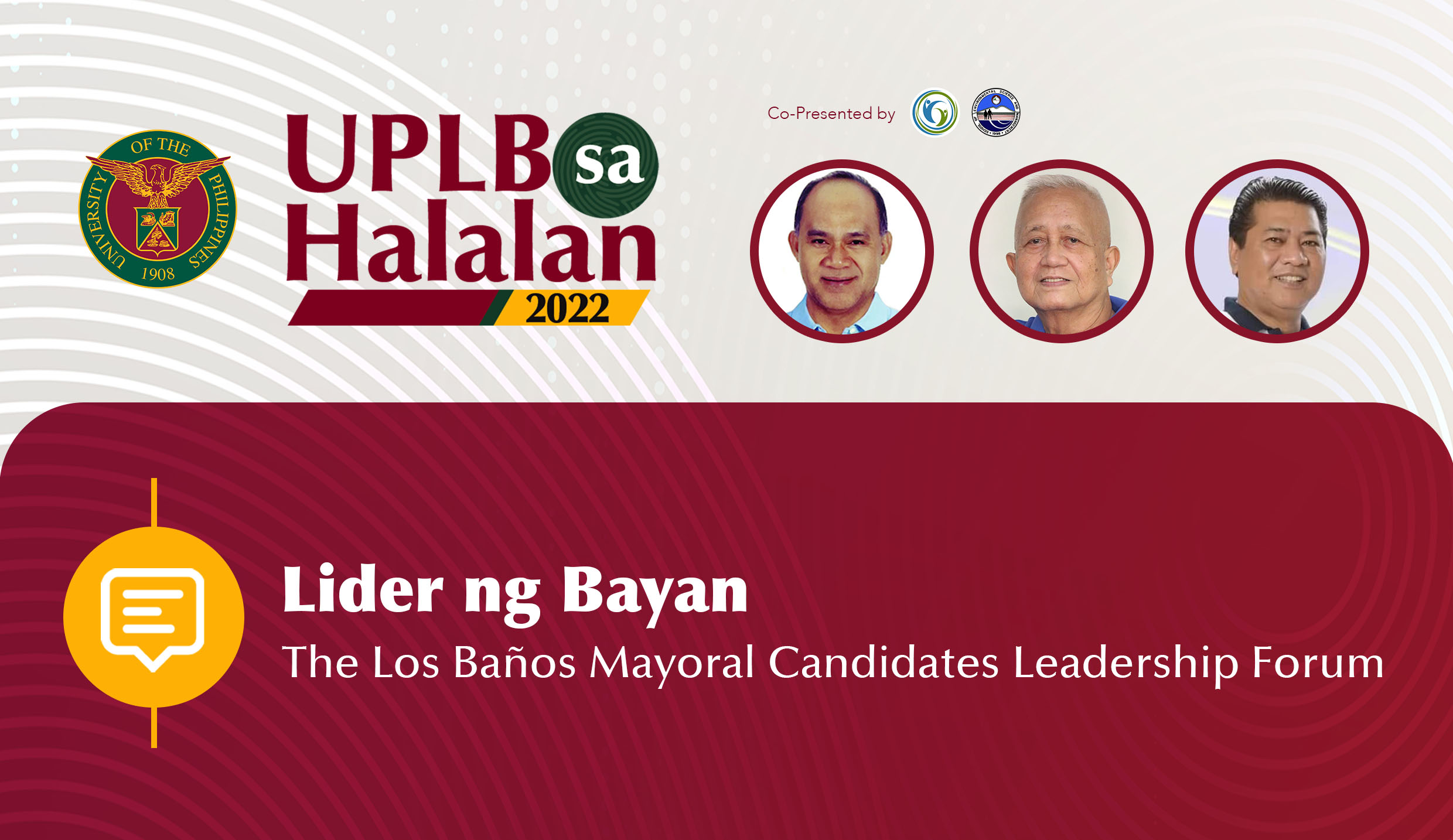 CHE, SESAM hold forum on mayoral candidates plans
The College of Human Ecology (CHE) and the School of Environmental Science and Management (SESAM), in coordination with the UPLB Halalan sa 2022, held a forum on mayoral candidates entitled "Lider ng Bayan: The Los Baños Mayoral Candidates Leadership Forum" on April 21 at 9AM via video conferencing.
Three of Los Baños' mayoral candidates attended the forum namely, Feliciano Aloba Escobin, Joel Mendoza Lapis, and Mayor Antonio Laluces Kalaw. The other three candidates couldn't attend due to conflicts on schedule.
UPLB Vice Chancellor of Community Affairs Roberto Cereno greeted the candidates and thanked them for attending the forum in his opening message. He stated that, in the Office of Community Affairs, they believe in town and gown partnership wherein the town of Los Baños and UPLB must always help each other.
He also included in his speech the University's help for the municipality. UPLB provides subsidies for operational expenses of PNP-LB and Bureau of Fire-LB. It also achieved a 106% vaccination rate which is the highest record in Laguna. This is why, according to him, this event is important for both the citizens and the University.
The host for the event, Gillian D. Consignado, gave context to the UPLB sa Halalan 2022 activities. UP is mandated to provide opportunities for responsible citizenship and development of democratic values as a national university based on the UP Charter of 2008.
Mayor Antonio Laluces Kalaw, an Independent candidate, expressed gratitude to the organizers of the event. Kalaw is the current mayor of Los Baños. He studied BS Commerce, majored in Accounting at Far Eastern University and has a master's degree in development management and governance from the University of Makati. He served as a counselor of Los Baños from 2010 to 2019. His resolutions and ordinance benefits mainly senior citizens, PWDs, and tricycle drivers. He also served as vice mayor last 2019.
Kalaw stated that he has two major programs which are the mini hospital and free housing that are now being funded by the national government. He also has a municipal scholarship program wherein 218 high school scholars and 40 college scholars are given.
He stated that rerouting is important to reduce traffic. On stray dogs and cats, he stated that there is a free vaccination for them.
On fake news, he calls for citizens to balance which is true and which is not. He also included that the Facebook page of the municipality is active wherein they correct fake news on social media.
Kalaw stated that consultations on agencies such as UPLB is important for the solution-making of the government.
On NTF-ELCAC and redtagging, he also believes that there is always a process in law. He stated that he will protect the citizens and guide them towards a bright future.
There is an existing barangay emergency response team for emergency situations, he stated when asked about the efficient emergency response on secluded areas.
In his final message, Kalaw stated that he had proved himself with his service for the past years. He ensured that he will continue his projects and will continue to help the community.
Feliciano Aloba Escobin, also an Independent candidate, said that he knew the people of Los Baños needed him as the most qualified candidate and so, he prepared for his candidacy. He studied engineering and worked as a merchant marine for 26 years. His platforms include eradicating corruption, scholarships for the children with single parents, free housing, and boost on tourism.
Escobin shared his plans in printing a manual containing guidelines on pandemic response, use of roads, emergency response, and plans on out-of-school youth which will be disseminated to the citizens. He stated that he will make sure that his programs align to the current laws.
He also stated that the proper size of roads should be implemented and that sidewalks are necessary for the safety of the people.
On stray dogs and cats, his plans include ensuring that the owners know the protocols regarding their pets and that animals should be registered.
On fake news, Escobin stated that it is best to just ignore and don't react to any of the fake news.
He also stated that the laws concerning redtagging is not polished enough and should be reconstructed. Recruitment of communists as well as illegal arresting should not happen at all.
Escobin also mentioned that he will ask those that can help to provide financial assistance to those in need.
In his final message, he stated that he may not be popular but he has something to fight for. He also said that the power of the future mayor is in the hands of the voters. He encouraged them to vote with an open mind for the sake of future generations.
Joel Mendoza Lapis of Aksyon Demokratiko said that he is honored to be part of the program and that his views and programs reflect the needs of the citizens. He is a registered mechanical engineer and board of director. He is also currently the general manager of Laguna Water District. He also worked as a material and procurement specialist, cost engineer, and quantity surveyor for big companies. He was a former barangay captain of Barangay Mayondon. His father is a former mayor of Los Baños and his mother is a former barangay captain.
Lapis shared his programs on livelihood, especially for those affected by the pandemic. He also stated the importance of strengthening the bonds between families which includes festivals for families and free counseling for youths. Free internet connection, scholarship programs, and public libraries are some of his plans for out-of-school youths.
On traffic, he stated that it is important to clear the road which means getting rid of posts. He also includes alternative routes. He stated that discipline of citizens will help minimize traffic. In his programs, animal welfare is also included wherein facilities will be used for stray cats and dogs.
For Lapis, it is important to disseminate information regarding fake news to the citizens. This is to help them decipher which is true and which is not. Aside from this, he said that he will make sure to listen to the citizens and develop Los Baños together. He stated that there is no need to set appointments and that he is always free to talk to people.
When asked about NTF-ELCAC and redtagging on UP students, Lapis stated that due process is very important and redtagging is dangerous especially to those targetted by it. He stated that he supports the rights of everyone.
He also stated that it is important to capacitate the barangays that are secluded. Training will be given to people in the areas where emergency response is inefficient.
In his final message, he thanked the organizers for giving him the opportunity to be heard by the citizens. He stated that he has clear programs regarding family, livelihood, health, housing, youth, and peace.
To officially close the program, Dean Ricardo M. Sandalo expressed his gratitude to the three candidates for bravely taking up the challenge. He stated that the purpose of the event is to provide more information about the candidates to the citizens. He also hopes that, whoever wins will maintain the partnership between the local government and UPLB.
The forum can be viewed on the official Facebook page of UPLB. (Kyle Ramiel Dalangin)