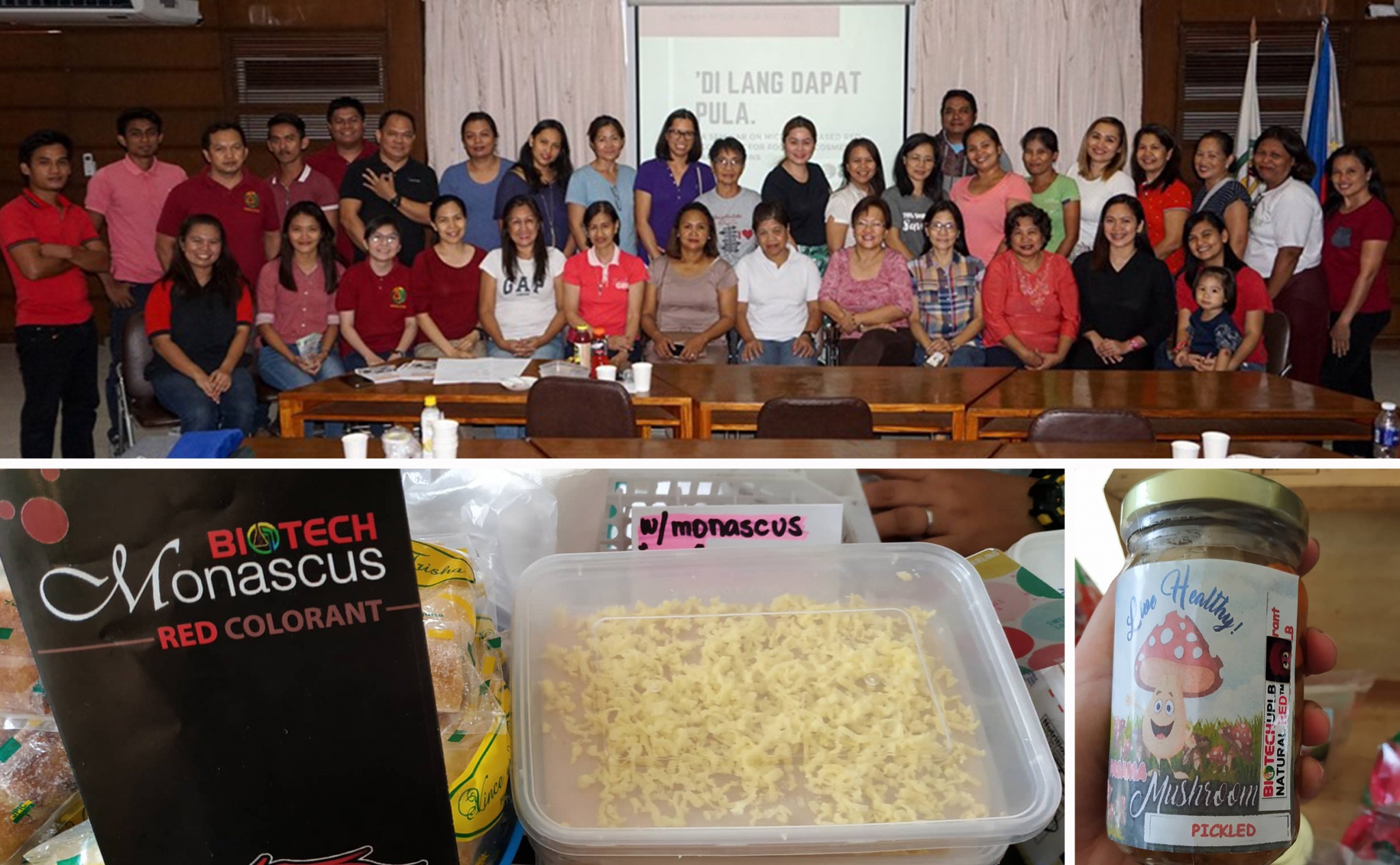 Colorants may make food look enticing but they are said to contain artificial dyes that cause a number of health risks including allergies and cancer.
Researchers at the National Institute of Microbiology and Biotechnology (BIOTECH) led by Fides Marciana Tambalo have developed a natural food color product derived from microorganisms that they call the BIOTECH Monascus Red Colorant.
The product bodes well for the food and cosmetics industry that should benefit from safer alternatives.  An added value in its ability to reduce cholesterol makes further development and commercialization of the product even more urgent.
But losing no time, Tambalo's research team, which is also composed of associates Jayson Garcia, Cyrene Estrellana, and Rosa Buena Capuno, has begun to share their new-found knowledge with micro entrepreneurs in a food color technology training at BIOTECH entitled "Di Lang Dapat Pula: A Seminar on Microbial-Based Colorant for Food and Cosmetics Application."
After attending the training, micro entrepreneur Kristine Caragao of Calamba City and her friends used the BIOTECH Colorant samples that they got on their food products. Kristine produced peach maja blanca or coconut pudding while her fellow sellers produced colored pastries and mushroom pickles.
Together they participated in a trade fair at a local mall recently where they also pitched in to increase people's awareness about the BIOTECH natural product. They attached to their product labels the natural colorant's name in order to help promote it.
With micro entrepreneurs like Caragao who advocate the value of science not only in food and business, but also to health, BIOTECH Monascus Rd Colorant will be able to carve a niche in the food and cosmetic industry. (Toni Krizia Vivares)
Editor's note: Companies that are interested to try, license, and commercialize the BIOTECH Monascus Red Colorant may reach the author at mobile phone number +639265592992.