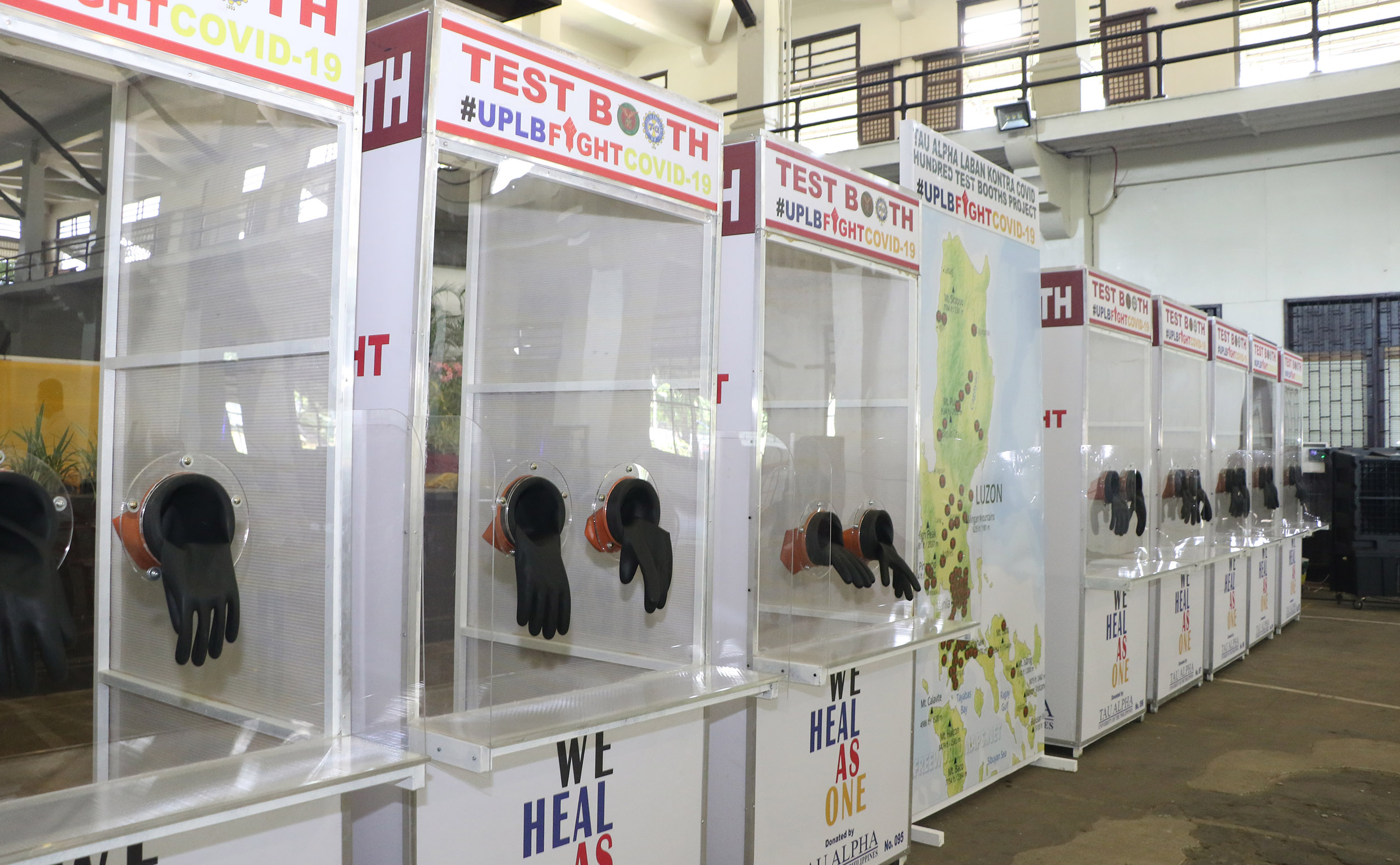 COVID-19 test booth project reaches 100th mark
A partnership that sought to help the medical community in this time of the COVID-19 pandemic has fulfilled its promise.
The "WeHealAsOne Hundred Test Booths Project" of UPLB and TAU ALPHA Fraternity presented its last batch of test booths yesterday, June 04, at the culminating turnover activity at Baker Hall in UPLB.
According to Dr. Marloe Sundo, senior adviser of the fraternity, the said booths will be delivered to recipients in the cities of Laoag, Vigan, Baguio, and Urdaneta; and to Clark in Pampanga and Guiguinto in Bulacan, all in the northern part of Luzon.
Recipients to places in the south of Luzon, specifically at Lopez in Quezon, Daet in Camarines Norte, NagaCity in Camarines Sur, and Legaspi City are also going to receive the test booths.
Chancellor Fernando C. Sanchez, Jr. and members of the TAU ALPHA Fraternity graced the turnover program.
"The swab booths will surely be appreciated by our medical frontliners, as these will facilitate their work to identify and isolate active cases of COVID-19", Chancellor Sanchez said.
Chancellor Sanchez thanked the members of TAU ALPHA Fraternity and Dr. Sundo '19, who is also the director of the University Planning and Maintenance Office, for initiating the project.
"[This project] exemplifies willingness to respond and to help in these uncertain times, during a crisis that is truly unprecedented," Chancellor Sanchez noted.
According to Bert Mendoza '78, Chairman of TAU ALPHA Foundation Inc., they will still continue producing test booths despite having reached their original quota and as long as they have available resources.
This is because requests from other hospitals have still been coming in, Mendoza said.
In fact, they have already produced 105 test booths, a few of which will be delivered next week.
By then, the project will have reached a total of 64 municipalities in 21 different provinces.
Also present during the turnover activity were CEAT Dean Arnold Elepaño, project manager Mike de Guzman '93 who presented the report of completion, CEAT Alumni Association president and alumni adviser to the fraternity Pantaleon Tabanao '65 who served as the event emcee, and Delzi Banzali '78, president of CV Solutions Inc. and external vice president of UP Alumni Engineers, who gave a speech to note his Sterilox V RTU viruscide donations to UPLB that were provided for together with the booths.
TAU ALPHA Fraternity gave an assurance that while the project may be over, it will continue to cultivate strong ties with the university to contribute in the fight against COVID-19 with even more donations such as viruscides, PPEs, and possibly more booths.
Aligned with our commitment to: