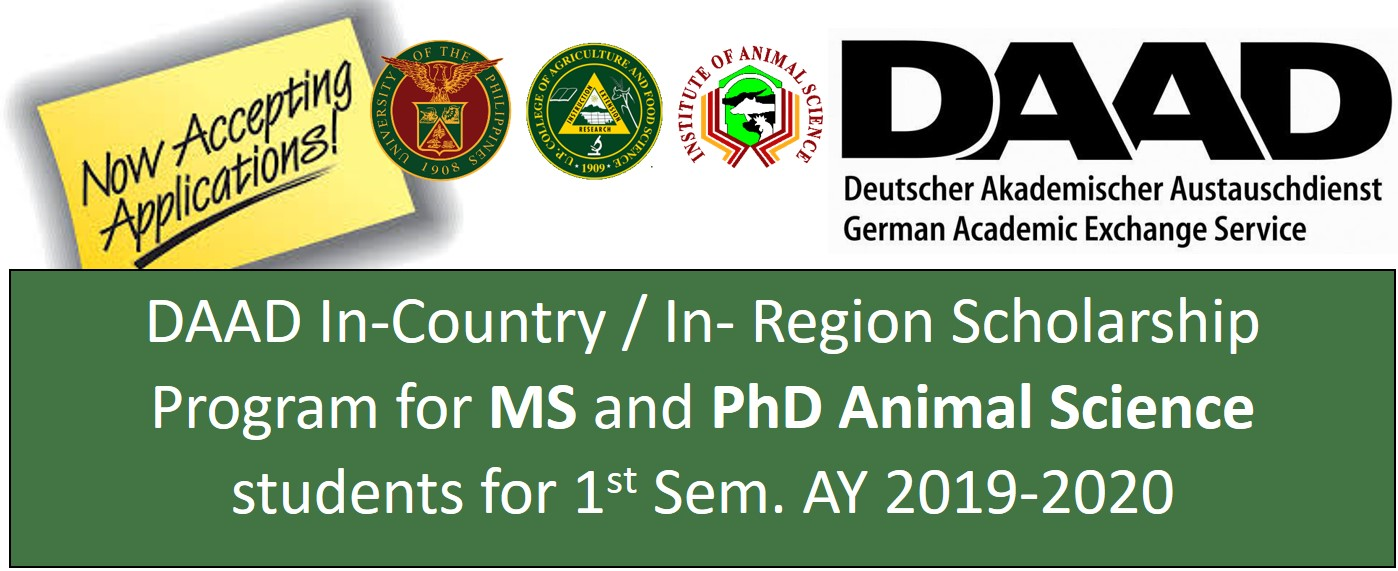 DAAD, IAS call for postgrad students in animal science to apply for scholarship slots
As part of its "In-Country/In-Region Scholarship Programme",
The Institute of Animal Science of the College of Agriculture and Food Science was selected in 2017 to serve as a host institution for the "In-Country/In-Region Scholarship Programme" of DAAD (German Academic Exchange Service) funded by the Federal Ministry for Economic Cooperation and Development. The said programme aims at fostering strong, internationally oriented higher education systems in South East Asia with the capacity to contribute to sustainable development.
DAAD offers scholarships for PhD and Master studies at UPLB specifically at the Institute of Animal Science. The target group for scholarships are graduates and postgraduates from South East Asia with a first academic degree if applying for a Master's programme, or with a Master's degree if applying for a doctoral programme who want to pursue MS Animal Science or PhD Animal Science at UPLB. It has been agreed upon that DAAD cooperates with the Institute of Animal Science – University of the Philippines Los Bańos by offering up to 7 In-Region/In-country scholarships for PhD Animal Science and MS Animal Science studies at UPLB for the intake 2019 (AY 2019-2020). The scholarship covers tuition fee, annual study and research allowance of 460 Euro for MS and 920 Euro for PhD, printing allowance of 400 Euro and 800 Euro for MS and PhD respectively, monthly stipend of 500 Euro for MS and 650 Euro for PhD, and travel allowance for In-Region scholars.
Selection procedure is a two-step process. Initial screening will be done by the Institute of Animal Science, CAFS, UPLB. Application for 1st Semester, AY 2019-2020 is open until November 26, 2018. Application documents including application letter, admission notice from the UPLB Graduate School, updated curriculum vitae, scanned copy of transcript of records, scanned copy of diploma/degree certificates, recommendation letter from previous professors (1 for MS; 2 for PhD), and copy of passport for international students must be submitted via email to [email protected] for initial screening. Pre-selected applicants will be notified by the Institute of Animal Science by November 28, 2018.
For the second step of application, applicants will have to log in to the DAAD portal and register themselves and submit an online DAAD application. They have to register via the DAAD-Portal: https://portal.daad.de/sap/bc/bsp/sap/z_set_cookie/setcookie.htm?fund_ar=stv&id=57454969 until December 1, 2018 and submit all the required documents including all those submitted during initial screening and additional requirements set by DAAD such as English language certificate. DAAD reserves the right of final selection.