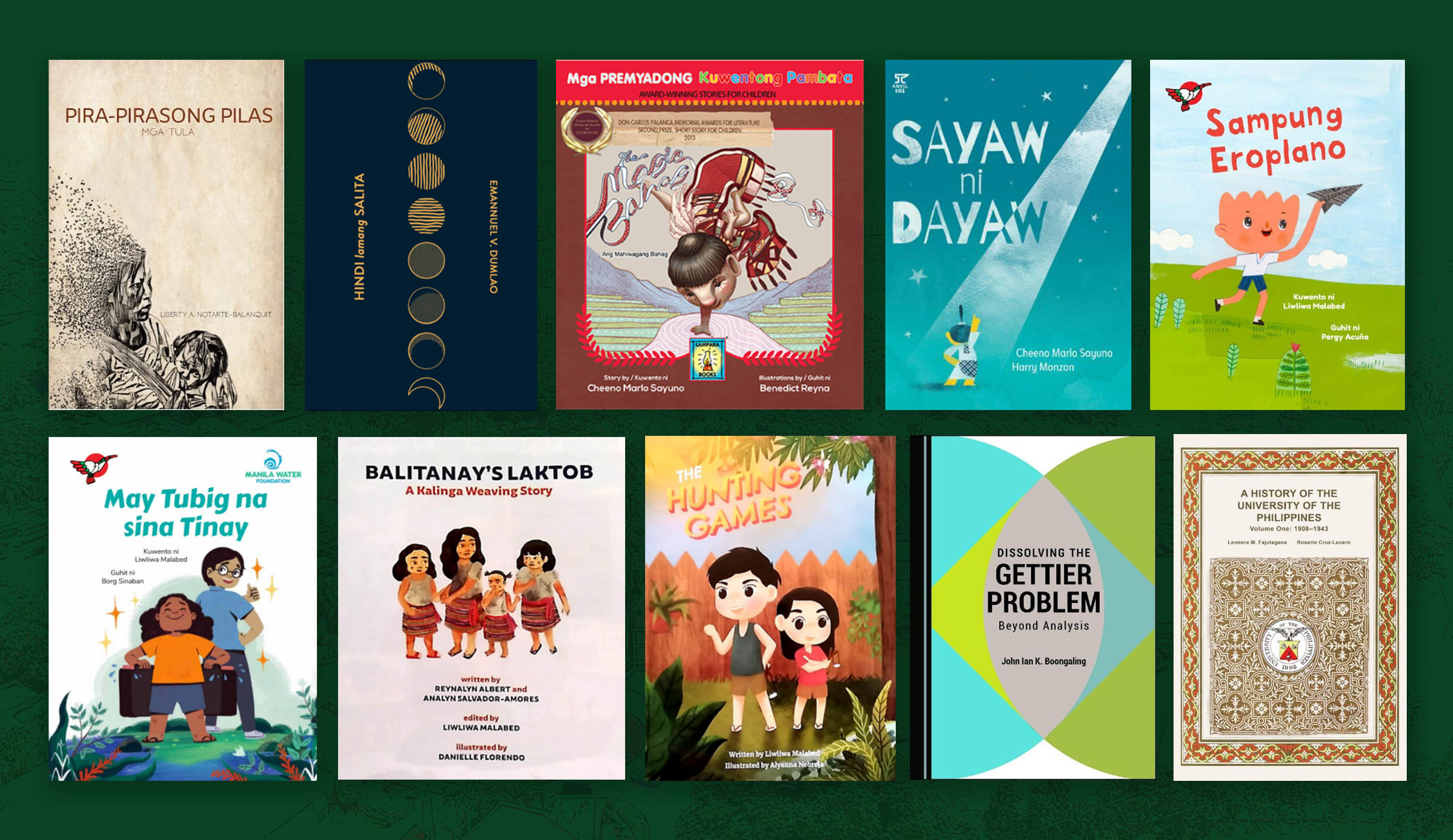 DHum faculty publishes several books
Several faculty members from the Department of Humanities (DHum) published books ranging from academic to creative, from research and historiography to poetry and children's stories.
For poetry, Sentro ng Wikang Filipino (SWF) in UP Diliman published the first book written by Liberty Notarte-Balanquit, a collection entitled Pira-Pirasong Pilas: Mga Tula. There are forty-four poems in the collection.
Previously, her poems, personal and often coming from her experience as a mother and as a woman, were published in anthologies such as Danas: Mga Pag-aakda ng Babae Ngayon, from Filipina feminist publisher Gantala Press.
Published by SWF is Dr. Emmanuel Dumlao's collection, Hindi Lamang Salita. The book, divided into four parts, features 50 poems.
According to Dr. Dumlao in his introduction, the collection tackles different aspects of life, from the classroom and campus to questions about the cosmos, but all coming together through the weaving of words. Both these books can be downloaded for free from the SWF website.
Cheeno Marlo Sayuno and Liwliwa Malabed are seasoned children's book authors with many published stories and awards and recognitions to their names. Over the past year, they have written new titles for different storybook publishing houses.
Under Anvil Publishing, Sayuno published Sayaw ni Dayaw, which is a part of Room to Read, a global non-profit organization that aims to empower children through literacy. The Magic Bahag, which won the Carlos Palanca Memorial Awards for the Short Story category in 2013, has been reprinted this year by Lampara Books. Later this year, Sayuno will be releasing another storybook under Vibal's Chikiting Books, Mga Kamatsile ni Ina Binyang.
Apart from writing, Malabed served as the editor of the Corditex storybooks on weaving, a project launched by UP Baguio's Museo Kordilyera last November. The following five titles were published under the initiative: Aramay's Sinnon: A Ga'dang Weaving Story; Balintanay's Laktob: A Kalinga Weaving Story; Benita and the Binodbodan: An Ifugao Story; Dalipug and the Isnag Badu: An Apayao Story; and Fata'an and her Tilar: A Bontoc Weaving Story.
Two of the new storybooks are both under Adarna House. The first is Mga Sampung Eroplano (Ten Airplanes), which is a wordless counting book. It is a part of the non-profit Room to Read, and was adapted by Tanghalang Pilipino into a radio play. The second is entitled May Tubig na sina Tinay, which won the Silver Anvil Award.
Malabed also wrote for Green Convergence for Safe Food, Healthy Environment & Sustainable Economy that printed her storybook The Hunting Games. Like the rest of the stories from this series, the book is inspired by an essay about trees, and is meant to inspire children to protect the environment.
Apart from these literary publications, there are also a couple of academic books penned by DHum faculty members. Philosophy teacher, Dr. John Ian Boongaling, wrote Dissolving the Gettier Problem: Beyond Analysis, published under Cambridge Scholars Publishing. Described as "going beyond analysis and dealing with the experiences of epistemic agents in actual problem-solving scenarios," the book provides a new take on a longstanding philosophical problem in the field of epistemology.
Dr. Leonora Fajutagana, DHum department chair, recently finished the first volume of A History of the University of the Philippines, which covers its first three decades, from its institution in 1908 to the tumultuous years of World War II. The book is a collaboration with Dr. Rosario Cruz-Lucero, UP Diliman professor and fictionist. It is published under UP Press. (Rachel Katimbang)