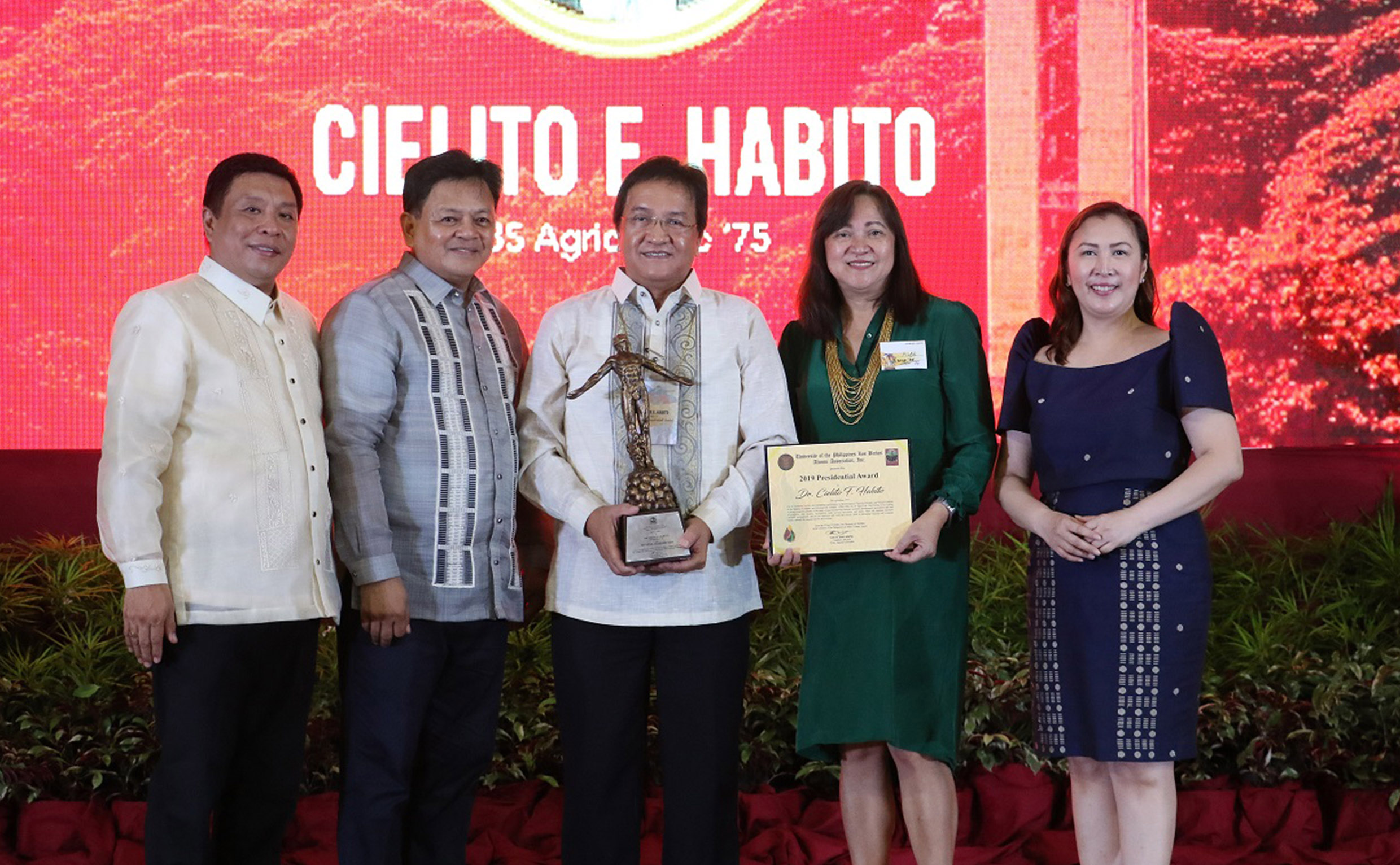 Dr. Cielito Habito leads 63 alumni luminaries for 2019
He set records in 1975 for graduating as the lone summa cum laude of UP and UPLB. Forty-four years later, he made headlines once again in the local soil as he received the highest honors from UPLB's alumni body.
Dr. Cielito F. Habito (BSA, AgEcon), who rose to national prominence as the Secretary of Socio-economic Planning and Director-General of the National Economic Development Authority from 1992 to 1998, is this year's recipient of the highest UPLB Alumni Association (UPLBAA) award – the Presidential Award.
Dr. Habito received his trophy during the 2019 Loyalty Day Alumni Homecoming and Awarding Ceremonies on Oct. 9 at Baker Hall.
UPLBAA recognized Dr. Habito's role in helping craft sound economic policies for the Philippines and other countries in Asia-Pacific and Latin America, and in advancing economic and financial literacy through his writings.
Currently, he is a professor at the Ateneo de Manila University and chair of the consultancy firm Brain Trust: Knowledge & Options for Sustainable Development, Inc. He taught at the College of Economics and Management from 1975 to 1990 and was once chair of the Department of Economics.
In his message of response, Dr. Habito dedicated the award to his late parents. His father was a former professor of agricultural education at UPLB, while his mother, a former public school teacher.
"I would like to declare today that this award is really and ultimately for my father, Dr. Celestino Pabello Habito, happily watching from heaven with our dear mother Faustina, both without whom I would not be standing before you today," he said.
Joining the younger Habito were 62 fellow luminaries for 2019 who received the following awards: The Outstanding UPLB Alumni Award or TOUAA (for 12 awardees); the colleges' distinguished alumni awards (47); Nelia T. Gonzalez Service Award (for Dr. Feliciano Calora, Sr.); and The Outstanding Golden Jubilarian Award (3). All have made significant contributions and marks in their professions and vocations.
Aside from the individual awardees, five families – Carandang, De Guzman, Luis, Mariano, and Mendoza – were recognized for having produced multi-generations of UPLB alumni.
Present during the event were the jubilarians, or those who graduated from the university in the years ending in 4 and 9, led by the Golden Jubilarians (Class of 1969).
Joining them were UPLBAA officers, led by For. Leo R. Ballesfin, president; UPLB officials, led by Chancellor Fernando C. Sanchez, Jr.; and Dr. Ma. Angelica D. Abad, UP assistant vice president for public affairs.
According to For. Ballesfin, the awardees "demonstrate the character of the Los Baños spirit through their excellence, perseverance, and commitment in their respective careers and endeavors."
For Chancellor Sanchez, the awardees "embody the university's principles of honor and excellence" from their endeavors and achievements in their respective fields.
During the event, Chancellor Sanchez also presented UPLB's recent accomplishments entitled "Creating an enabling environment towards UPLB 4.0." He updated the alumni about the university's notable capacity building and insfrastructure programs. (Mark Jayson E. Gloria)

Print