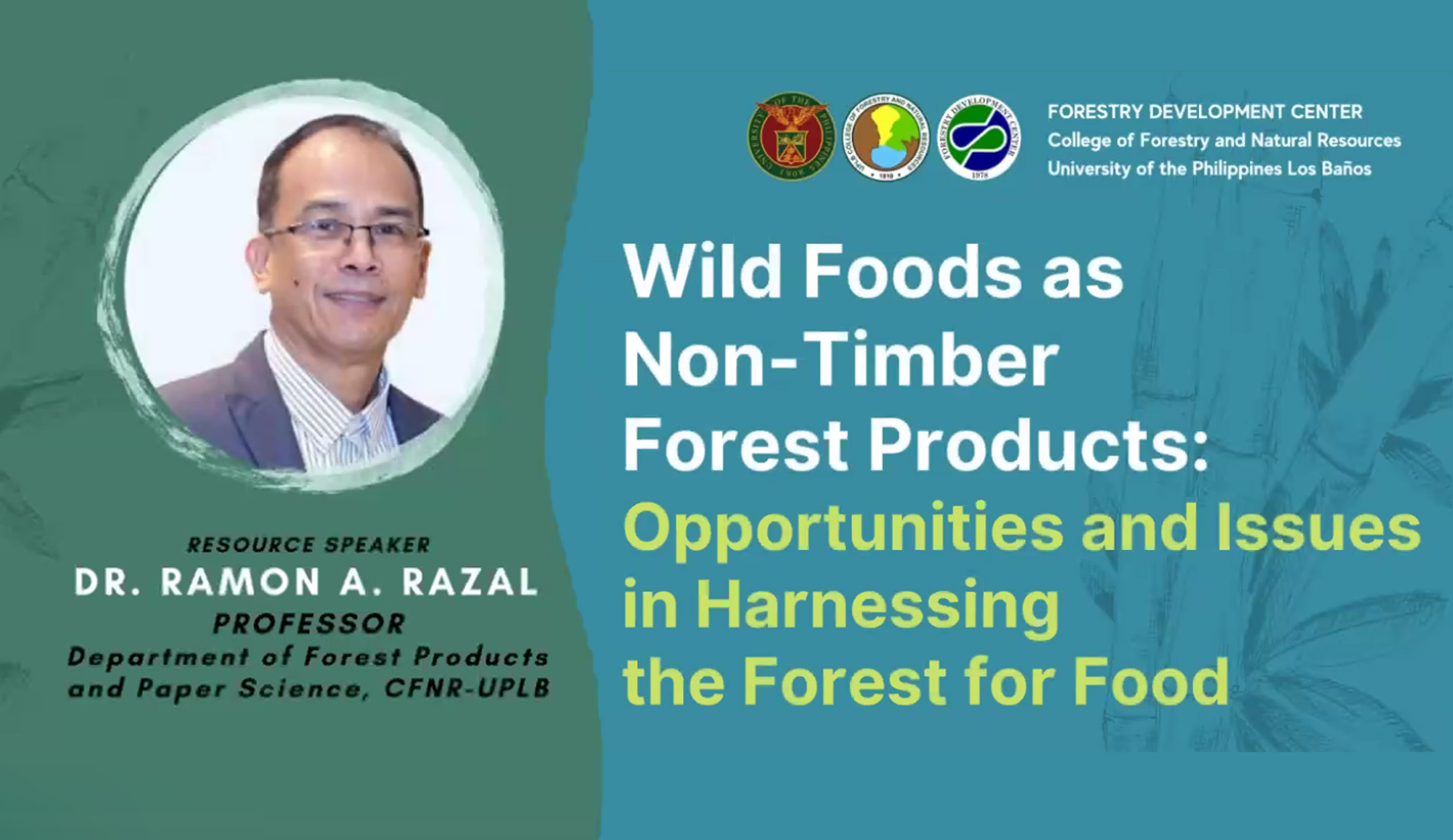 Forest foods promoted for PH food security in webinar
For matters of food security, agriculture has often been front and center. But forestry and forests contribute to it, too.
A webinar led by the Forest Development Center of the College of Forestry and Natural Resources (CFNR-FDC) was held to explore food sources in Philippine forests.
The webinar entitled, "Wild foods as non-timber forest products: Opportunities and issues in harnessing the forest for food," held on April 8, touched on the use of Philippine wild foods to help solve the chronic food insecurity and malnutrition problem in the country.
The discussion was led by Dr. Ramon A. Razal, a professor at the CFNR's Department of Forest Products and Paper Science, who has been conducting research on non-timber forest products (NTFPs) in the past years.
Wild foods, explained Dr. Razal, are edible NTFPs such as uncultivated plant species, fungi, and animals that are not consciously domesticated but collected from forests, usually as part of the local community's diet.
Their traditional use by indigenous and upland communities was an integral part of Dr. Razal's discussion, as it indicated that they already knew the properties and uses of these foods and that they can be tapped as partners and stewards of these natural resources.
In many cultures, wild foods have been documented to be used as regular or supplementary food sources, used in times of scarcity, for recreation, and for cultural practices.
Some of the research that Dr. Razal cited indicated that the Philippines has at least 365 edible plant species in its forests.
These can be various parts of plants, including greens and leaves such as pako, an edible fern, fruits and nuts like katmon, which grows from a flowering tree commonly used in gardening, blossoms like the himbabao, which is a distinct vegetable in northern Luzon dishes; and shoots and stems like those of bamboo and rattan. Forest foods can also be animal products like honey, insects, fish, snails and crustaceans, bushmeat, and bird eggs.
Dr. Razal said that using wild foods more regularly can add greater diversity to people's diets. He noted that over 50% of the world's daily requirements of proteins and calories only come from species of wheat, maize, and rice, and that only 12 species contribute to 80% of our total dietary intake.
In addition to their higher nutritional value compared to their store-bought counterparts, wild foods can also bring another advantage as sources of additional income and supplementary food especially in times of food stress such as during typhoons or droughts.
However, Dr. Razal said that one of the major challenges in using Philippine wild food was the sparse research being done on them, with only a few being published in the last century. Very little has been officially documented about Philippine wild foods, and there is currently limited knowledge about their volume, trade, nutritional values, and genetics.
If these opportunities are explored, Dr. Razal said that wild foods can be used to improve relative commercial crops by incorporating their genetic properties. Learning more about them may also help produce ways of processing them and commercializing them in greater scale. A proper inventory may also lead to better protection laws for wild foods.
Other challenges for wild foods include the destruction of forests and the expansion of agriculture to the uplands, further limiting their access. Their declining use also means that young people are also less likely to become interested in them, threatening the loss of ecological knowledge among indigenous communities.
To promote the use and protection of wild foods, Dr. Razal said that there needs to be more active contributions to expanding appreciation for wild foods, and that more research must be done on them with food science experts and social scientists so that there will be a proper documentation of their nutritional value and indigenous uses.
He also said that when crafting forests policies, food must be front and center so that wild foods can be integrated as a component of sustainable forest management.
Moreover, Dr. Razal emphasized the ethical questions that promoting wild foods will entail, such as inquiries into how interventions for their expanded use will affect forest biodiversity and how indigenous peoples can be properly compensated for sharing knowledge, practices, and resources that have been ingrained into their culture.
This is the first of FDC-CFNR's Forest Policy E-Talks for 2021 and follows after the first batch of online talks that began in the previous year.
Dr. Priscila C. Dolom, director of FDC, underscored the fruits that FDC has produced from holding the online policy series.
"Last year FDC conducted forest policy e-talks about different topics concerning the environment and natural resources. From those eight forest policy e-talks, we were able to strengthen our collaboration and linkages with different stakeholders, institutions, agencies, in the DENR sector. Also we were able to produce eight proceedings for dissemination and we are now preparing a policy brief, and further considering to conduct research in the different topics," said Dr. Dolom.
All previous and future webinars of FDC-CFNR 's Forest Policy E-Talks can be viewed on their official page. (Jessa Jael S. Arana)