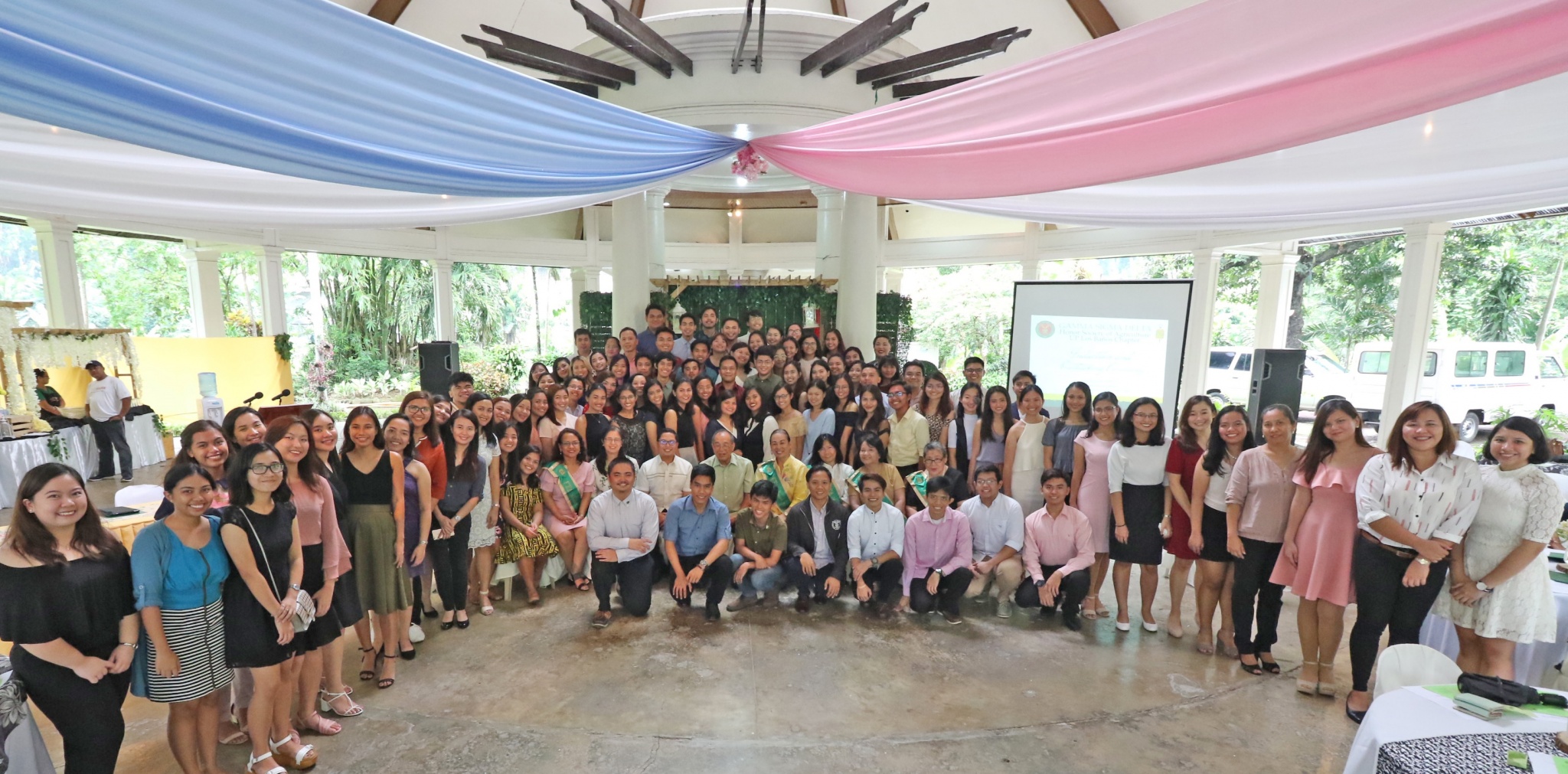 Gamma Sigma Delta welcomes new members from Class 2019
A new batch of members from UPLB has been added to the 100,000-strong Gamma Sigma Delta-The Honor Society of Agriculture (GSD-HSA) in the Philippines, United States, and Puerto Rico.
This happened as 177 from UPLB Class 2019 took their oath during the induction ceremony for membership to the 114-year-old honor society on July 22 at the Seniors Social Garden.
Leading the induction ceremony was Dr. Serlie Barroga-Jamias, president of GSD-HSA UPLB Chapter and a professor at the College of Development Communication.
Dr. Jamias, who is UPLB's vice chancellor for community affairs, represented Chancellor Fernando C. Sanchez, Jr. during the event.
"GSD-HSA has been working for the advancement of scholastic excellence in agriculture and related sciences. To be part of the honor society means that you accept the tasks of working to take your field to a higher level," Dr. Jamias said to the new members.
The newly inducted members were nominated for their good academic performance in working on their agriculture and agriculture-related degrees.
Of the 177, 148 are from the Colleges of Agriculture and Food Science (CAFS), Development Communication, Economics and Management, Engineering and Agro-industrial Technology, Human Ecology, and Veterinary Medicine. The remaining 29 are from the Graduate School.
During the program, the two guest speakers who represented the GSD-HSA alumni, reminded the new members of their responsibilities not only to themselves but also to the country.
Dr. Emil Q. Javier, a newly elected National Scientist of the Philippines and former president of UP, told them of the obligations that come with the honor of being a GSD-HSA member, particularly on matters concerning agricultural development and culture and environmental protection.
"It's your obligation to make the best use of [your] God-given gifts, not just for your own welfare, not just for your own family, but for the Filipino people," he said.
Dr. Javier also encouraged them to always think of doing things differently and to plan their moves ahead. These two things, he said, are important for their success.
Meanwhile, Jim Leandro Cano, Philippine country representative to the Young Professionals for Agricultural Development, enjoined the members to help change the negative perception about and to bring youth in agriculture, one of which is through participation in policy-making.
"What we're hoping is that there will be a mechanism that young people can now raise their voices and be heard at the United Nations level," said Cano, who is also a teaching associate at CAFS.
"It's time for young people not just to be recipient of policy. Young people have to be at the forefront of pushing what they feel they need," he added.
Speaking on behalf of the new members was John Vincent Garcia, BS Agricultural Biotechnology, magna cum laude and class valedictorian of CAFS.
"If we want to help our country through our field, we should work on making the agricultural sector inclusive and sustainable," Garcia said.
"We should not just work for our generation's sake, but also for the generations after us," he added.
Present during the induction ceremony were the officials of GSD-HSA UPLB Chapter. Dr. Barbara Caoili, associate dean for research and extension of CAFS, also took part in the event. (Mark Jayson E. Gloria)