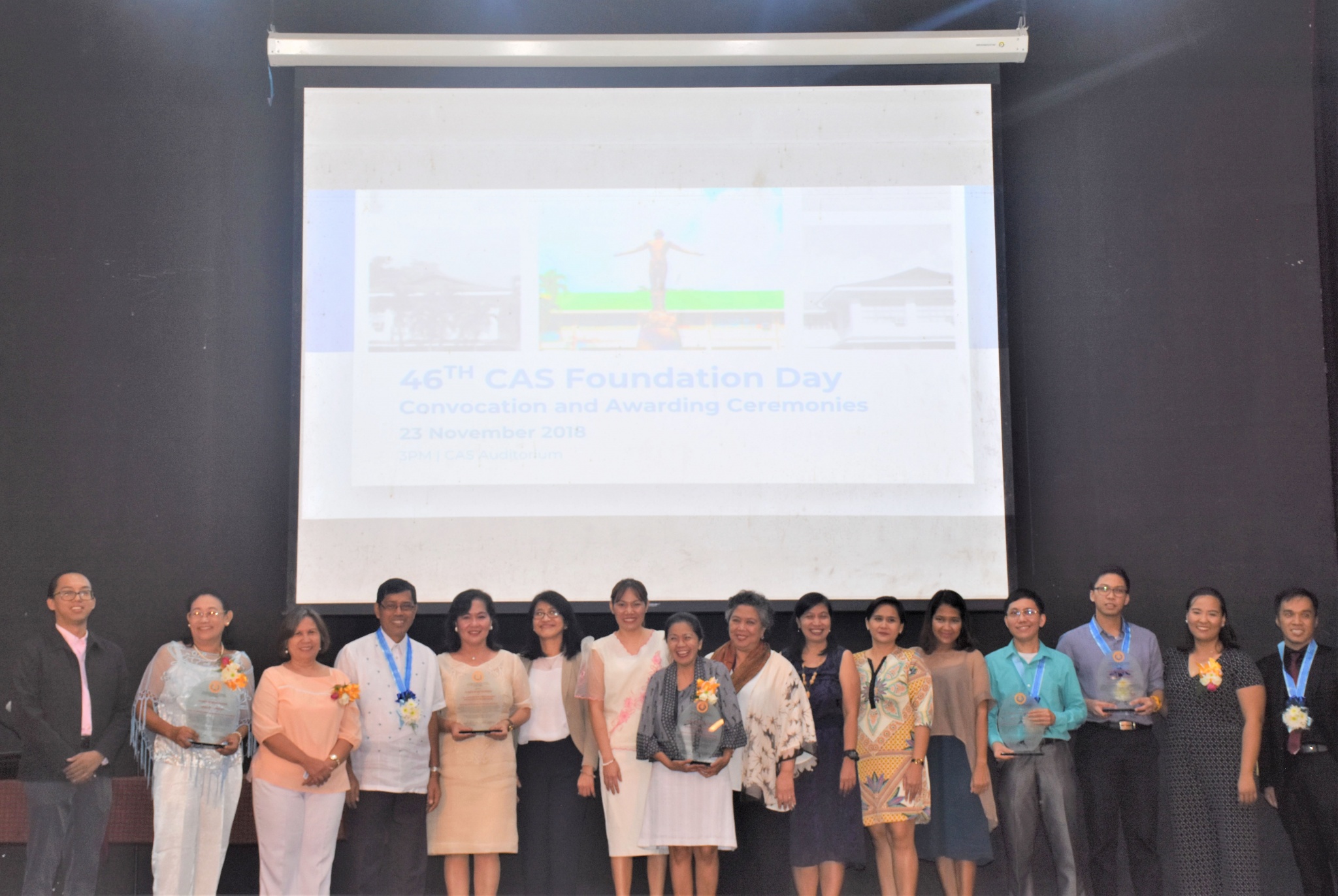 IMSP personnel dominates CAS anniv awardees
Mathematicians and physicists from the College of Arts and Sciences (CAS) dominate the roster of outstanding personnel and student awardees during the College's 46th anniversary celebration.
Four out of eight honors were given to personnel from the Institute of Mathematical Sciences and Physics (IMSP).
Mathematics Division's Diane Carmeliza N. Cuaresma and Alleli Esther C. Domingo were named as outstanding junior faculty and outstanding extension personnel, respectively.
Physics Division's Dr. Marvin U. Herrera was given the outstanding senior researcher honors; while the Surface and Interface Research Group bagged the outstanding research team award.
Meanwhile, Merlita C. Eroles, administrative aide at the Institute of Biological Sciences (IBS) received the outstanding administrative personnel award, while Biology student Sean Lemuel L. Santos was CAS' outstanding student this year.
Completing the list of awardees were Institute of Chemistry's Kevin C. Salamanez, who bagged the outstanding junior researcher title, and the Language Instruction Towards Excellence (LITE) Program under the Dean's Office (DO) as outstanding extension program.
The awarding ceremony on Nov. 23 served as the culminating activity of the week-long celebration of CAS.
Other awardees during the celebration were the top CAS students, including those from the UP Rural High School (UPRHS), and this year's retirees: Ayolani B. De Lara, Celia B. De La Viña, Myrna V. Marasigan, Celia B. Paleg, and Eduardo SV. Buesing of IBS; Rodrigo S. Aguirre and Filomeno Del Mundo of the Department of Human Kinetics; Pablito V. Narvaez of the UPRHS; and Marina G. Lansigan of DO.
During the anniversary week, CAS also held other activities that reflected some of its advocacies.
CAS unit heads, together with the staff of the DO and Office of the College Secretary, planted various bamboo species in the event called "The Bamboo ARTrium: Bamboo Planting Ceremony" on Nov. 20.  The project seeks to aesthetically create and design the CAS Annex 1 Atrium area with different species of bamboo.
Angelito Exconde, assistant national coordinator of the Bamboo Plantation and Development Project of the Ecosystems Research and Development Bureau (ERDB), graced the event. ERDB selected and provided the bamboo species saplings for the project.
Meanwhile, mental health served as the centerpiece of the CAS Task Force on Alalay sa Iskolar ng Bayan's workshops called "Work-Life Integration"; "Tanggap kita pero…: SOGIE and Microagression"; "The Self-Care Project"; and "The Psychology of Money: how our beliefs and emotions affect the relationship we have with money and its consequences."
For its part, the Department of Social Sciences initiated a symposium on "Fake news during elections" on Nov. 22 as part of its Reimagining Philippine Politics and Governance Lecture Series with Dr. Clarissa C. David of the UP College of Mass Communication as speaker.
The College anniversary officially opened with the 11th CAS Student-Faculty Research Conference (SFRC) on Nov. 19.
Researchers from the Institute of Statistics (INSTAT) topped both the oral paper and poster paper competitions.
Placing first in the oral paper competition were John Lorenzo Yambot and Ramoncito Cambel of the Institute of Statistics for the study entitled  "Identifying common misconceptions in statistics."
Yambot also aced the poster paper competition, together with Maurice Borromeo, and Edrun Gayosa for the study "Live to work or work to live? Gender differences in the perception of work-life balance among UPLB employees." (Alexa T. Fajardo)