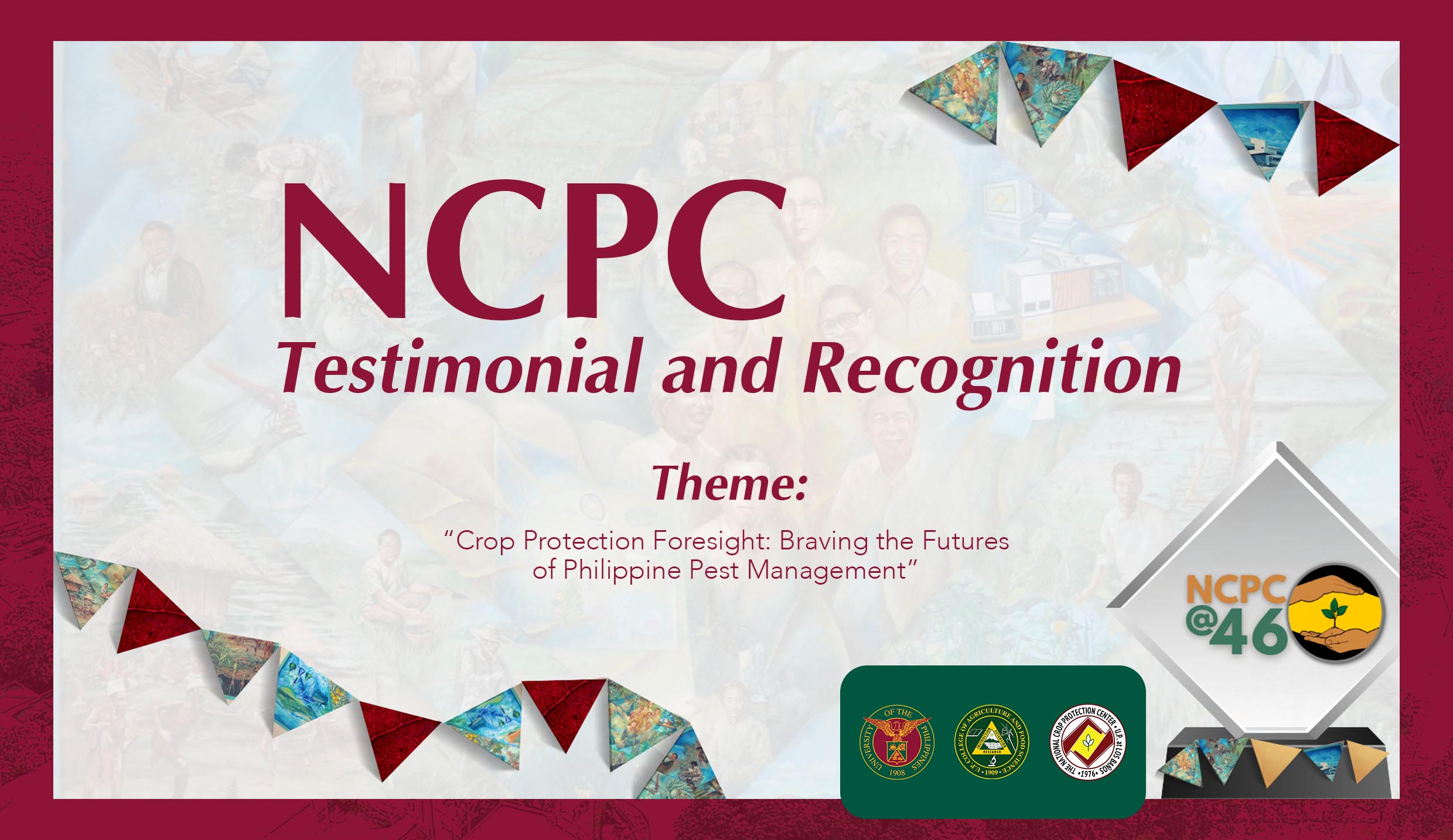 NCPC pays tribute to its personnel at its 46th anniv celebration
The National Crop Protection Center (NCPC) celebrated its 46th anniversary with a webinar series and a testimonial and recognition program for outstanding, newly promoted and newly hired, and retiring personnel.
Themed "Crop Protection Foresight: Braving the Futures of the Philippine Pest Management," the event began with a two-day webinar series and featured the testimonial and recognition ceremonies.
Dr. Barbara L. Caoili, NCPC director, acknowledged the efforts of the NCPC constituents, saying that there are no big or small struggles as every experience contributes to the success of NCPC.
Dr. Elpidio M. Agbisit, Jr., dean of the College of Agriculture and Food Science (CAFS), expressed his confidence in the future and that NCPC will reach greater heights in the next years and decades to come.
Calling the program a "changing of the guards," Agbisit acknowledged the retiring and new members of the institution and encouraged the constituents to "live with a bang" and help the institution, colleagues, and the university achieve their goals.
In a recorded message, Chancellor Jose V. Camacho Jr recognized the hard work, dedication, and commitment to science and public service of the past and present scientists, researchers, and administrative staff of NCPC.
Camacho also honored the important contributions of the awardees who have served the college and NCPC for decades now, stressing their importance as part of the center's human resources.
"We count on your cooperation as we bring the university to greater heights," Camacho said as he closed his message by congratulating the retirees.
He said that the university takes comfort in the thought that their contributions and legacy to the center will live on in the corners of the laboratories and offices of the NCPC.
The event was also a venue to acknowledge the 10 recipients of outstanding personnel awards, welcome 13 newly promoted and newly hired staff, and honor 5 retirees, including its former director Melvin D. Ebuenga.
During the program, a tribute was given to Ebuenga. For his part, Ebuenga expressed his gratitude toward NCPC and advised his colleagues to continue doing their work as they all play important roles in the center.
The weeklong celebration was a combination of both offline and online activities. The testimonial program was held on May 18 and was streamed on NCPC's Facebook Page. (KEAraguas)