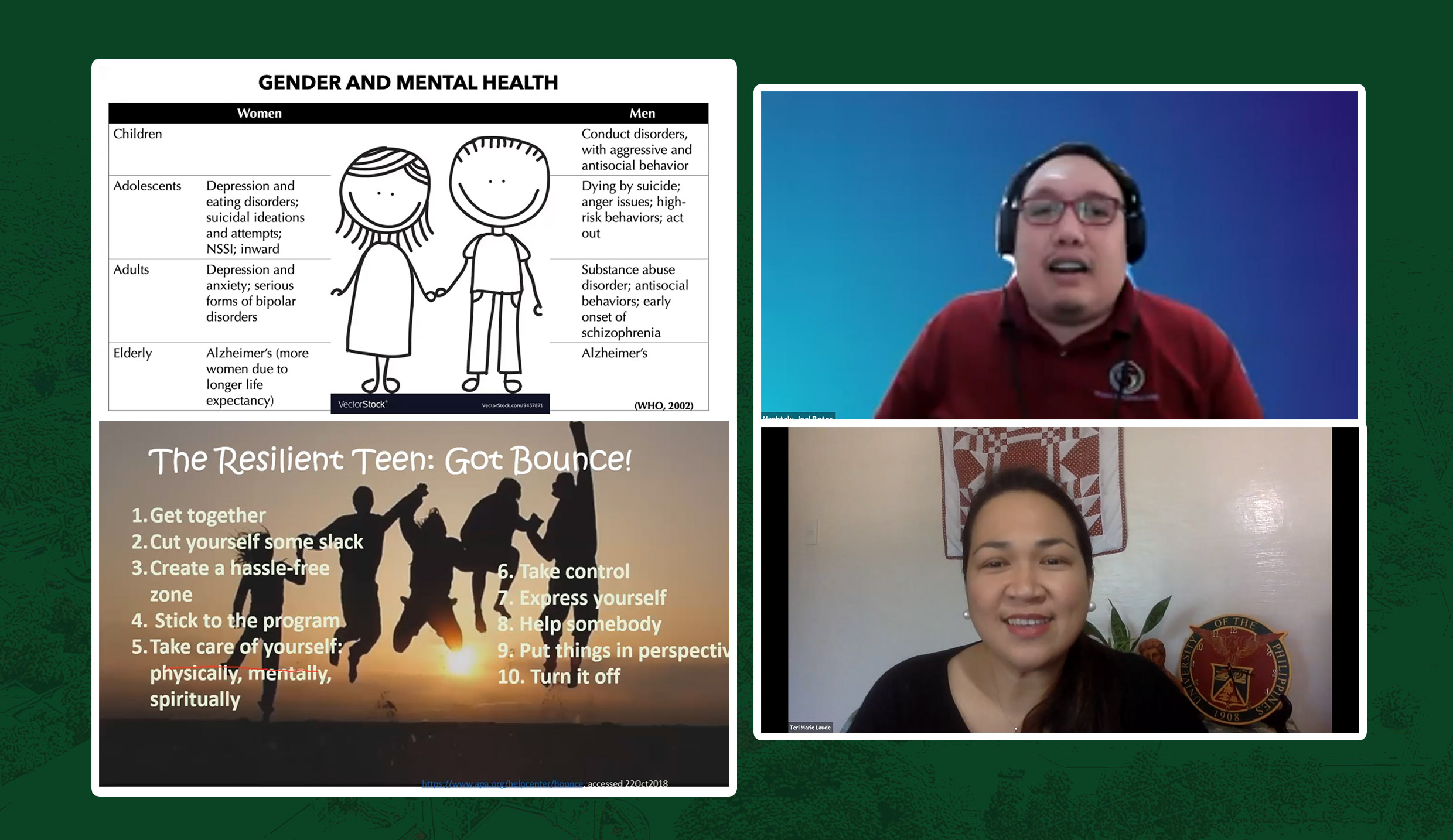 OIDHE holds developing good study habits & mental health webinar for Bulacan SU
A clear indicator of how issues on studies and mental health are of primary concern now in this pandemic is the "jampacked Zoomspace" webinar organized by the Office for Institutional Development in Higher Education (OIDHE) for the Bulacan State University (BulSU) on April 13.
The webinar titled "Developing Positive Study Habits and Staying Mentally Fit During the COVID-19 Pandemic," held in cooperation with the UPLB Department of Human and Family Development Studies of the College of Human Ecology (DHFDS-CHE), was attended by 500 students and staff of BulSU.
Chancellor Jose V. Camacho, Jr. who gave a message at the beginning of the webinar commended OIDHE and BulSU, saying that in the time of the pandemic, it is ever more significant to know and apply methods to take care of our mental wellness, side by side our physical health.
Chancellor Camacho, who has championed the development of higher education institutions (HEIs) through capacity building, enjoined OIDHE to live up to its purpose to collaborate with and assist fellow HEIs in the country in its various undertakings.
The speakers in the webinar were Dr. Teri-Marie P. Laude, a medical doctor and coordinator at the Reproductive Health Office of the UPLB Gender Center, and Nephtaly Joel B. Botor, an assistant professor and project development associate of the UPLB Gender Center and education and training director of the Balik Kalipay Center for Psychosocial Response, Inc. Both are faculty members at DHFDS-CHE.
Dr. Laude discussed the topic on "Caring for the Adultescent Brain and Mind" in which she pointed out the connectedness of an individual's mental, emotional, physical, and spiritual well-being and on mental health and how it aligns with our neurotransmitters.
She also talked about how adults (teachers) can be the "lighthouse" for the young (their students). According to her being a "lighthouse" means a heightened awareness of the latter's behaviour.
Dr. Laude also shared to the student-participants tips on resiliency and how to keep a healthy mind and body.
Botor's discussion was titled "Studying Under the New Normal: Caring for Self and Others." The core of his presentation, as he said, was his sharing of a mantra which goes "Hinga, Yakap, Pahinga" (Breathe, Embrace, Rest/Release).
Botor discussed the psychosocial effects of the COVID-19 pandemic, mental health, well-being, and resilience, and how to foster well-being as we learn to navigate the new normal.
Well-being, according to him, is nurtured through learning and development, nutrition, relationships, mind and spirituality, rest and relationships, and exercise.
He also shared to the participants that apart from having an intelligence quotient (IQ) and emotional quotient (EQ), we are also endowed with an AQ or adversity quotient or the ability to live a life in the midst of challenges such as what we are now experiencing in this pandemic.
Botor enjoined the participants to help create ecologies that would continually foster resilience within the self, homes, and within the larger community.
The webinar is part of the series of activities held by OIDHE in keeping with its mandate to connect with higher education institutions (HEIs) and help capacitate them in various aspects of their functions of providing education to Filipinos.
OIDHE, a newly created office in UPLB, touched base with over a hundred HEIs to introduce the office to them during the "Linkage and Opportunities Meeting" that was held online on March 30.
Dr. Greg Pawilen, OIDHE director, formally opened the webinar and acknowledged the people who made it possible, including, Dr. Cecilia S. Navasero-Gascon, president of BulSU; Dr. Emelita G. Laganao, dean of the College of Education; Prof. Joel Faustino of BulSU; Dr. Ricardo Sandalo, dean of CHE; DHFDS-CHE Chair Argee Albor, Dr. Laude, and Assistant Professor Botor. (Josephine M. Bo)