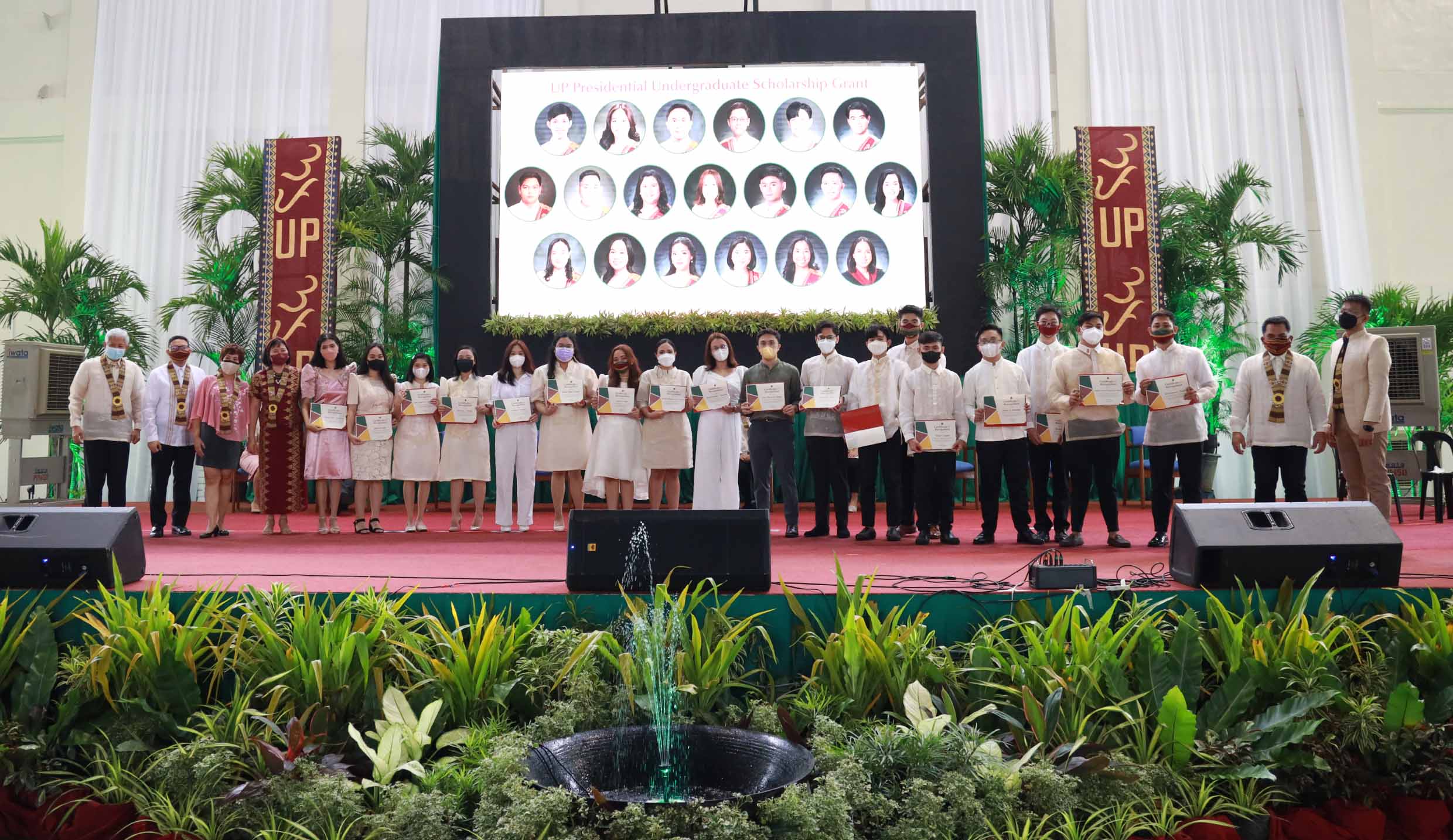 OVCSA holds Parangal 2022 for graduating scholars and donors
It was a moment of celebration for both beneficiaries and donors when they came together at the Recognition of Graduating Scholars and Donor Partners of UPLB entitled "Isang Parangal, Isang Pasasalamat: ika-7 taon" on Aug. 1 at the EB Copeland Gymnasium.
Moreover, it was an occasion for UPLB to honor the graduating scholars and thank the donor organizations and individuals who had helped the former through college.
The program, organized by the Office of the Vice Chancellor for Student Affairs (OVCSA) annually since 2015, was the first time it was held in-person since such events were put on hold due to the pandemic.
Dr. Jean O. Loyola, vice chancellor for academic affairs, gave the welcome remarks at the program, thanked the parents for their support and understanding, and for trusting the scholars. She said that she hopes for the same support to be given to the students should they pursue further studies.
Loyola expressed confidence in the students' experiences and learnings from UPLB as being enough to equip them to face the challenges in the workplace.
In his inspirational message to the graduating scholars, Chancellor Jose V. Camacho, Jr., acknowledged their experience as being "no mean feat" and knowing this as he was also once a scholar himself.
Camacho said that maintaining the necessary minimum grade requirement is not easy and that despite the various challenges the scholars faced throughout their stay at UPLB, they have earned their degrees with honors.
He congratulated the graduating scholars and reminded them to express gratitude to those who helped bring them where they are today. He also reminded them of their potential to improve communities, contribute to the country's development, and build a better society.
"Remember that as graduates of the University of the Philippines, you are capable of so much and are called to serve," Camacho said.
Camacho also thanked the donors for their generosity, trust, and confidence in UPLB and its students. He expressed his hopes that the partnership will continue to provide the much-needed financial assistance to deserving UPLB students and create a culture of meaningful sharing, giving back, and philanthropy among the scholars and the rest of the UPLB community.
Certificates of appreciation and tokens were given to the donors under the UPLB-Administered Scholarships; UP Diliman-Administered Scholarships; Cash Load Assistance Program (CLAP); and Student Assistantship Program (SAP).
For the UPLB-Administered Scholarships, the following donors/scholarship grants were acknowledged: Dr. Teodulo M. Topacio, Jr, Dr. Higino A. Ables, and the UPAA New Jersey Chapter for the Adopt-a-Student Program; BASF Agricultural Research Foundation Inc., (BASF Agricultural Research Foundation Scholarship Grant); Dr. Eulalio P. Baltazar Memorial Scholarship; Philchema Scholarship Grant; Phinma Foundation Undergraduate Scholarship Grant; Vicente B. Bello Scholarship Program; Landbank Countryside Development Foundation, Inc. Gawad-Patnubay Scholarship; UP Presidential Undergraduate Scholarship Grant; UP Presidential Undergraduate Leadership Scholarship Grant; UP Presidential Graduate Leadership Scholarship Grant; Department of Agriculture-Bureau of Agriculture Research Undergraduate Scholarship Program; DA-BAR Biotechnology Program Scholarship Grant.
Five donors were also acknowledged under the UP Diliman-Administered Scholarship Programs: Philippine S&T Development Foundation Manila, Inc. Science and Engineering Scholarship Grant; UP Alumni Association in America Scholarship; UP Alumni Association in Australia Scholarship; UP Alumni Association in Singapore; and UP Alumni Association in Wisconsin Scholarship.
Six loan programs were recognized under CLAP: UPLB Alumni Group in America Lifetime Members Student Emergency Load Fund; UPLB Alumni Association in America Loreto E. Oliva and Josefina Malang-Hsiao Student Emergency Loan Fund; Sen. Jose D. Lina Jr. Educational Assistance Fund; Dr. Narciso R. Lapuz, DVM '53 and Dr. Gaudencio R. Lapuz, DVM '55 Student Load Grant; Zeta Beta Rho Honor Fraternity and Mussaenda Student Financial Assistance; and the University of the Philippines Alumni Association (UPAA) of Sacramento and Vicinities Student Load Fund.
The UPAA Central California (UPAA of Central Dairy Science Research Student Assistantship Grant – UPAAC DSRSAG) was recognized as the sole donor under SAP.
Dr. Ables, who gave the testimonial speech on behalf of the donors, stressed the importance of having more compassionate hearts.
Engr. David Louie C. Manansala, speaking on behalf of the scholars, shared his experiences as a struggling student and expressed his gratitude to the donors. He encouraged his fellow student scholarship beneficiaries not to hesitate to give back when they finally have the chance to do so to give hope to the students who were just like them.
Director Jickerson P. Lado of the Office of Scholarships and Grants (OSG) expressed his utmost gratitude to all the donors and attendees of the event. He said that it's not just the students the donors helped but their families and community. He acknowledged the efforts and hard work of the OVCSA and OSG staff.
Representatives of donor organizations and other donors, university officials and personnel, and scholars were also present at the Parangal. University officials who attended were Vice Chancellor Janette H. Malata-Silva (student affairs); Deans Jomar F. Rabajante (Graduate School), Elpidio Agbisit (College of Agriculture and Food Science or CAFS), Maribel Sese (College of Arts and Sciences or CAS), Marlo Mendoza (College of Forestry and Natural Resources or CFNR); College Secretaries Pamela A. Custodio (GS) and Rosalie Mendoza (CFNR); and CAFS Assistant to the Dean Adeliza A. Dorado. (KEAraguas)