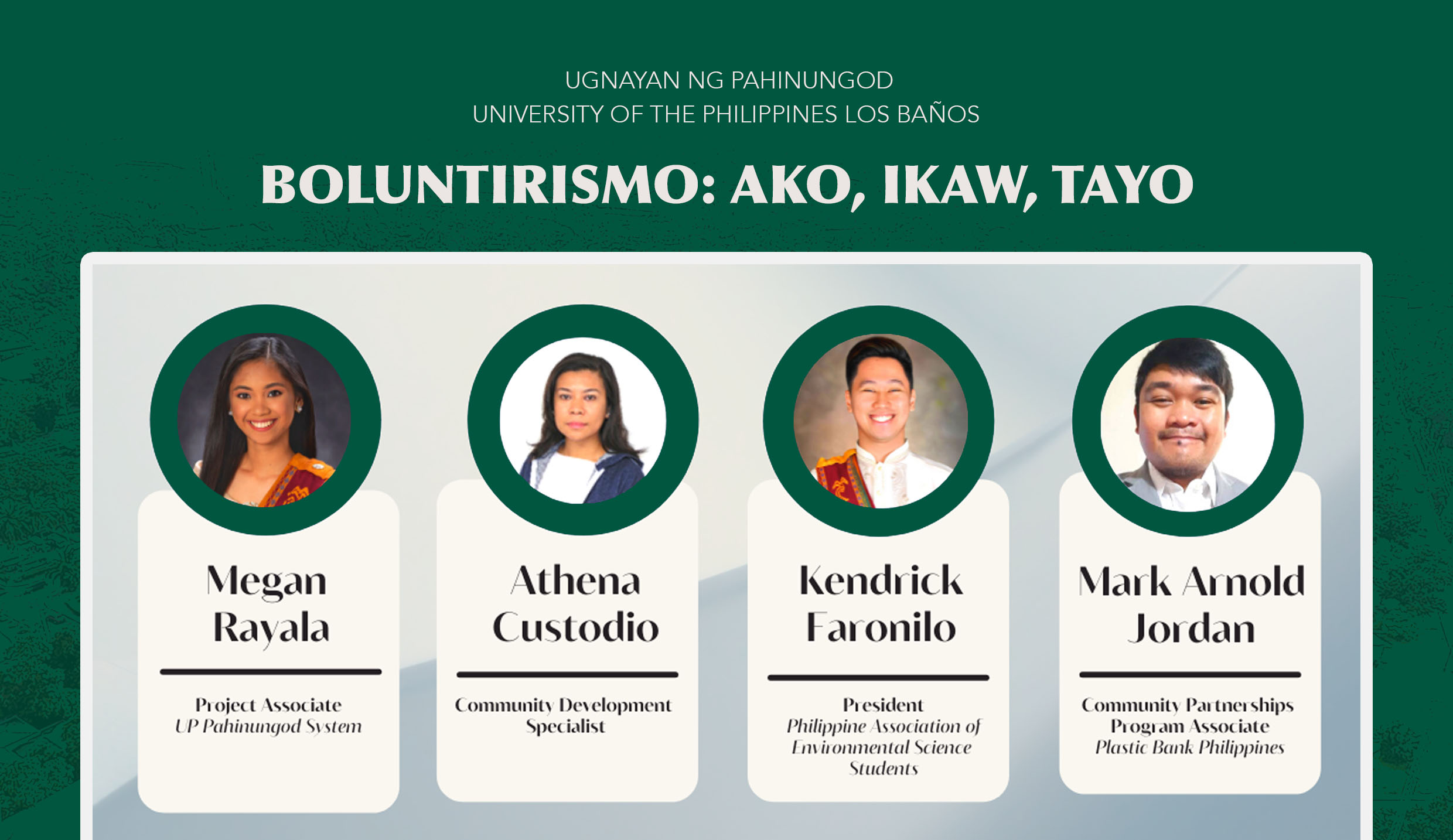 Pahinungod celebrates National Volunteer Month
In celebration of the National Volunteer Month, the UPLB Ugnayan ng Pahinungod held an online webinar entitled "Bolunterismo: Ako, Ikaw, Tayo" on Dec 6.
In "Bolunterismo," Pahinungod focused its lenses on volunteerism by featuring four speakers who talked about their experiences in their work.
The four speakers were Athena Custodio, community development specialist; Megan Rayala, project associate at the UP Pahinungod System; Kendrick Faronilo, president of the Philippine Association of Environmental Science Students; and Mark Arnold Jordan, community partnerships program associate of Plastic Bank Philippines.
Custodio shared her experiences in international development and in working with various cultures.
She also shared to the audience change stories as well as the realities of volunteering, and her experiences and learnings from meeting different people.
Rayala spoke about her dedication to volunteerism, how she was inspired to begin her volunteerism journey, her field work experiences and of being a student and alumni volunteer. Rayala works at the UP Pahinungod System.
Faronilo, an environmental science student, spoke about channeling "natural volunteer spirit" toward environmental action.
She discussed the acronym LIKAS, which stands for Listen, Initiative, Knowledge, Angat (Lift), and Sama-sama (Together) as a strategy in research when channeling one's natural volunteer spirit toward environmental action.
Jordan, for his part, talked about his advocacy regarding the use and effects of plastic consumption, and how through Plastic Bank, Philippines, he is helping address the world's two main problems: pollution and poverty.
Jordan said that Plastic Bank demonstrates advocacy partnership, community building, helping the environment, and sustainable volunteerism.
The other part of the online seminar discussed volunteerism, and the role of volunteers and Pahinungod in delivering these initiatives.
The two hour event aimed to increase the awareness of the public on volunteerism, the different volunteering opportunities, and the role of volunteers in the betterment of the environment.
The celebration's opening program was graced by Chancellor Jose V. Camacho, Jr. who gave a message to the webinar participants on the significance of public service.
He discussed a UPLB institutional outcome that rests on public service for it to be realized, specifically, "to sustain collaborations that will catalyze and enhance the development of communities."
"In this time of global public health crisis and climate change, volunteers and the volunteer spirit are needed more than ever. We all need to help however we can, whenever we can, and together make a difference in our lives and the lives of others," Chancellor Camacho added.
Attending the program were UPLB Pahinungod Director Limbay Espaldon and Diana Ruth Arcega, senior project officer of the UP Pahinungod System, who gave a synthesis of the event.
The seminar was moderated by Samantha Geraldine delos Santos, knowledge management head of the College of Public Affairs and Development, and Pahinungod volunteer Johncel Agcaoili.
It was attended by over 200 participants from the UPLB community, youth development affairs networks, and Pahinungod community partners and beneficiaries.
The webinar is available for offline viewing at the UPLB Ugnayan ng Pahinungod Facebook Page. (KEAraguas)