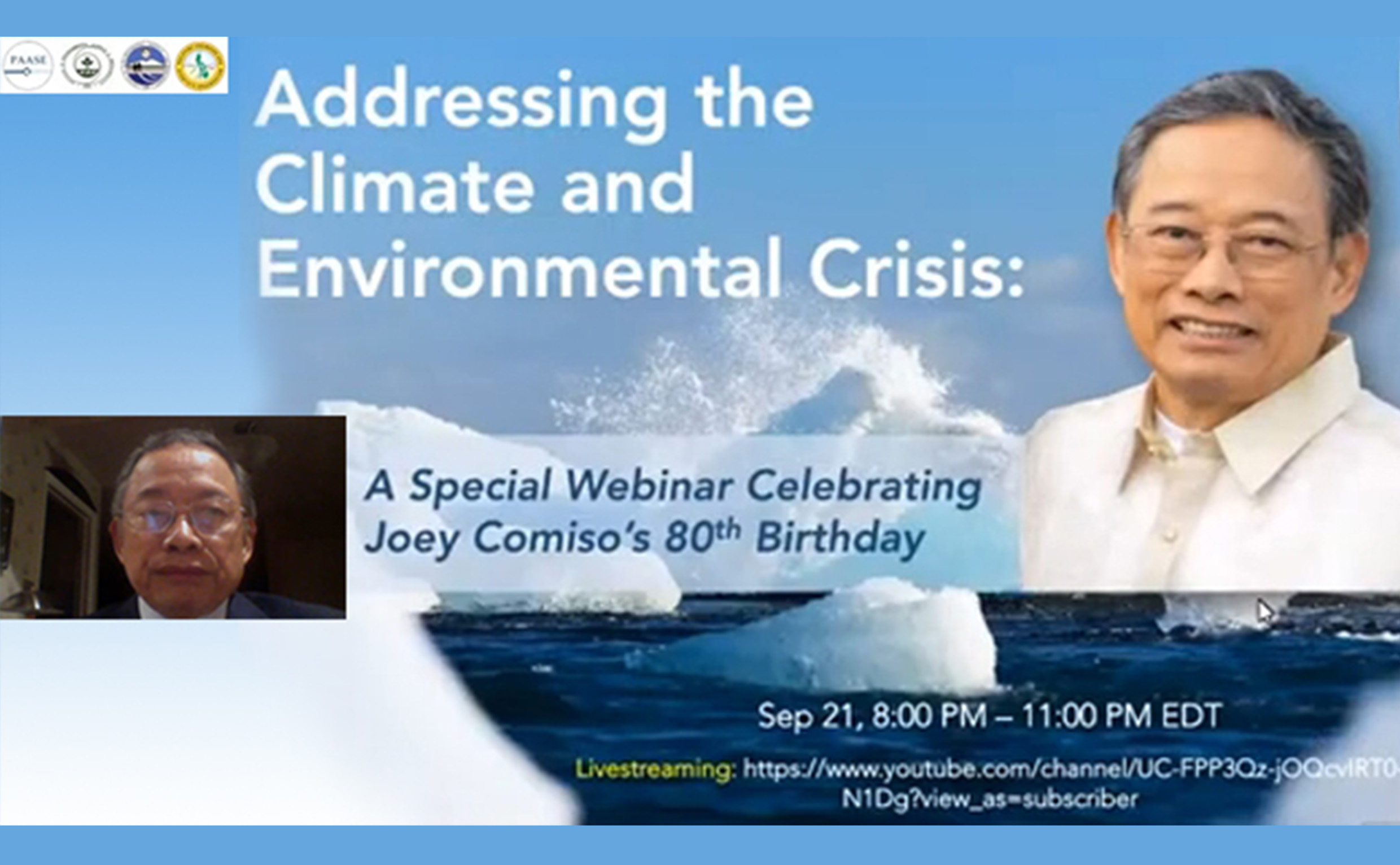 Scholars honor Filipino NASA scientist Comiso in a webinar
What would be a better tribute to an accomplished Filipino scientist than to stage a knowledge sharing event in his honor?
On the 80th birthday of Dr. Josefino "Joey" Comiso, emeritus scientist of the National Aeronautics and Space Administration (NASA) and a UP alumnus, 11 international scientists and scholars whom he has worked with gathered for a Zoom webinar on Sept. 21 (US time; Sept. 22 in the Philippines) entitled "Addressing the climate and environmental crisis."
A physicist whose research interests cover polar oceanography, sea ice, climate change, and satellite remote sensing, Dr. Comiso is credited for work that paved the way for the emergence of new insights in the polar regions, one of which revealed the changing sea ice cover and accelerating warming in the Arctic region.
During the webinar, Dr. Claire Parkinson, senior scientist at NASA; Dr. Arnold Gordon, professor at Columbia University; and Dr. Rob Massom, principal research scientist at Australian Antarctic Division, talked about their researches in the sea ice of the Arctic and Antarctica, particularly those that they did with Dr. Comiso.
Prof. Kohei Cho, executive director of Tokai University Research; Dr. Peter Wadhams, emeritus professor at the University of Cambridge; and Dr. Manfred Lange, emeritus professor at Cyprus Institute, discussed their works with Dr. Comiso that used satellite data and remote sensing technology in probing climate change in the North Pole and the Mediterranean region.
UP Diliman's Dr. Gisela Concepcion, professor emeritus; Dr. Lemnuel Aragones, director of the Institute of Environmental Science and Meteorology (IESM); and National Scientist Dr. Lourdes Cruz, provided local perspectives in the webinar by talking about the rich biodiversity of the Philippines from reef to ridge, their potentials in various industries, and the need to protect them through various interventions.
UPLB professor Dr. Ma. Victoria Espaldon and alumna Dr. Shirley Agrupis presented the results of their respective collaborations with Dr. Comiso underhis stint in the Balik Scientist Program of the Department of Science and Technology.
Dr. Espaldon, former dean of the School of Environmental Science and Management (SESAM), introduced the soon-to-be released book tentatively titled "Rediscovering Laguna de Bay: a vital natural resource in crisis" that she co-authors with Dr. Comiso and Dr. Decibel Faustino-Eslava, current dean of SESAM.
The book is an output of the UP Emerging Interdisciplinary Research project led by Dr. Espaldon. It discusses the ways to rehabilitate and restore the country's largest lake from the lenses of the natural and social sciences.
Dr. Agrupis, president of Mariano Marcos State University, credited Dr. Comiso for helping the Ilocos Norte-based university strengthen its National Bioenergy Research and Innovation Center and Regional Research and Training Center for Climate Change Studies through sharing his expertise in GIS and remote sensing.
The webinar was organized and moderated by Dr. Gay Jane Perez, associate professor at IESM, and Cynthia Eidell, PhD candidate at the University of Illinois-Chicago. It was co-presented by IESM, SESAM, The Philippine-American Academy of Science and Engineering, and Philippine Engineers and Scientists Organization.
Dr. Comiso who personally witnessed the webinar from his home base in the United States, expressed his gratitude for the tribute, and gave his insights on climate change.
The coordinating lead author of the International Panel on Climate Change (IPCC) 2014 AR5/WG1 report said that there is still hope in keeping the normal surface temperature of the Earth through various adaptation practices, such as the use of renewable energy.
"We shouldn't be too pessimistic," Dr. Comiso said. "If we can maintain some discipline, there is hope."
"It is the responsibility of the younger generation to ensure that planet Earth continues to exist with the same vitality and comfort we have right now," the Filipino NASA scientist ended. (Mark Jayson E. Gloria)