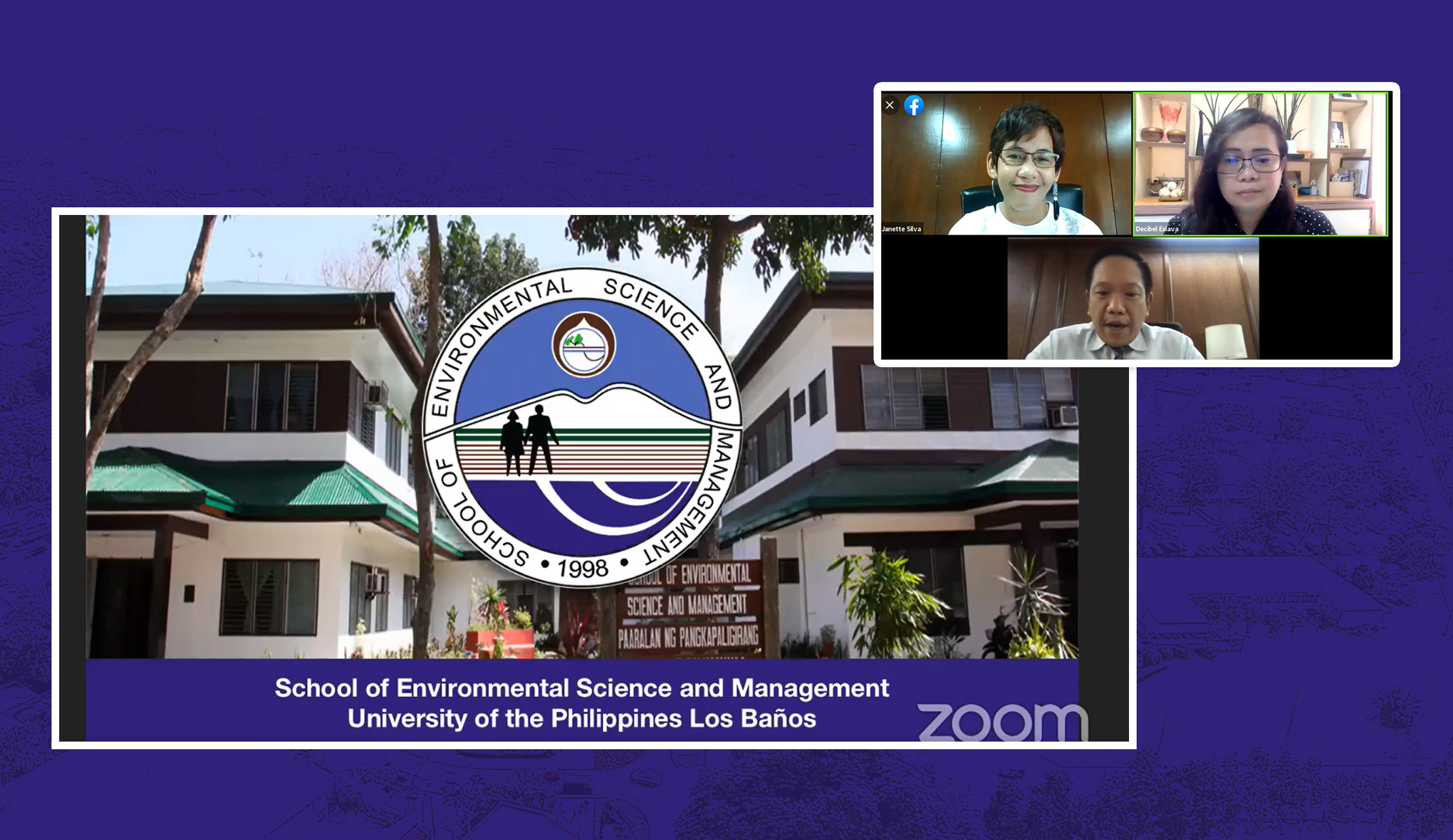 SESAM highlights strong human resource in its wrap up report
As the School of Environmental Science and Management (SESAM) ushers in a new leadership in May, outgoing Dean Decibel Faustino-Eslava presented the School's highlights of accomplishments and challenges from 2015 to 2021.
She encapsulated this in her four-point leadership and administration highlights, namely: good governance; vision of a world-class graduate research university; visibility of contributions to national development; and productivity and sustainability.
According to her, human resources is one of the best assets of the School, with the SESAM faculty composed of award-winning UP Scientists. During her term, SESAM's initial core faculty was strengthened by the contributions made by affiliate and adjunct faculty members.
To complement this, SESAM underwent renovations of some of their physical spaces and facilities, and acquired additional field equipment and vehicles.
She reported SESAM's current programs, the status of student admissions, improvement of internal policies to aid students such as a mentoring system between faculty and students, the establishment of a student colloquium as a venue for consultation, and an external review process to help avoid delays in graduation.
Dean Eslava also reported SESAM's contribution to the University's COVID-19 response through Bantay SARAI, a project that aimed to ensure food security, which was funded by UPLB under its Task Force Laban ng Bayan Kontra COVID program.
She expressed her hopes for SESAM's collaboration and cooperation programs with other universities abroad to be continued by the next dean.
Recognizing the importance of technology and the internet, SESAM made its presence known to the public and potential students abroad through its official website and Facebook page.
SESAM has used Facebook as a venue where they held numerous research symposia, webinars, training programs, and short courses.
SESAM also ramped up publications through its online Journal of Environmental Science and Management (JESAM) that has its own website, as they migrated from the physical to the online space.
Dr. Eslava presented SESAM's productivity and resource generation efforts and the challenges the School encountered during her term. She reported among the biggest challenges encountered, the sourcing of funds for new facilities, birthing pains of new programs, productivity targets, connectivity, and student admission. These challenges were highlighted even more in the time of COVID-19.
Dean Eslava emphasized the need for the next dean to adapt fast to changes and aim to meet targets and further improve SESAM's productivity, given the current situation.
She expressed confidence in the good opportunities and the potentials that SESAM has given its young, diverse, and dynamic faculty members and researchers.
"The new normal presents opportunities to reinvent," she said, as she assured the next dean of her full support.
Dean Eslava's accomplishment report was done via video conference and was attended by Vice Chancellor for Student Affairs Janette Malata-Silva, who chairs the search committee for the next SESAM dean; UP Vice President for Planning and Finance Joselito Florendo, who moderated the post-report discussion; and her fellow faculty members.
The online presentation was streamed live on SESAM's official Facebook page. (KEAraguas)