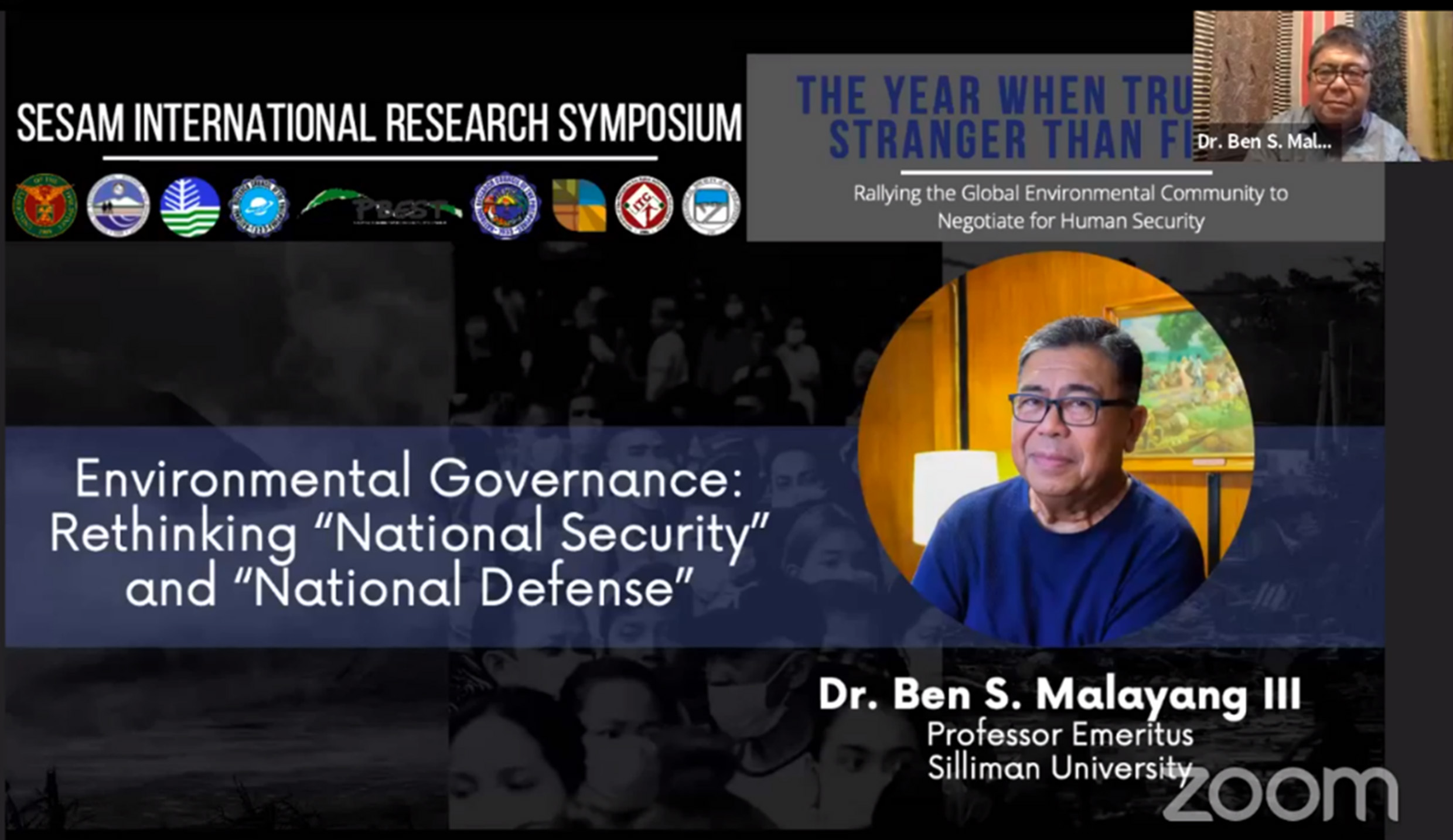 The best national defense is in a sustainable society
Year 2020 is about to wrap up, and hopefully, with it, the series of unfortunate events that it foisted on us.
We all know how it began with a volcanic eruption, followed by the COVID-19 pandemic and the quarantines of varying degrees it caused, and punctuated by a series of typhoons, all of which are causing so much hardship and pain.
Year 2020 dished out far too many tragic events such that people could not wait for it to be over and done with.
The good news is that it's just days away. The bad news is that the same problems, the same misery is going to hound us if governance does not look at national security and national defense interest from a new lens – one that enables a comprehensive way to address the aspects where the country is experiencing more destruction, death, and losses.
And these are not in the aspects of national security and national defense.
"The country suffered more losses and deaths from catastrophic environmental events than those that were caused by man-made threats such as war, thus we should refocus the country's national security and national defense interests to the more comprehensive human-ecological security."
This is according to Dr. Ben S. Malayang III, former dean of the UPLB School of Environmental Science and Management (SESAM) and currently Professor Emeritus at Silliman University.
He proposed this shift to a new paradigm in a think piece entitled "Re-thinking National Security and National Defense" at the international symposium, "The Year When Truth was Stranger than Fiction: Rallying the Global Environmental Community to Negotiate for Human Security."
The international symposium, held in celebration of the 43rd anniversary of SESAM, was via video conference and streamed on UPLB Official Youtube and Facebook on Dec. 9.
More deaths and destruction from natural calamities
Dr. Malayang pointed out information from various reports that more people died from natural calamities that happened in the country than from internal conflicts.
"According to reports, 7,806 died from armed conflicts in five years, from 2014 to 2018 while losses and damages due to the Marawi siege were pegged at PhP18.6 billion; and the Zamboanga siege at PhP 3.3 billion," Dr. Malayang said.
He contrasted this to the losses and damages caused by a single catastrophic typhoon in 2013, Yolanda, internationally named Haiyan.
"While there has been much damage from armed aggression, we see that in just one year in 2013, a single typhoon (Yolanda) killed 6,300 people and caused damage to properties estimated at PhP 95.5 billion," he pointed out.
"These are just from one environmental threat from typhoons, of which we have some 20 each year with five classified as strong," Dr. Malayang continued.
"We could add deaths and destruction from other catastrophic environmental events like flooding, drought, pests, air and water pollution, and even contagions like COVID-19," Dr. Malayang said.
He also identified more risks that have endangered our economy and well-being due to depleting freshwater supply, biodiversity loss, declining fisheries, crop failures, and weakened natural resources to support and sustain domestic energy generation.
These stem from the failure to address human-ecological security.
Human-ecological security
Driving home his point, Dr. Malayang said that "in our highly archipelagic country, environmental risks are high and environmental disasters kill, maim, and cause property losses, upend the economy, and harm communities much like, if not more than invasions and internal armed conflicts, so why not include these in the compass of our country's national security and national defense interests."
"I propose that we redefine national security and national interest into a more comprehensive Human-Ecological Security interest," he said.
Elaborating on this, Dr. Malayang discussed a human-ecological security infrastructure where balanced and fully functioning ecosystem services form the ecological base, and a just and fully articulated social systems and equitable and robust economic systems support a strong, vibrant, resilient, and sustainable human society.
"To me, a sustainable human society is the highest form of security, a security of the most comprehensive kind. The way I see it, if sustainable development is really happening, society is safer at the higher form," he added.
He proposed to begin a national conversation that negotiates across government and society a redefinition of Philippine "national security" as Human-Ecological Security that is achieved through sustainable development in an all-government and all-society institutional effort in the entire country.
No economy without ecology
Quoting known environmentalist Dr. Nina Galang who said, "there is no economy without ecology," Dr. Malayang argued for the change in perspective, pointing out that growth need not always be measured by gross domestic product or gross value added.
"Why not in terms of human and ecological security. Security not only from armed aggression but being safe in our own country and secure in our environmental resources that support agriculture, manufacturing, and others," he explained.
Dr. Malayang admitted that making this happen is challenging because of "well-entrenched systems, interests, and the governance structure."
Asked as to which government office should take the lead, he said that the National Economic Development Authority (NEDA) should, "given the way government is organized now."
He pointed out that in 1992, there was a Philippine Agenda 21 that focused on sustainable development. He also mentioned the existence of the Philippine Council for Sustainable Development under NEDA that was placed there for this purpose.
Dr. Delfin Ganapin, a leader for governance practice of the World Wide Fund for Nature, who was also a speaker in the same symposium, mentioned that his organization is pushing for a similar redefinition and paradigm shift at the global level.
Human-ecological security and sustainable development
A number of other issues also came up where governance may rethink its approaches and methods.
An example he cited is that despite the country having seven times more water than land, most of its development initiatives and governance investments are on the land.
"We are hardly putting any money on developing the blue economy of this country. In fact, the 2021 budget of BFAR has been reduced. We are looking at the country like it is a continent when in fact it is an archipelago. Biodiversity in our oceans is probably higher than in our land and yet we hardly put efforts in our waters," Dr. Malayang said.
He bewailed the fact that biodiversity is only seemingly viewed from the standpoint of biology. "Why do we not look at biodiversity from the concept of biocultural diversity and start planning to include the people who are very much defined by the biodiversity of their place? Biodiversity should not only be about macrobiota; it should include microbiota."
In the conclusion of his talk, Dr. Malayang summarized his case for the shift in paradigm from national defense and national security to human-ecological security:
"In achieving sustainable development, we do two things: we improve the ability for the country to resist from being bled to death because of environmental risks, and at the same time, we reduce the tensions that create insurgency and make us weak against external aggression."
He concluded: "The best national defense is when we are a sustainable society."