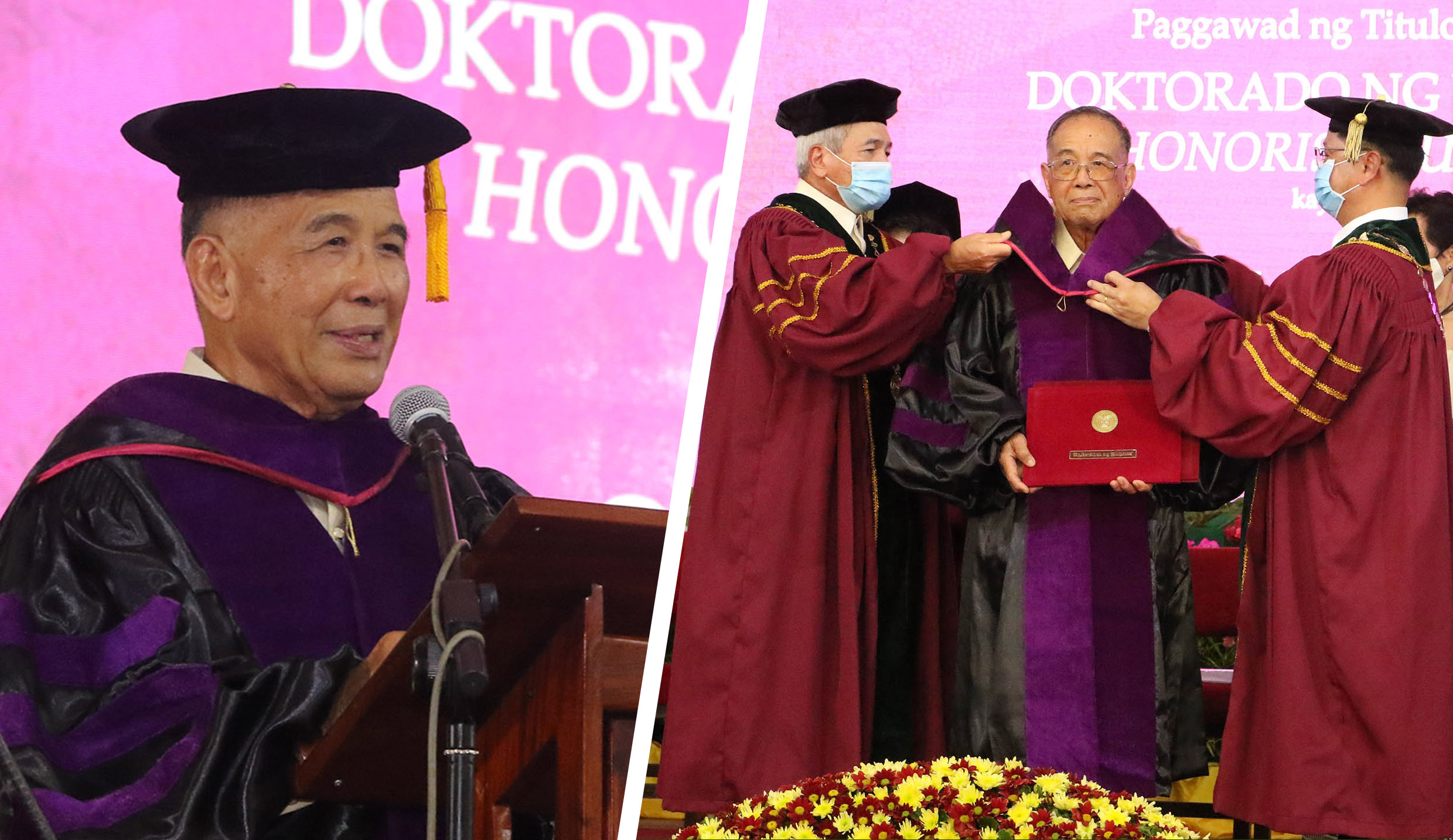 UP confers honoris causa upon Natl Scientist Javier
On its 112th Foundation Day anniversary celebration, UPLB not only bannered its own milestones but also the outstanding contributions of visionary leader and institution builder, National Scientist Emil Q. Javier.
National Scientist (NS) Javier was conferred the Doctor of Laws honoris causa by the University of the Philippines on Mar. 6 at a ceremony held at Baker Hall.
NS Javier was honored for his initiatives and achievements that have shaped scientific research and public service in the fields of agriculture and rural development.
At the ceremony, NS Javier received his honorary diploma and academic vestments from UP President Danilo L. Concepcion and members of the Board of Regents, namely: Maria Arlissa D. Aguiluz, Angelo A. Jimenez, Francis C. Laurel, Mylah R. Pedrano (staff regent), Renee Louise M. Co (student regent), and Aimee Lynn Barrion-Dupo (faculty regent).
NS Javier is regarded for being a pioneer researcher in the field of pasture and forage crops and an institution builder, being the proponent and first director of the Institute of Plant Breeding.
He also served as UPLB Chancellor from 1979 to 1985, during which time he established the National Institute of Molecular Biology and Biotechnology (BIOTECH), the Farming Systems and Soil Research Institute, and the National Gene Bank. Afterwards, he served as the Minister of Science and Technology and as the director-general of the then National Science Development Board, now the Department of Science and Technology.
As Science Minister, Javier pushed for the establishment of Philippine research councils focused on health, industry and energy, and agriculture, aquatic, and natural resources, known under the acronyms PCHRD, PCIEERD, and PCAARRD. He also initiated the Scientific Career System to encourage more researchers to pursue a scientific career in the public sector.
He later served as the 17th UP President from 1993 to 1999, during which he led the establishment of relevant programs and institutions including the Ugnayan ng Pahinungod, the Learning Resource Center, the National Institute of Health in UP Manila, UP Open University, and UP Mindanao.
In his response speech, NS Javier highlighted six points that UPLB can focus on to help alleviate the poverty of farmers and fisherfolk.
He encouraged UPLB to strengthen its social sciences to address the governance and social conflict issues of agriculture and to move toward consolidating small farms into more efficient units so that they can compete better in the market.
He also supported moves to realign the focus of agriculture from production to developing industry road markets especially for small farmers, and building partnerships with the food and beverage industry.
To sustain agriculture development, NS Javier highlighted the importance of balancing the intensification of farming with the conservation of resources, including freshwater and biodiversity, and soil resources. Lastly, he underscored the need to utilize digital technologies to transform supply chains and ensure that technological developments will also benefit the marginalized sector.
The event was witnessed by UP System officials, and UPLB officials led by Chancellor Jose V. Camacho, as well as former UPLB chancellors. Joining them were National Scientist Dolores A. Ramirez and academicians of the National Academy of Science and Technology (NAST), namely: Dr. Arnel L. del Barrio, Dr. Glenn B. Gregorio, Dr. Ceferino P. Maala, Dr. Eufemio T. Rasco, Jr., Dr. Carmencita D. Padilla, and Dr. Ruben L. Villareal. (Jessa Jael S. Arana)