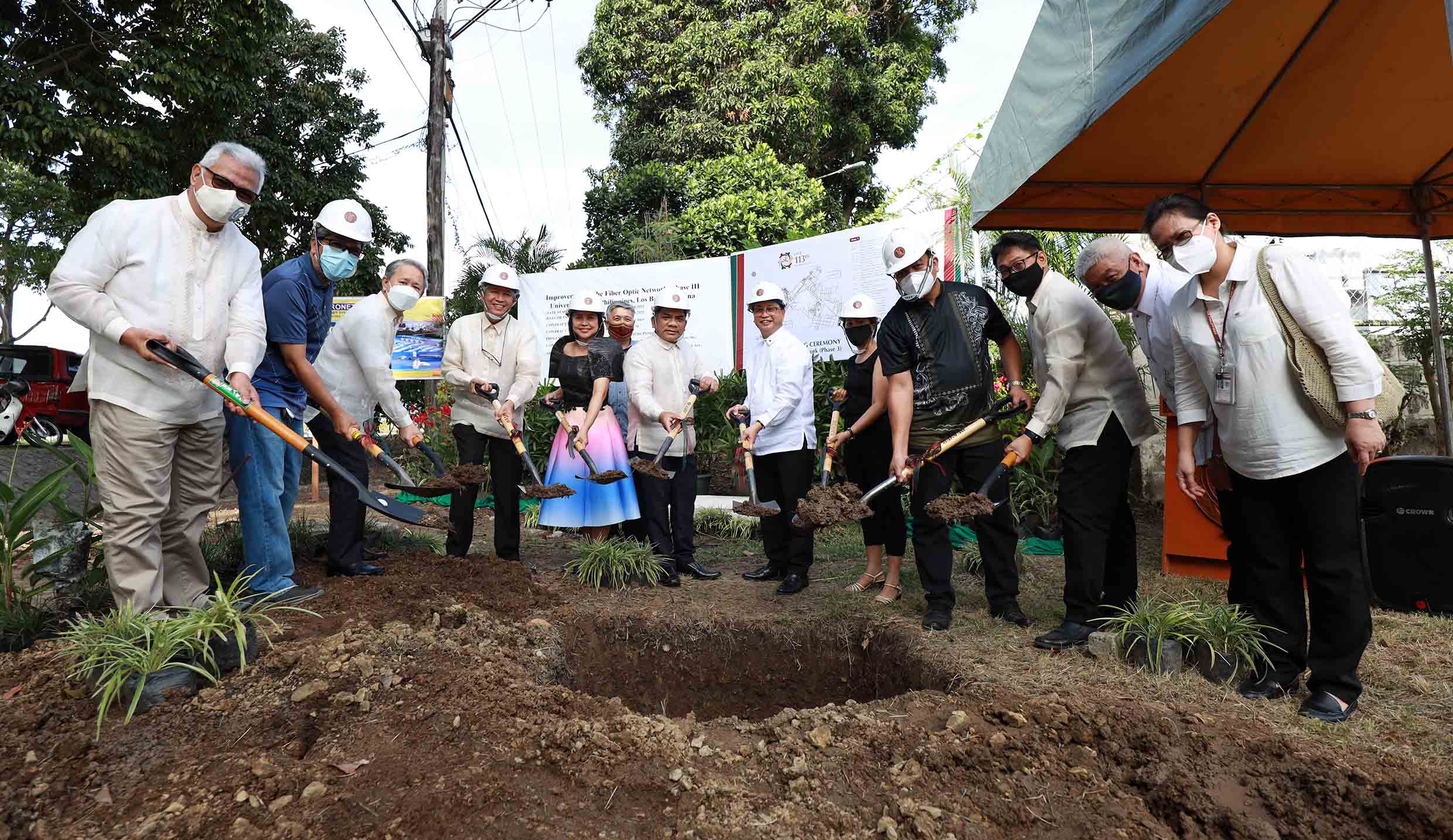 UPLB breaks ground for Fiber Optic Network Phase 3
UPLB, through the Information Technology Center (ITC), held a groundbreaking ceremony for Phase 3 of the Underground Fiber Optic Network Upgrade Project on March 4 at Pili Drive in the campus.
Phase 3 of the project will improve and provide faster and more reliable Internet connectivity to offices and laboratories at the Life Sciences Complex, which includes the offices of the Institute of Plant Breeding (IPB), National Crop Protection Center, National Institute of Molecular Biology and Biotechnology, Technology Transfer and Business Development Office, and the upper campus, specifically the College of Forestry and Natural Resources and the College of Public Affairs and Development.
Acknowledging that it was initiated by the previous administration, ITC Director Danilo J. Mercado said that the project will help fulfill Chancellor Jose V. Camacho Jr.'s vision to future-proof UPLB.
Mercado said that Phase 1 fixed the external internet connection in the campus network and Phase 2 upgraded the lower campus fiber network.
He expressed his hopes of finishing Phase 3 within the time frame as plans are already being drafted for Phase 4, which will extend the network to far locations in the campus such as UP Rural High School area in Paciano Rizal, Bay.
Mercado said that Phase 5 of the project will cover internet connectivity for the faculty and staff housing areas in the campus.
UP President Danilo L. Concepcion said that this project is a necessary step towards his vision of a world-class university.
Concepcion also told the audience that on top of this, UPLB as well as the UP campus in Iloilo, UP Mindanao, and UP Manila will receive high-performance computers that will help in speeding up process time in calculating research data.
Concepcion, whose term as UP president ends in February 2023, expressed his hopes that the next administration would continue his projects.
The groundbreaking ceremony was attended by UPLB officials led by Chancellor Jose V. Camacho, Jr., Vice Chancellors Rolando T. Bello (administration), Roberto P. Cereno, (community affairs), and Fernando O. Paras, Jr., (planning and development); Assistant to the Vice-Chancellor Rachel S. Mojado (planning and development); as well as Deans Ricardo M. Sandalo (human ecology), Rowena dT. Baconguis (public affairs and development), Elpidio M. Agbisit (agriculture and food science), Agham C. Cuevas (economics and management), and Marlo T. Mendoza (forestry and natural resources).
Also in attendance were Michael Biguelme, a researcher from IPB, and personnel from Pronet Systems Integrated Network Solutions, Inc., project contractor, namely: Marissa Batang, business unit manager; Frances Bon Sandrino, senior project engineer; Alma Alforque, business development manager; and project engineers Jeffrey Roque, Jonathan Sison, and Pria Gumia.
The event was part of the 113th UPLB Foundation Day anniversary celebration activities. (KEAraguas with reports from #UPLBToday March 4, 2022)