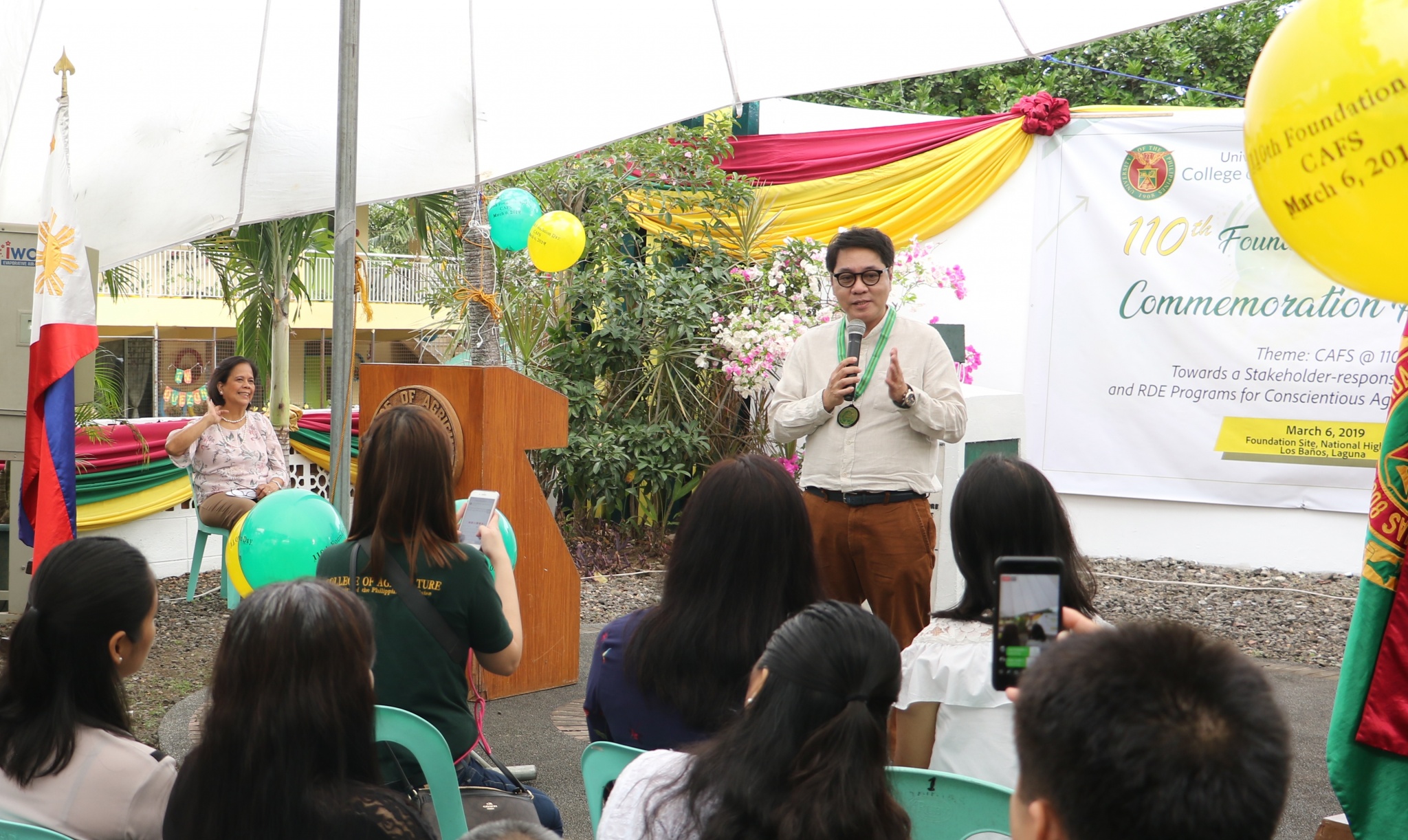 UPLB, CAFS return to "foundation site" at 110th anniv
If there is one thing that UPLB and its College of Agriculture and Food Science (CAFS) have not forgotten through the years, it is their intertwined history.
Such was manifested once again in the celebration of the anniversary of their 110th Foundation Day on Mar. 6.
As in the past years, university and college constituents proceeded to UPLB's foundation site in Brgy. Bambang, Los Baños for the traditional commemoration program at 6 AM.
The foundation site is the place where UPLB-CAFS' pioneering five faculty members and 12 students held their first few classes before transferring to the permanent site of the university.
The said event was first of the series of day-long activities that highlighted the UPLB and CAFS Foundation Day celebration at the campus from Mar. 4-8.
UPLB traces its beginnings to the creation of the UP College of Agriculture (UPCA) on the said day in 1909. Sixty-three years later, UPCA became the autonomous UPLB, with CA as one of its colleges. CA was later renamed and reorganized as CAFS in 2016.
"Our predecessors paved the road for us," said Dr. Elpidio M. Agbisit, Jr., dean of CAFS, who retold this significant piece of UPLB-CAFS' history.
At the commemoration, service to, and love for the country became the lingering message of guest-alumni who, like the UPLB-CAFS' founders, have become leaders in their respective fields.
"It's important to build a strong country, [to] know the rules of the game [in world trade], and [to] love our country," said Bounty Agro Venture President and General Manager Ronald R. Mascariñas.
Mascariñas, the main man behind some of the most popular chicken brands in the market, underscored the importance of understanding and applying the rules that the World Trade Organization (WTO) has set to help not only the businessmen and agricultural traders, but also to make the prices of commodities more affordable to the Filipinos.
WTO was established in 1995 and deals with the rules of trades between nations in the world.
Meanwhile, aviation executive Mannie Barradas, president of CAFS Alumni Association, expressed the need for UPLB alumni to be united for the betterment of the country.
Barradas, who hosts the annual Prelude to Loyalty Day every October at his hometown in Tanauan, Batangas, also attributed the success of many alumni to their academic training in UPLB.
For his part, Chancellor Fernando C. Sanchez, Jr. challenged CAFS to strengthen its commitment in producing excellent students and alumni that will further contribute to national development.
Also present during the event were National Scientist Dr. Dolores A. Ramirez; Dr. Fernando A. Bernardo and Dr. Domingo E. Angeles, former CAFS deans; For. Leo R. Ballesfin, UPLB Alumni Association president; Mayor Caesar P. Perez of Los Baños; and other UPLB and CAFS officials and staff. (Psalmster John Ligan)