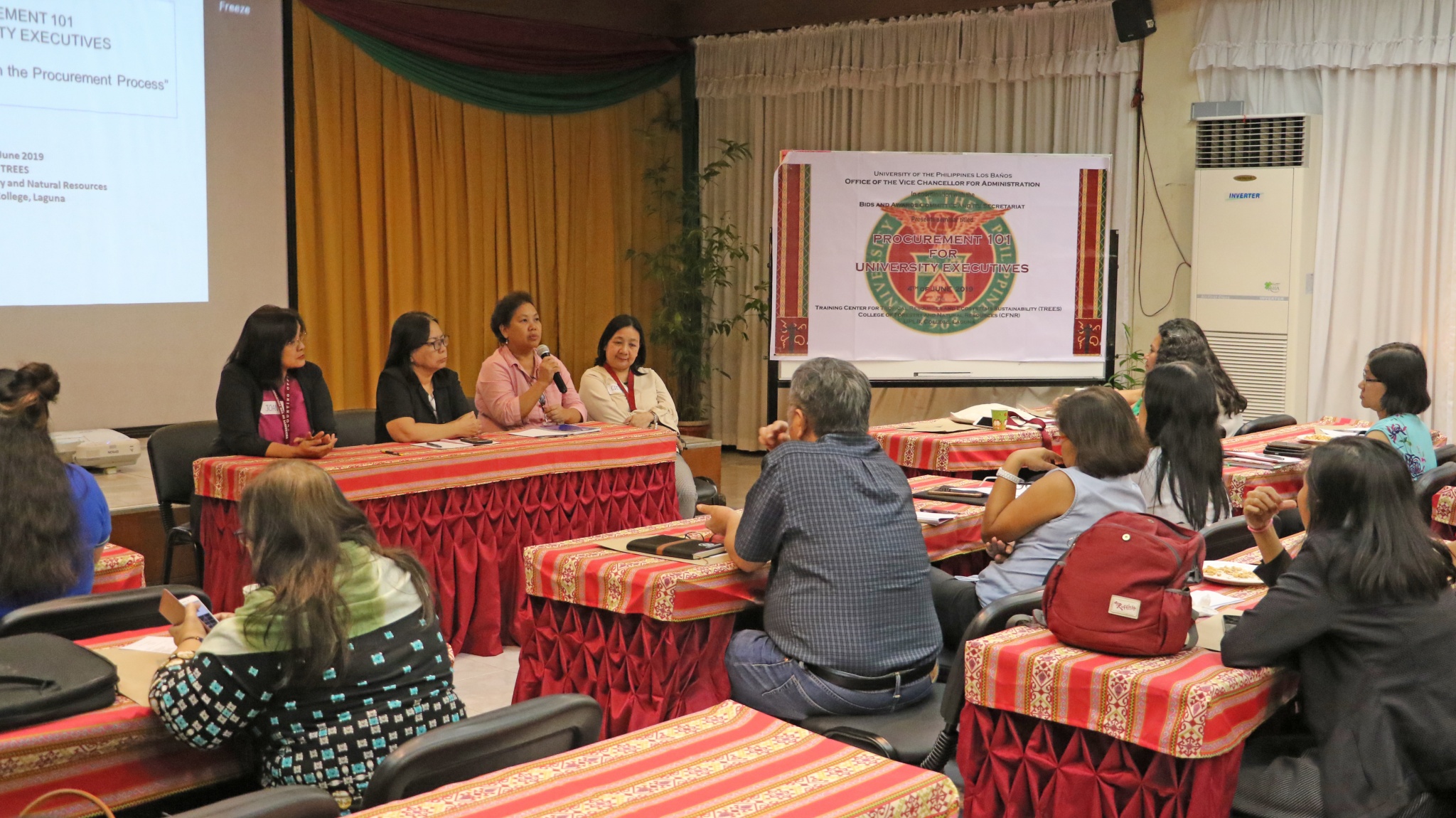 UPLB execs reoriented on gov't procurement
The second edition of the seminar Procurement 101 for University Executives oriented another batch of heads of offices in their roles in upholding the efficiency in implementing and the integrity of UPLB's procurement process.
More than 50 UPLB executives – composed of deans, associate and assistant to the deans, directors, department chairs, and chiefs – took part in the seminar held on June 4 at the Training Center for Tropical Resources and Ecosystems Sustainability, UPLB.
"This is a time to review what you already know, possibly get updated on new things, and at the same time, it's a perfect venue to share your experiences," said Dr. Crisanto Dorado, vice chancellor for administration.
Maria Cielo Lampa, chief administrative officer of the Supply and Property Management Office (SPMO), talked about the Agency Procurement Compliance and Performance Indicators (APCPI) and identified how the different units could contribute to attaining its ideals.
APCPI, according to the agency that prescribes it use, the Government Procurement Policy Board of the Department of Budget and Management, determines the strengths and weaknesses of an agency's procurement process.
Lampa presented UPLB's self-assessment APCPI scores and identified how UPLB has fared in its four pillars for the past four years.
These APCPI pillars are Compliance with Legislative and Regulatory Framework; Agency Institutional Framework and Management Capacity; Procurement Operations and Market Practices; and Integrity and Transparency of the Agency Procurement System.
Lampa, along with Liza Custodio, chair of the Bids and Awards Committee (BAC) Secretariat, the unit that organized the seminar, emphasized the need to properly plan future procurement expenses to comply with the rules of and to avoid delays in procurement.
This, they said, is through carefully crafting the office's respective Project Procurement Management Plan, each of which is consolidated to UPLB's over-all Annual Procurement Plan.
During the seminar, two panel discussions shed light on various procurement issues.
BAC chairs For. Roberto Cereno, Dr. Amado Angeles, and Dr. Arthur Fajardo, along with their members, explained the procedures of BAC-Goods, BAC-Research, and BAC-Infrastructure, respectively.
UPLB's chiefs – Lampa of SPMO, Joan Mendoza of Accounting Office, Elizabeth Eala of Cashier's Office, and Ethel Cabral of Budget Management Office – talked about relevant transactions in university procurement.
Other resource persons were Atty. Paul Kenneth Davis, BAC legal consultant, who explained the functions of BAC and the roles of each university unit as end-users; and Jubien Coronel, member of the Technical Working Group of BAC, who gave tips on the proper crafting of technical specifications for items to be purchased. (Mark Jayson E. Gloria)